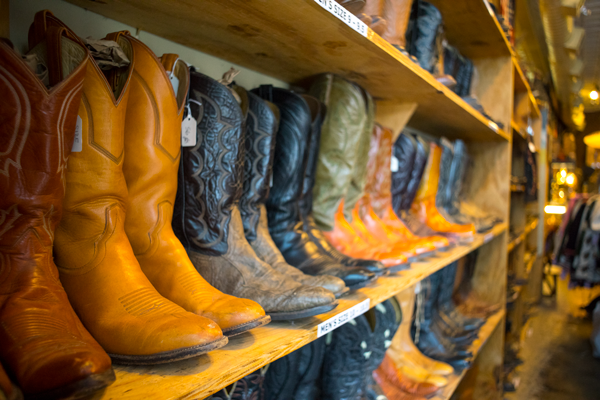 By MACKS PREWITT
@MacksPrewittETC
Located off of Haskell Avenue, Dolly Python, a vintage clothing store in Dallas, offers a shopping experience unlike any other with its selection of items and local venders hosted in the store.
The place seems small at first, like a rectangle of Western-themed vintage clothing, but then you walk a few feet in and see the vendor stands in a second rectangle to the left. The racks of clothing press against the walkway to the exit. The store looks like your grandmother decorated it, but thankfully it doesn't smell that way.
The store feels full, not just full of clothing and items, but full of possibilities.
Similar to East Fork Mall in Mesquite, these vendors sell a wide variety of strange and interesting knick-knacks that add to the store's mystique. There are vintage cameras and odds-and-ends. Old toys mingle with black and white photographs.
The first thing that stands out when you walk into the store are the shelves upon shelves of used cowboy boots. To the left of the entrance, you will see an entire wall of boots in both male and female sizes, divided by style. The selection is massive and the prices are affordable..
If you aren't looking for boots you can still buy an outfit to sing "Happy Trails" in. A clothing rack is dedicated to getting your denim Bob Dylan look on, while the rest are for when you want to look like you raided your parents' Woodstock outfits. Tunics, hats from the 1940s, ties, bandanas, vests and vintage clothing are packed onto racks parked around the store.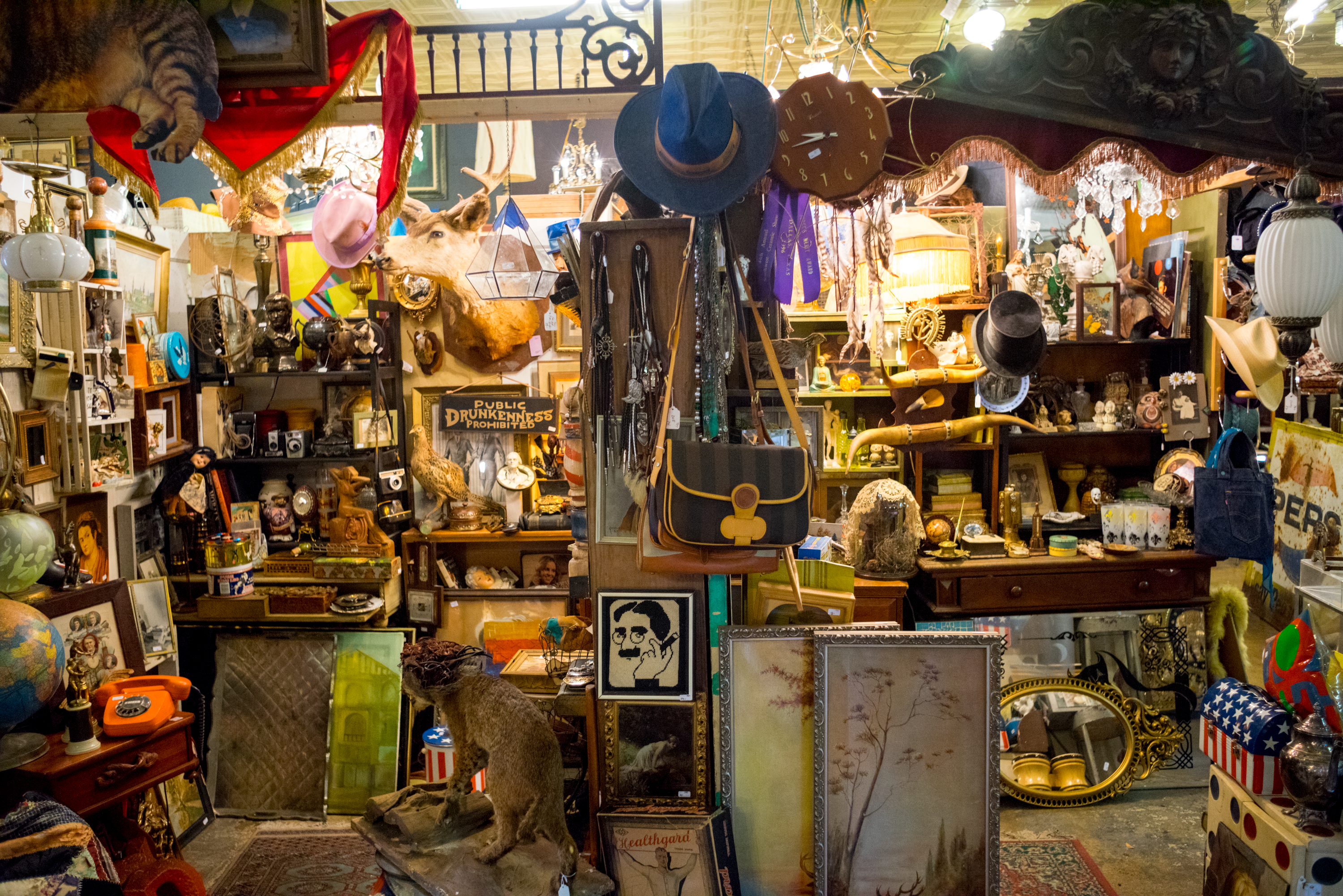 Dolly Python's prices are higher than those of a normal thrift store, but lower than those of normal stores. Clothing items like jackets and coats averaged around $45, and dresses and shirts were closer to $15 and $20.
One vendor sells old concrete sculptures, some modeled accurately after the male genitalia, that fit on your desk, while another sells abstract art pieces in green, red and blue to hang on your wall. Throughout the booths there are tarot decks, old pinup girl posters and even a Ouija board.
In the very back of the vendor portion of the store is a booth that sells vinyl records. The collection of records isn't bad with Nirvana, Black Sabbath and John Denver among those represented.
Dolly Python has personality.
It might be hard to nail down what kind of personality that is, but it results in a shopping journey that is enjoyable even if you don't buy anything.
However, not buying something is very hard to do.
Dolly Python, 1916 N. Haskell Ave. in Dallas, is open 11 a.m. to 6 p.m. Tuesday through Saturday and noon to 6 p.m. Sunday and Monday.
Exploring Heritage: Hispanic culture influences daily life in Texas