Being a college student comes with a hidden price of over stressing about assignments, exams and the constant dread that lingers in the back of your mind that you will fall behind in your classes. There are multiple ways to unwind, but the best way to deal with the overwhelming sensation of studying is to go out with a couple of friends and enjoy some affordable drinks. Here are five Deep Ellum spots to try.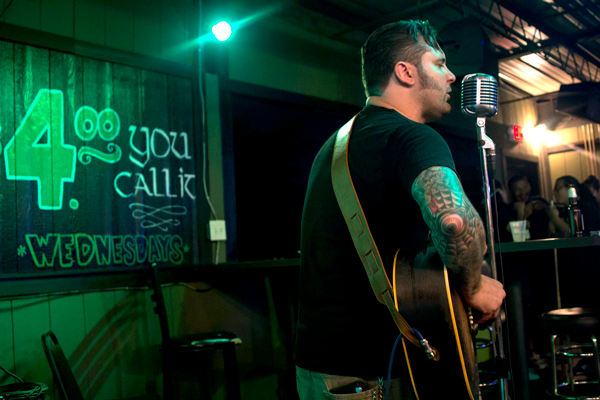 The Green Room
2715 Elm St., Dallas
Located at the heart of Deep Ellum, this is a great bar to have a memorable time, meet new acquaintances and enjoy local music.
As soon as you enter, the groovy bartender is there to greet you. The whole wall opposite from the bar is covered in an amazing mural with long, high tables stretching out from it.
It has a grungy Deep Ellum feel with an energetic atmosphere, yet the rooftop patio and bar still allow you to slow down and enjoy the city view.
On the rooftop, you can reconnect with your inner child by playing pool and testing your hand eye coordination with jumbo Jenga.
[READ MORE: High Five: Low-cost places to fill your fall wardrobe]
It also has an outstanding view of Deep Ellum and the Dallas skyline to enjoy while sipping local beer. Shots are affordable, ranging from $4 to $7.
The food that stood out the most was the patty melt. It is a Swiss-cheesy, saucy mess between two slices of Texas toast. The patty is well seasoned but not overpowering, complimented by sweet seared onions and a tangy special sauce. It comes cut diagonally, just the way mom did your grilled cheese.
It's served with crunchy, well-seasoned fries that can compete with any from around Dallas. The patty melt itself is reason enough to visit the Green Room.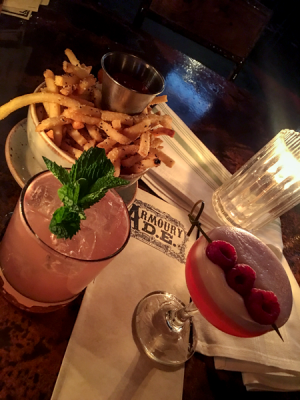 Armoury D.E.
2714 Elm St., Dallas
Come in and take a peak.
Although it may look like a Viking guild, it is more thrilling than frightening.
Mounted animal heads, dim lighting and an old folk-vintage vibe characterize the Armoury. Stepping in, the first thing you'll see is the massive collection of whiskey, rum, tequila and other spirits lined up behind the bar.
They also have a variety of special cocktails, namely the Save the Queen, Mr. Pink, Speak of the Devil, and Hell Hound – and they all live up to their names.
The bartenders and waitresses create a laid-back atmosphere to enjoy the dark, underworld cocktails that will drag you to hell and back.
While there is a patio with live music, these devil-made cocktails are to sell your soul for. With their sweet and savory tastes, Hell never tasted so good.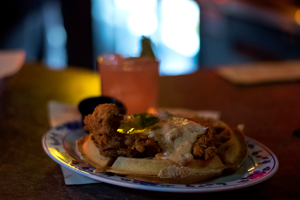 Bricks & Bones
2713 Elm St., Dallas
As soon as you step into the vintage Mexican/Tex-Mex bar, you are immediately among friends with an amazing "be yourself" atmosphere.
The enlarged circle frame of Mexican bingo cards that decorate the left wall catch your eyes when you enter.
On the opposing wall, there is a large mural with a little boy holding Brick & Bones mascot rooster. The roosters and chicken decorations started off originally with four and quickly grew to 20-plus. They are gifts from family, friends and locals who have traveled from all over the world. These roosters literally fly from Mexico, Africa, Japan and other areas around the world to be placed on the shelves of Brick & Bones.
It has vintage tables and chairs for seating, as well as several chairs hanging from the ceiling for decoration.
Bricks & Bones is known for its chicken and waffles. Everything is made from scratch.
The chicken and waffles are lightly seasoned with spices that mash perfectly together with a honey mustard tangy special sauce that is drizzled with melted sweet Mexican candy syrup that make your taste buds dance the night away.    
The fried chicken is enough to make the visit worth it. It is so good that it is competing with two other bars for a call back in mid-October to film the TV show, "Diners, Drive-ins and Dives." They were also listed for the best fried chicken in D magazine
The cocktails are a must.
The Lit Chicken — cooked in oven-roasted pineapple-infused Mescal with rye, whiskey and thyme — doesn't taste like alcohol until you notice how lit you get.
The bar changes the cocktail menu every season, but the Lit Chicken is available year-round.
The Huckleberry Hound is the total opposite of the Lit Chicken. This drink is made with vodka, and makes the flavor stronger and raises the overall alcohol content of the drink itself.
Go here if you just want to have a good, laid back time and enjoy yourself from the bricks to your bones.
[READ MORE: 'Sourdough' exhibits brilliant plot, characters]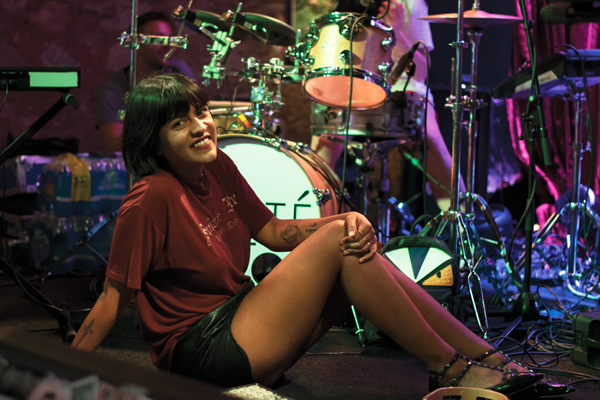 Three Links
2704 Elm St., Dallas
Three Links is a must for any rock and roller. Like many other bars in Deep Ellum, it has an atmosphere similar to that "Keep Austin Weird" vibe with a good dose of Dallas pride.
The name Three Links is a tip-of-the-hat to the Independent Order of Odd Fellows (IOOF), and was opened by three current Odd Fellows: Oliver Peck (Elm Street Tattoo & Ink Master), Kris Youmans (Transmission Events) and Scott Beggs (Sierra Bravo productions).
The place is set up like an open garage.
The first thing that catches the eye is a large stage in the middle of the room. It quickly established itself as one of the premier spots to see live music in North Texas.
Whether it's new up- and- coming national bands, the hottest locals and regionals or the veteran doing an underplay, Three Links provides an intimate, professional and above all else a fun experience for fans and bands alike.
The entire place is decorated with murals, graffiti and stickers placed from wall-to-wall by bar-goers.
Known for its high-alcohol-content craft beers, like the Peticolas Velvet Hammer, this bar is perfect for the dark beer lovers.
Three Links has more than 40 craft cans with 16 beers on tap and one of the best top shelves in the neighborhood.
If dark beers aren't your thing, the bartenders are equipped to mix up a cocktail as long as you let them know what you'd like as the foundation.
[READ MORE: Salinger biopic tells accurate, emotional story]
Whether it is vodka, tequila or anything else they have behind the bar, they can make you a personal cocktail that will leave you craving more.
This makes the bar stand out from the rest.
Three Links is also partnered with Fuzzy Tacos shop, and their full menu is available to order from the bar.
Enjoy great craft beer, local music and saver some of the best tacos available in Dallas.
What more could you ask for?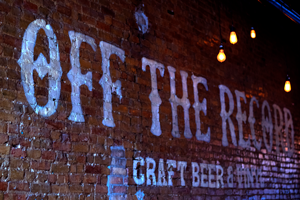 Off the Records Bar Craft Beer & Vinyl
2716 Elm St., Dallas
Off the Records is another music lover's bar, stacked with vinyls ready to be sold.
Their diverse music choices suit a variety of music tastes, although this bar is best known for its craft beer collection.
The menu is full of 24 craft beers.
It does have a patio, but it is only open on days that local artists are performing.
If you visit the bar on Wednesdays, you can listen to Dead Blue aka Blue, the Misfit, a local hip-hop artist.
You don't have to be a hipster to enjoy this joint.
Exploring Heritage: Hispanic culture influences daily life in Texas