As Hurricane Harvey made landfall on the Texas coast, Houston resident Erin Jones was waiting on a friend from Galveston to arrive at her home to evacuate. Jones, 32, has lived in Houston her whole life and has never had to evacuate before.
"I've kind of been lost, not knowing what's next. Not knowing what you're going to do," Jones said. "Then when you see these resources pop up on every social media possible, you have people saying, 'Come here, we have shelters here. Come here, we have this stuff here.' "
Jones is one of 5,000 refugees expected to arrive at Dallas' Kay Bailey Hutchison Convention Center seeking temporary shelter until she can return home. While many are expected to relocate to Dallas, Jones is determined to return home as soon as they can.
Unfortunately, for those who want to return, they are expected to have to wait months. John Judd, shelter manager at Dallas' Tommie M. Allen Recreation Center, said they expect the water to take months to recede, then months more for houses to be repaired or torn down and rebuilt.
For now, the only shelter in Dallas that still has room is the convention center. Before mass rescues even started in Houston, the Tommie Allen and Samuell Grand recreation centers in Dallas were at capacity.
Linda Boone, shelter manager at Samuell Grand, said that her facility is housing 192 refugees and feeding an additional 87.
Edna Pemberton, the Dallas resident who helped Jones and her friend find their way to the convention center, said the facilities were more hospitable than she imagined.
The convention center is staffed with medical teams, mental health professionals and special assistance for children. Equally important, Pemberton said, is the positive and encouraging atmosphere and offerings of help from the community.
Shelters have kids' rooms with games and activities for children monitored by Red Cross personnel, rooms full of donations ranging from diapers and baby formula to clothes, food and basic entertainment like books and coloring pages, government officials assisting refugees in getting food stamps and other government assistance.
Only living in Texas for two months before having to flee her home, Tiffany Howell, said that donations of time and goods from the community have been invaluable.
As her 3-year-old son, Johnston, and 17-month-old daughter, Jordan, sit on the large, shaded porch of the Samuell Grand Recreation Center playing with chalk donated by community members, Howell has a moment to escape the chaos around her. Her third child, only months old, is inside the shelter
She smiles watching as her children, who are too young to understand that they've lost their home, laugh and scribble on the concrete with different colors of chalk.
[READ MORE: President Trump ends DACA program, recipients await possible legislation]
Howell won't be going back to her Southeast Texas apartment, having moved there from North Carolina for a job opportunity. But now, after everything gone except what they could fit into their car, she plans to find a new job and settle in Dallas-Fort Worth.
Their family evacuated before the storm hit. She was watching the local news in her home when the meteorologist advised residents to evacuate, saying he had never seen a storm like Harvey in his career.
"I think I was one of the lucky ones that got out just because of listening to the news," Howell said. "Some people didn't have the resources to get out. I had $50. I put something in the gas tank and just left."
Howell hasn't heard from her next-door neighbor since the hurricane struck, but she has made contact with most of her friends in North Carolina through Facebook.
Evacuating was the right move, she says, as their first-floor apartment is likely completely underwater. She's tried reaching the leasing office multiple times, but imagines it, too, is flooded.
The overall outlook from affected areas is grim. Death tolls rise almost every day in Houston and the areas surrounding it. On Sept. 1, it was at 40. Howell says she's glad that she and her children are alive.
Their joy may not help them pay for a place to stay in the coming months or find her a new job, but it's enough to lift her spirits. She says her children and faith are what keeps her moving forward.
The outpouring of care from the community is just an added bonus. Earlier in the day, she was able to charge her phone and use wifi at a T-Mobile Magenta Fleet truck and had a hot lunch from an In-N-Out Burger mobile kitchen that made a stop at the recreation center.
The day before, actors dressed as the Avengers visited the kids at the shelter. It had as much of a positive affect on the parents as it did their children.
But every night, Howell has to face the fact that she and her family are homeless for the time being.
"It's really different sleeping on a cot," Howell says. "They want to sleep by mommy. But we still just say our prayers every night."
Howell said that the atmosphere at the shelter is not what she had expected. It's not a bad place to be right now. The Red Cross volunteers are focused on the people.
"Everybody's so generous," Howell said. "We have water. We have clothes. We have food. We have medical help. It's like being overwhelmed with joy."
This isn't where she expected to be. She left with hopes that the storm would not destroy her home and that she could head back in a matter of days. They ran out of hotel money after a couple of days and made their way to the shelter.
And she knows that, as time passes, she will have to get a new job and new permanent housing.
The resources at the shelters go beyond physical goods.
Representatives from local schools have registered children for same-day enrollment in classes and provided uniforms and school supplies. The University of North Texas is allowing immediate transfers from the affected areas. Airbnb hosts are offering up spaces for hurricane victims to temporarily stay for free.
But not everyone is without a home to return to.
John Nuding, a resident of Omaha, Nebraska, was in Houston visiting a friend and was not able to evacuate before the hurricane reached the city. Because he does not live in any of the storm affected areas, he has been told he cannot get access to some aid.
For now, he's waiting for a family member to get identifying documents to him — his were lost in the hurricane — so he can pay for a bus ticket to Tulsa, where he will meet his aunt and get back to Omaha.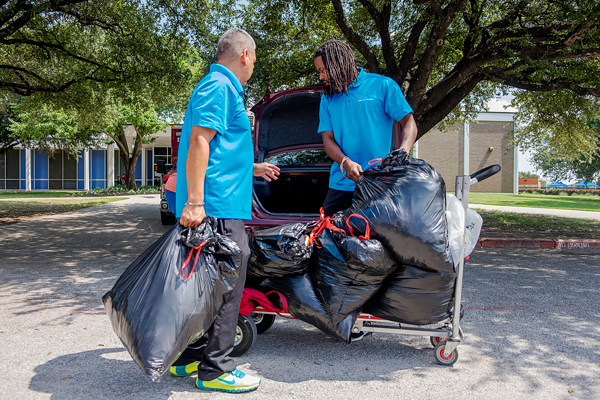 "As of this moment, I have no way home," Nuding said.
Nuding injured his back while sheltering from the hurricane. He tears up as he recalls the scene.
"It was loud. It was crazy," Nuding says. "There was a lot of water, a lot of things flying around, a lot of debris."
He's focused on living day to day right now, finding a place to sleep and food to eat.
"The man upstairs and my own two feet, that's about all I've got," Nuding says.
The University of North Texas has begun offering immediate transfers to college students affected by the storms and the Dallas County Community College District has announced that hurricane evacuees will be offered immediate enrollment at DCCCD institutions.
At press time, one Harvey student had enrolled at Eastfield and another at Cedar Valley College.
Colleges within the district have also been engaged in efforts to raise donations for Harvey victims.
Sharon Cook, spokeswoman for Eastfield, said she isn't sure how many takers they will get on the offer for immediate enrollment.
"For some of these students, this may be the last thing on their mind," Cook said.
Cook has been fielding emails since the day Harvey made landfall. She's already coordinating with the firefighters association in Dallas, state Reps. Cindy Burkett and Victoria Neave from Dallas County, the Dallas Independent School District and the Disciples of Christ Church in Mesquite.
As she sits at her desk working, her email dings. Another request for donations, this time from an Eastfield employee. Robert Bryant, an adviser at Eastfield, writes that his wife works for Lipman Farms, and they want to gather donations to take to Houston. Cook quickly adds him to the list and sends out an email to the college.
In a few days, Cook will load up the donations in her car and drop them off with the different organizations.
Boone, the shelter manager said that while donations of goods are not technically needed anymore, they will not be turned down and have an impact on the happiness of those staying in the shelters.
Even with the depression, desperation and heartbreak felt by those in the shelter, she keeps herself in high spirits.
She says that serving the community is just natural for her and many of the other Red Cross members working the shelter from "older" generations.
[READ MORE: Certificate programs offer fast track to employment]
Laurie, a kitchen manager at the Samuell Grand location who did not provide her last name, and Boone both said their faith paired with the way they were raised made serving others natural.
"You're talking to an older generation," Boone said. "We were taught you do for others as you would have done to you."
Laurie has never felt that the job was too heavy.
"You get loss, you get loneliness, you get, 'When can I go back? What do I do next?' " Laurie said. "You just have to be there and care for them. You tell them that God's got this. You just love them."
A combination of her faith and the people around her keep her going.
"I spend an hour every morning, before I start my day, in my prayer room," Laurie said. "You work with wonderful people, and it keeps your spirits up. You have to have a team. Our leader is a great leader."
Laurie has been involved in the Red Cross since Hurricane Katrina. She also worked with the Red Cross after the explosion at the West fertilizer plant and the North Texas tornados in December 2015.
The damage done by Harvey is still being assessed and the community need will be much more than that after the fertilizer plant explosion or the tornados.
Even with all the talk about recovery and the community response, the disaster isn't done progressing. Houston Mayor Sylvester Turner said on Sept. 1 that there would be 10 more days of flooding as reservoirs continued to pour over into the city.
Turner urged those living near the reservoirs to evacuate, including those in apartments.
The added evacuations from that area will add to the burden on shelters in Dallas and Austin.
Boone expects the Kay Bailey Hutchison Convention Center to reach its 5,000 capacity quickly after flooding on the roads clears up and victims can be evacuated.
For now, refugee shelters are doing what they can to make their temporary residents more comfortable.
Swords, guns and ballots: New state laws go into effect Sept. 1