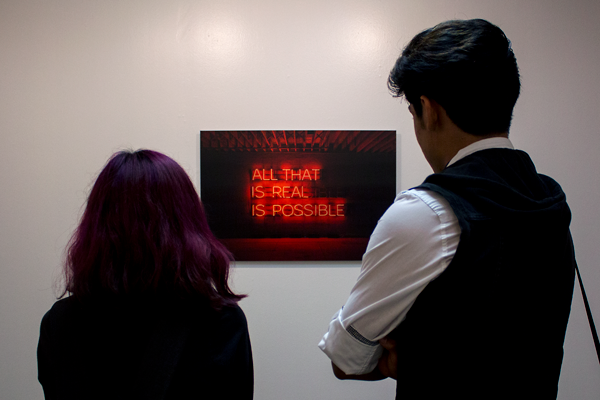 Artwork created by Eastfield faculty will be on display through Sept. 28 as a part of the "In Good Company" show.
The art show houses artwork of full-time faculty and adjuncts as well as guest artists invited by each faculty member.
"We have really good adjuncts, and so we always have a very diverse exhibition in terms of content, subject matter and material," galleries director Iris Bechtol said.
Eric Eley, professor of ceramics and sculptures, is showing a piece based on research into the architecture of prisons and World War II bunkers. The piece is a part of a brand-new body of work he hasn't finished yet.
"I wanted to get one out of the studio and finish it, and it's a piece I've never shown before," Eley said.  "I thought it would be nice to have students see a work from me that's not a hundred percent resolved necessarily, to see that their teachers work through these things the same way that they do."
Eley's invited artist is Leigh Merrill, a professor of photography at A&M University Commerce whose work has appeared in art galleries around the U.S. as well as news publications like The Washington Post and Houston Chronicle.
Rachel Fischer, an adjunct drawing professor, invited Alicia Eggert to present a piece in the show. Eggert's work is a lenticular print of one of her neon sculptures.
Kathy Windrow, full-time painting and drawing professor, invited Sandra Lara, a former Eastfield student. Lara, an accomplished artist who shows at a local gallery, attended Eastfield in the early 90s. She teaches at El Centro College in the jail education program.
Bechtol invited Michelle Thomas, the public art program manager for Fort Worth and a former adjunct professor at Eastfield.
Professor David Wilburn, art appreciation and design professor, has created a piece with a focus on political changes and how they affect him.
"Much of my work over the past year or so has addressed recent political issues and the sense of chaos that many people have felt on both sides," Wilburn said. "As an artist who is gay, since the November elections the social minority part of my existence feels magnified. The same is true for a lot of social and ethnic minorities in the United States. So that's what I'm thinking about with this piece."
The show is in Gallery 219 and the H Gallery. The galleries are open 9 a.m.-4 p.m. Monday-Friday and weekends by appointment.