Not exactly what you would expect: Popular new businesses change the vibe along Garland Road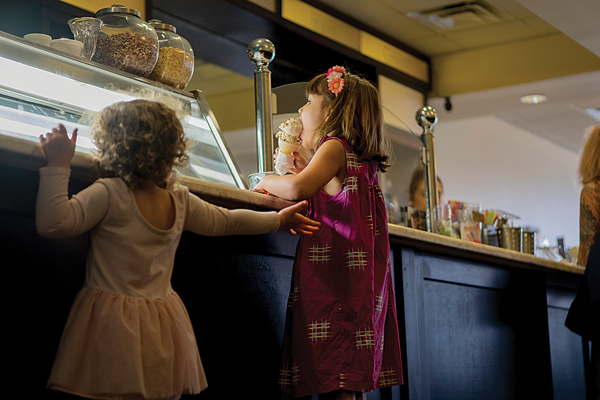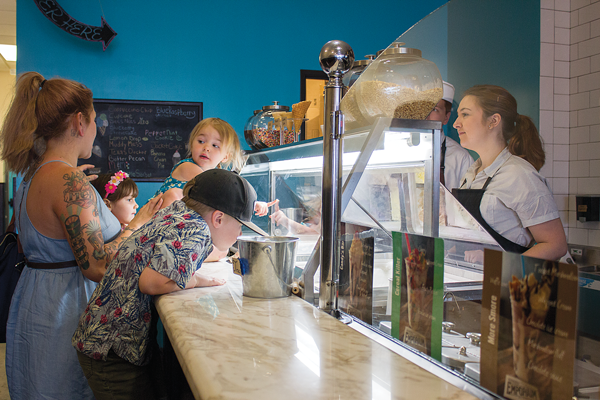 A newcomer in his mid-20s wanders along a dark and desolate shopping center on Garland Road on a Wednesday night. He stops in front of a large wooden door. His eyebrows are furrowed as he looks down at his phone and back at the door. Suddenly, the door opens and a young couple, blonde and brunette, walk outside.
"Is this the bar?" he asks the couple.
"Yes!" they respond together.
"You never would've guessed, right?" the brunette says. 
Unless you are a homeowner in the neighborhood or a lover of all things East Dallas, the two generic-looking shopping strips may be easily overlooked.
The area between White Rock Lake and Casa Linda Plaza houses an eclectic mix of establishments, from a recording studio to a gun store to a pet groomer. However, three new establishments have been added within the past year that have locals buzzing. These up-and-coming businesses are right in Eastfield backyard, less than 15 minutes away.
"I always thought it was a cool neighborhood, but now it's kind of hip," Dallas Academy teacher Ellen Zimmerman says on a visit to the new ice cream shop. "It's fun to have good places to eat and shop."
The owners of Hypnotic Donuts and Greenville Avenue's Good Records offer spin-offs of their businesses to the Lake and Garden District in East Dallas. James and Amy St. Peter of Hypnotic Donuts created a classic soda shop atmosphere and are whipping up sweet treats and selling retro candy at Hypnotic Emporium. Across the street, the founders of Good Records have opened The Good Pagoda gift store and its neighbor, the low-key Lounge Here bar.
[READ MORE: GIRL BOSS: DEAN JUDITH DUMONT EMBRACES FEMININITY, STRENGTH IN LEADERSHIP ROLE]
'Where are we meeting?' Here.
The marquee out front simply reads: "FOOD. COCKTAILS. HERE."
The brick storefront is painted off-white with no other signage aside from the glowing neon sign, which tells those passing that they are, indeed, "here."
Lounge Here, the bar and restaurant opened by Polyphonic Spree's Julie Doyle and local artist Tony Barsotti, sits in the same shopping center as a wig shop and tattoo parlor.
In the 16 months it took to transform the 1,600-square-foot space from bike store to bar, the owners took careful consideration into making the lounge a reflection of the neighborhood. Doyle describes it as "casual, quaint, simple, inclusive and stylish."
The newcomer makes his way into Lounge Here and spots his friends in a corner booth near the back of the bar. As he walks to the table, his eyes wander from the landscape photo of hilltops, which takes up an entire wall, to the large semi-circle bar top and retro glass lamps hanging from the ceiling.
"How did you even find out about this place?" he asks his friends as he slides into the white leather booth.
For many of its customers, Lounge Here is just a place that appeared in their backyard one day.
It has become the new meet-up spot for many locals in the Lakewood and Casa View area, but it is much more than a bar.
On busy weekend nights, the wait for a table at dinnertime can be about an hour. Zimmerman recommended Lounge Here as the after-party hangout for a friend's wedding. She likes to stop by with her husband to share the "swanky" chicken fried Akaushi rib eye with shaved brussel sprouts and duck fat gravy. She's expressed her love for the new neighborhood hangout so much that her daughters bought her a Lounge Here cap for her birthday from The Good Pagoda boutique next door.
Wednesday night, the dinnertime rush has the quaint space buzzing with conversation. The booths on either side of the lounge are full with groups of all ages. Almost everyone has at least one cocktail glass on their table, whether it be the gin and apricot Sugarmaker cocktail or an Old Fashioned. Three tables in the center are close enough to each other that customers are able to talk to their neighbors.
"How long have y'all been coming here?" an older man in a black button-up asks the couple at the table to his right.
"Oh, we've loved this place since it opened," the woman replies.
"We live just behind the building, so we come here pretty often," her husband adds.
Many of the regulars stroll through the neighborhood or ride their bikes to Lounge Here.
Discovering Lounge Here for the first time might seem like a scavenger hunt to those like the newcomer, but it is a discovery that had him making plans for future visits.
Good Vibes at The Good Pagoda
A young woman in workout attire takes off her sunglasses in the doorway, her eyes widen and she cracks a smile. Wooden lamps by artist Nick Earl are hanging above the multi-colored lockers to her left and contrast the light pink walls of the store. In the center of the room, a hanging disco ball spins to the sound of The Kinks' "Sunny Afternoon."  As she slowly walks past the cotton marigolds and David Bowie-inspired art, she raises an arm to show her friend on the other end of a FaceTime call her discovery.
The Good Pagoda is the second Garland Road venture for Julie Doyle, who opened the store in January with bandmates Tim DeLaughter, Christopher and Jennifer Penn and Cassie Askin.
On the day of their grand opening, Askin looked around and saw many familiar faces. Bandmates, friends and family were all present to offer their support.
"It was very fun for us to finally see this come to fruition and see it full," she said.
Every part of the shop has a personal touch, from the lights installed by DeLaughter to its name.
The Good Pagoda's name is an ode to an old family friend. Kumar Pallana, the actor who played Pagoda in Wes Anderson's film "The Royal Tenenbaums," was a Dallas socialite during his years as the owner of Oak Lawn's Cosmic Cafe. When Pallana passed away in 2013, it only made sense to the owners that their next venture together would be named after his role in the cult film.
Pallana's memory is alive in the store, which sells baseball-style pennants and paintings of his famous Pagoda character by William Flint.
Local artist Jonathon Kimbrell designed the store's logo, a western-inspired font with blue and pink shooting stars, and painted a large version of it on the floor at the front entrance.
The space, previously occupied by a photo studio, was dark and empty except for its baby blue walls and dark red wood ceiling.
"It was so empty, dark and cold and now it's warm," Doyle said.
With Wes Anderson-inspired art and gifts like Pink Floyd baby merch, the shop now seems like the perfect fit for art-centric neighborhoods like Deep Ellum or the Bishop Arts District. For Doyle, the decision to place the shop in this specific shopping strip was intentional.
Doyle and the other owners of Good Records secured their spot as a Dallas staple before Lower Greenville became the home to other popular places like Steel City Pops and Trader Joe's, whose popularity sparked construction that allows more foot traffic in the area.
Doyle hopes for a similar experience with her new businesses on Garland Road, and she recognizes the appeal of being in an underrated area of Dallas.
For the locals who have found The Good Pagoda, the boutique serves their neighborhood well by allowing them to buy unique items like glass tumblers etched with Dallas zip codes. The store also features punk rock anthologies, and musician biographies sit on a bookshelf next to vintage comic book character masks. Soy candles by Dallas-based Dylan & Co. are sold alongside jewelry created by local artists.
Customers coming into The Good Pagoda are a mix. Some foot traffic derives from the lounge next door, and local homeowners come in regularly, with sprinkles of young people interested in music and art finding their way into the store as well.
A silver-haired man in his 50s smiles as his eyes lock on the signature yellow vinyl record holders.
"Y'all have got some great records here!" he says, flipping through albums by Talking Heads and T-Rex.
The Good Pagoda is a perfect hangout spot for artsy types of all ages, Askin says.
Upstairs, the boutique also houses the Super Yoga Palace, a yoga studio that offers classes four times a day.
"You can come in here or take a yoga class, hang out in the space, and go [to the bar] next door," Askin says. "I just think it's not like anything Dallas has really seen."
[READ MORE: PROFESSOR CINDY CASTENEDA JOURNEYS FROM DUMPSTER DIVING FOR BOOKS TO FOUR DEGREES]
Hyped Up at Hypnotic Emporium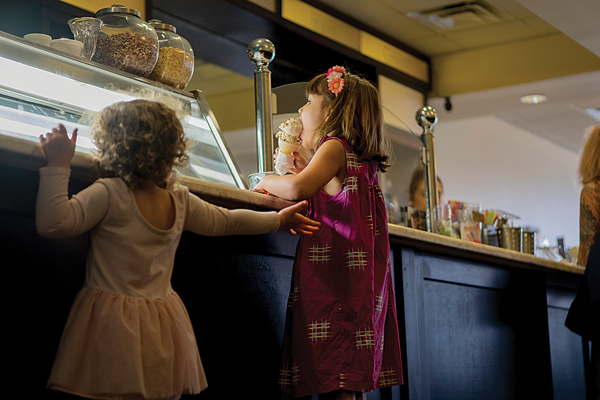 Cassie, a waitress at an Oak Lawn steak house, enters the ice cream shop on Garland Road during a lull. A server recommended Hypnotic Emporium the night before.
"She was so enthusiastic about it," Cassie says. "She's a local and said this was the best ice cream, so I took her advice."
Honey lavender ice cream is a local favorite, so Cassie orders it in a milkshake. She is on her break from work so she orders her boss a milkshake as well.
"We're going out of our way to get ice cream," she says.
She is hopeful that the trip would be worth it and is not disappointed. On her way out of the ice cream shop, she takes a sip of her milkshake and her eyes widen, pleased by the flavor combination of sweet honey and herbal lavender.
The unique Hypnotic Emporium experience mimics the laidback atmosphere of 1950s soda shops, complete with Frank Sinatra songs and greetings by soda jerks clad in old-fashioned caps and aprons.
"It's not typical Dallas," owner James St. Peter says. "We want to create an
experience, and I think that matters to a lot of people."
Dozens of framed black-and-white photos line the wall in front of the shop's marble counter. The patrons in the photos are toddlers, teens, adults and those old enough to feel the nostalgia of the vintage-looking soda shop, many with ice cream framed smiles.
St. Peter opened the Hypnotic Emporium last February after the success of his first Garland Road venture, Hypnotic Donuts. Since the business sells candy and toys as well as ice cream, St. Peter figured the title "Emporium" fit the store's character best.
The wall on the right side of the store is lined with glass jars of bubblegum and gummy candy. A variety of colorful retro candy and vintage children's toys catches the attention of guests of all ages.
"The older people love the vintage feel," St. Peter says. "Kids don't get that. They're like, 'It's ice cream! Who cares about all the stuff on the walls?' "
Indeed, adult customers often take a look around and appreciate the atmosphere while children scurry through the entryway to claim a seat at the ice cream counter, giggling with excitement.
At the start of the afternoon rush, just after 3 p.m. when kids are getting out of school, a family of six walks into the shop and orders four milkshakes and two single-scoop cups of the cotton candy ice cream with rainbow sprinkles.
Some establishments might serve a Coke float with average vanilla ice-cream and branded soda, but the process is considered an art at Hypnotic Emporium. The soda jerks behind the counter have mastered the art of making sundaes, floats and milkshakes with the fresh ice cream delivered every week from Beth Marie's in Denton and root beer, orange and cola sodas crafted to order from syrups in glass bottles.
The bottles sit next to the lone waffle iron, the source of Hypnotic Emporium's sweet smelling atmosphere. The soda jerks make about 150 waffle cones per day. They used to produce more with their "fancy" waffle iron, which cooked three at a time, but the quality did not compare.
That is what makes this independent ice cream shop so special, St. Peter says. They care more about quality and overall experience, so taking the time to make one waffle cone by hand really makes a difference.
Making 150 waffle cones a day is a laborious task, but the workers at Hypnotic Emporium do it efficiently. Brandon, clad in a old-fashioned white soda jerk hat and apron, pours batter onto the grill sets out to do other tasks around the shop until he hears the machine beep behind him. When he lifts the handle and reveals the steamy golden brown waffle, Brandon immediately removes it and sculpts the waffle to cone-like perfection. He repeats the process three times until the jingling of bells and scurrying of shoes on the floor have him turning around and greeting guests.
Zimmerman enters with her daughters Lana and Greta. They wait their turn to step up to the ice cream counter and pick out their favorites.
She has lived in the area for 14 years and brings her family in often.
"I like that you can actually make the sweet ice cream kind of salty with the pretzel cone," Lana says as she hops up and down in her seat.
Normally, Lana would be inside circling the candy section but the shop was too busy today. Instead, the family is content with enjoying their ice cream in the nice sunny weather.
The handcrafted quality at Hypnotic Emporium has appealed to families and the young adult crowd as well. St. Peter has noticed that they seem to be more adventurous and willing to try new things.
"There's lots of options for millennials," he says. "We do stuff that's very different, stuff that you can't find at the typical store."
Donut-ice cream sandwiches, a Hypnotic donut stuffed with up to three flavors of ice cream and flash fried, is warm and steamy on the outside yet cold and creamy on the inside. The s'mores milkshake, complete with gooey marshmallows burnt right in front of you, is a staple as well.
The throwback ice cream shop is across the street from Lounge Here and the Good Pagoda, but getting there can still be a little bit of a hassle. With no real sidewalks or bike lanes, the area is not exactly pedestrian friendly.
Changes to make the area more walkable are not likely to happen because Garland Road is a state road, St. Peter says.
But he is trying to get customers to the area in a different way.
"We're in talks of possibly doing some type of trolley that runs from here down to Peavy Road on weekends so people can get on that and experience these three blocks," he says.
Pattinson, Safdie brothers combine for eccentric 'Good Time'