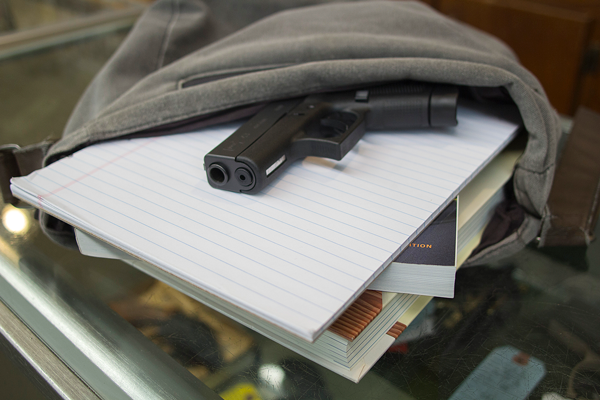 The "gun free zone" signs that adorned doors before Aug. 1 are gone and the "gun free" portion of the "drug free, gun free, alcohol free, tobacco free" signs leading into campus has been covered with duct tape.
With the controversial campus carry law going into effect this month, Texans with handgun licenses can now bring concealed handguns to two-year college campuses, including Eastfield.
Only license holders will be allowed to bring guns on campus, and they must remain concealed at all times. Handguns are not allowed in certain areas that have been designated off limits by the Dallas County Community College District.
However, handguns will be allowed in classrooms, faculty offices, common areas and anywhere else on campus that is not marked as gun-free.
Temporary exclusion zones can be set up ahead of a scheduled event if alcohol is present or there is a reasonable risk of violence or threat to the community.
Temporary exclusion zones can be identified at any time before an event starts.
The law has been met with backlash from students, faculty and staff across the DCCCD, as well as across the state.
When the law went into effect at four-year schools in 2016, students at the University of Texas passed out sex toys shaped like male genitalia and attached them to their backpacks in protest. Their statement: guns should not be allowed where dildos are not.
[READ MORE: Trustees to vote on budget, policy changes]
A lawsuit by UT professors seeking to overthrow the law was dismissed.
When the law went into effect this month on two-year campuses, the response was quieter. A San Antonio College geography professor made national headlines by arriving to teach class in a ballistics vest and military helmet. He told the San Antonio Express-News that it was his way of making a statement.
"I was just saying I don't feel safe," professor Charles K. Smith told the newspaper.
District officials said students and employees overwhelmingly oppose campus carry, but the colleges must follow state law. Some say armed civilians will make campuses safer.
Tierra Nelson, an education major, said she not only supports the law but plans to carry when she turns 21.
Nelson said she does not want to be unarmew if she finds herself in a dangerous situation, and that it is better to be ready to fight back.
[READ MORE: To bee or not to bee? No question about it: Eastfield adopts new mascot]
"Anything could happen, even during the day," she said. "It's better just to be prepared and be safe."
Cathy Turner, a PC tech at Eastfield, said she feels safer with vetted, trained, armed civilians around.
"The people who are carrying legally have been vetted. They're licensed," Turner said. "The people who are carrying illegally? The law obviously doesn't stop them anyway."
Turner said that armed civilians can stop or limit a "Columbine-type of situation" and cited situations like the UT tower shooting in 1976, where police later said civilians with firearms were instrumental in limiting the damage done by the sniper and even stopping his rampage.
Turner said that, while she supports the law, she does not know anybody who plans to carry at Eastfield.
Mario Vazquez, a licensed chemical dependency counseling student, said he does not believe it is a good idea to allow students carry guns on campus.
"If somebody gets mad, with our reaction at the time, we don't always use our best judgment," Vazquez said. "By them actually carrying a concealed weapon, yeah they're licensed and have been taught better, but that doesn't mean they're going to do the right thing."
[READ NEXT: Swords, guns and ballots: New state laws go into effect Sept. 1]