Bill banning sanctuary cities passed in Texas Legislature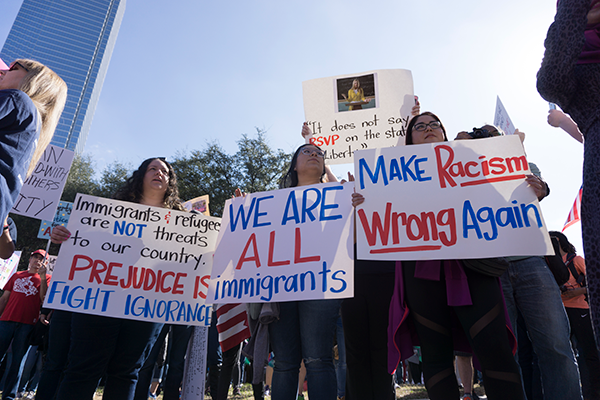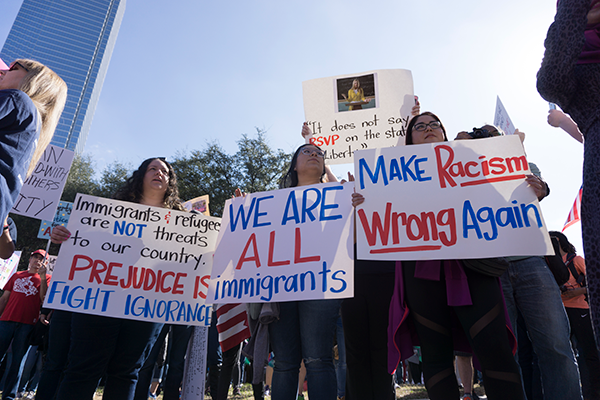 The Texas House of Representatives voted on April 27 to ban sanctuary cities and compel local authorities to comply with immigration laws.
After a 93-54 vote along party lines, the bill is now headed to the governor's desk and is expected to be signed into law.
Texas Gov. Greg Abbott designated the bill, Senate Bill 4, as an emergency item for the Legislature in January. The Texas Senate passed the bill in February, and the House passed it after more than 15 hours of debate.
History professor Michael Noble, a Republican voter, said the bill would create an increased sense of fear and negativity on college campuses across North Texas. He believes that Eastfield will not allow Immigration and Customs Enforcement to arrest students on campus without a warrant.
"You'll see enrollment is going to go down because students will be afraid to come to campus," Noble said. "It creates this atmosphere, almost Gestapo-like, where the ICE agents are coming on here and asking to see people's papers. It creates an atmosphere where racial profiling will be prevalent. I don't think that is indicative of what a college is about."
President Jean Conway said because the definition of a sanctuary campus so disputed, it's difficult to even consider Eastfield as one.
"What does it even mean to be a sanctuary campus?" Conway said. "ICE will not be allowed to come and take students. Does that mean we are a sanctuary campus? I don't know."
Eastfield intramural sports coordinator Jide "JC" Carew said he believes Dallas County community colleges are already considered sanctuary campuses.
"I think Eastfield in some ways already is … since we do have students who fall under [Deferred Action for Childhood Arrivals] and they feel safe at the community college level," Carew said. "If Eastfield continues to provide the services it does for all students, I have no problem with it. But I understand that having it called a sanctuary campus might bring unwanted attention and more harm than good."
The issue has sparked discussion across the country. In North Texas, several university students urged their campuses to adopt sanctuary status, including the University of Texas at Dallas, University of Texas at Arlington, Texas Woman's University and the University of North Texas.
UT Arlington held a referendum April 18 when students voted to adopt sanctuary status, but President Vistasp Karbhari said the campus will not label itself to avoid losing school funds.
President Donald Trump signed an executive order that would withhold funding from sanctuary cities, but federal Judge William H. Orrick blocked the order, writing that Trump overstepped his executive powers.
Orrick's ruling said that only Congress could place such restrictions on federal funding.
Speech professor Mary Forrest said she opposes legislation that would harm student development, regardless of their immigration status.
[READ MORE: Bill intends to strip veteran, undocumented student aid]
"I am against ICE taking the students that are here and trying to better themselves," Forrest said. "I am against them turning them in and sending students back to their countries. They should be allowed to study as long as they are being good people, good citizens, doing what they are supposed to do."
Noble said that he wouldn't be surprised if the bill is signed into law, but he is against the bill's premise of outlawing sanctuary campuses and allowing ICE on campuses.
"I think that sanctuary campuses are a good thing because in any institution of learning, students should not have the fear of being deported," Noble said. "If law enforcement wants to come on to a campus, they better have a warrant."
Josh Nelson, a psychology major and vice president of Phi Theta Kappa, believes that labeling Eastfield as a sanctuary campus would hurt the college as a whole due to potential funding cuts.
Nelson said that, while he supports DACA, which protects undocumented immigrants brought to the U.S. as children from deportation, sanctuary campuses should not be allowed.
"It's hiding criminals," Nelson said. "I know people like to say that people who are here illegally aren't criminals, but the fact of the matter is that they are. They broke our immigration laws. But I do believe in leniency in certain areas like if they were brought here as children, minors … I think we need to give them some years to work through it."
Computer science major Lava Pokharel, an international student from Nepal, said he believes students should commit to the legalization process put in place.
"I filled out many legal documents to be here, and I think everyone should be legal," Pokharel said.
It is still unclear how the bill will affect Eastfield directly, but Noble said he believes the entire state can also face deeper repercussions from SB4, using a similar bill from Alabama as an example.
Alabama's House Bill 56 was passed into law in 2011 but caused the state's construction and agriculture industries to suffer.
It also led to the arrest of German Mercedes-Benz executive Detlev Hager and Japanese Honda executive Ichiro Yada, potentially costing Alabama the construction of automotive factories.
"Any time a state makes laws like this, it hurts them economically," Noble said. "Everyone that has any sense knows that illegal immigration is a huge part of the Texas economy. There is nothing wrong with someone who wants to come here and better their life."
—Vanessa Ochoa and James Hartley contributed to this report