Honeycutt provides unique work ethic, personality to the arts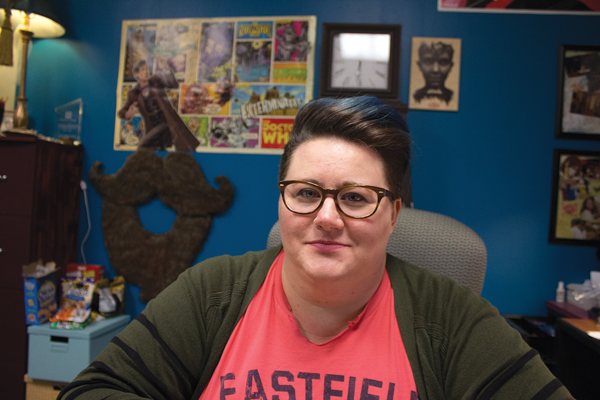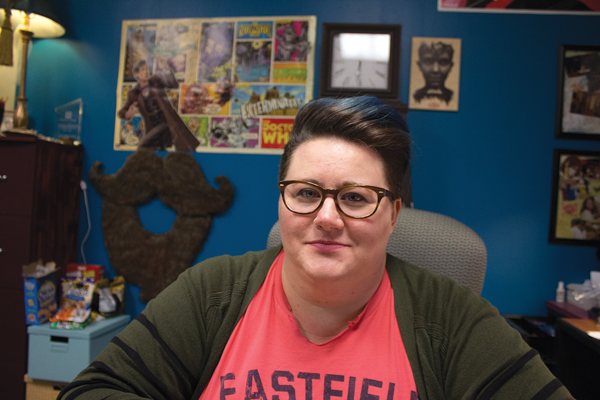 Lori Honeycutt is suspended 30 feet above the Charles W. Eisemann Center stage, focusing a stage light. She is held up by a mechanical lift, with only a platform between her and the wooden stage below.
It's 2002, and Honeycutt is fresh out of college, working her first professional job as a master carpenter and customer liaison at the newly built 117,000-square-foot theater center in Richardson.
She had focused plenty of lights before when she oversaw the set design shop as a student at Tarleton State University. In her two years there, she learned a Swiss Army knife of technical theater skills. She can handle both the composition and setting of light as well as sound design, set building, handling fly rails and just about everything else required in creating a play.
As she is adjusting the bulb, Honeycutt hears a snap from the lift and feels the machine separate from her feet.
Now she's dangling. Her feet are kicking trying to find support. A blood-warming flash of panic hits Honeycutt as she looks down and sees the electrician, who should have been focusing the light, next to the emergency drop button. He pushed it out of spite. He doesn't like that she is doing his job.
Honeycutt is desperately hanging on to the beam used to hang the lights, her arm wrapped around the pole. After a few minutes of disbelief and panic, she drops, aiming for the bed of the lift now 5 feet below her. She sticks the landing.
When she reaches the safety of the stage, she spews a barrage of curse words at the man, kicks him out of the theater and bans him from returning. She heads back to the lift, uses it to rise back up to the lights, still out of focus, and continues her work.
Honeycutt is still patronized by people who think she's unfit for the job. She's had men question her physical and mental strength. But she doesn't let it get to her.
"I could give a damn what they think," she said.
Honeycutt has been the technical director for Eastfield's Harvester Theatre Company for 10 years. She loves manual labor. When she talks about work, her left hand gestures as if she's holding a drill and pushing in a screw. She spends 12-hour days building 12-foot walls and hanging theater lights.
"I have to be in the middle of it," she says, referring to the pre-production process of creating a play. "I want to touch and feel things. I can't imagine myself doing anything else. I think I would go crazy if I wasn't able to work or come into the shop."
Growing up in rural Southwest Texas, Honeycutt learned the value of hard work early. As a sixth-generation Texan with both sides of her family rooted deep in ranching and farming, duties such as tending to crops and feeding animals were a normal part of her childhood. At 16, she would wake up at 5 a.m., leave her home in Eastland to feed the goats and cows on the family farm in Cisco and then head to Ranger High School, where she played on the school's volleyball and basketball teams. She was also a member of the marching band and, of course, acted in school plays.
In her first year at Tarleton State, Honeycutt realized she wanted to pursue a career in technical theater. Tarleton's theater program required students to work hours in the scene shop, and since there were only about 30 students in the program, there was plenty of work to be done. Honeycutt took full advantage of it, soaking up as much tech knowledge as she could.
"I was on every crew I could be on in college because I wanted to do everything," she says. "There's just such beauty in all of it."
Honeycutt graduated in August 2002 with a bachelor's in theater. The very next month, with experience under her belt and help from professor Mark Holtorf, she got the job at the Eisemann. It was there that she realized she had found her future.
From Eisemann to Eastfield
The opening week of the Eisemann kicked off with a gala that filled the three-story performance center. There were more people in the building than the entire population of her hometown.
The first show at the center featured Mandy Patinkin and Patti LuPone performing famous duets from works like "Company" and "Gypsy."
Honeycutt is stage left on the second level fly rail, 30 feet above the stage and a full house. Looking down, she sees blue light hitting the numerous cables strewn above the stage, and it takes her breath away. It wasn't the famous actors performing iconic numbers that impacted her, but the majesty of blue light reflecting off the support beams and curtains.
"I'd come to Dallas and gotten a job and I thought, 'Oh, I'm going to audition for shows and act," she says. "Then, I'm looking out over the stage and I see all of this and I told myself, 'You know what? This is what I want to do. Tech is where it's at, man."
Two years later, she was hired at Eastfield. In her time at the college, she has helped produce more than 30 plays. Zac Cooper, a former Eastfield student who worked with Honeycutt in the theater shop, says that before meeting her, he never knew how to use any kind of power tool.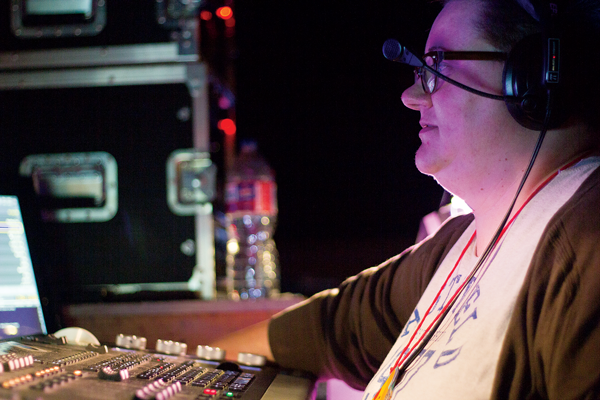 "It sounds crazy, but her teaching me how to use a table saw helped me with my confidence," he said. "She's amazing, just how she holds everything together and still manages to have an impact on the people she works with."
Teach them how to work
Honeycutt, her assistant Lucas Barnes and three Eastfield students are moving a 400-pound flat off a box truck parked in the docking station of the theater shop. The "wall" is part of the set for "In the Next Room, or The Vibrator Play," which the theater company has just finished performing at a regional community college competition.
Honeycutt has nicknamed the massive structure "The Beast." It's mid-afternoon, and gusts of wind are rushing through the dock opening like a jet stream in a canyon. As Honeycutt and the crew heave the 16-by-8 foot assembly of wood, drywall and electrical wiring onto a dolly, the wind grabs and tilts it, forcing the structure to lean and sway.
"This thing is like one giant, hard sail," Honeycutt says as she walks backward with The Beast in her grips.
"It's cool," says music student Vinny Perez, his hands tightly bound to the The Beast, opposite Honeycutt. "We got this."
Then, another burst of wind rushes in from the dock opening and yanks the flat. This time, the Beast's wooden bones crack and bend.
"This thing is about to fall," Perez says in a panic, looking up at the structure that is four times his height.
The last leg of the wind whirls around and pushes the wall down, almost falling on top of the students. Honeycutt, who's at the opposite end of the flat trying to align it to the rest of the set, runs behind the panicked students and, with their help, shoves The Beast into its place. They look at one another for a moment, joke about their near misses with death and continue nailing the flat into place.
When disassembling the set is done, Honeycutt heads back to the office to work on the budget for the next production.
Dance instructor Danielle Georgiou, the creator and director of Danielle Georgiou Dance Group, is constantly inspired by Honeycutt's drive and hustle.
The college tech director helps Georgiou's dance theater group build sets as well as fix lighting and sound design. She also acts as Georgiou's assistant director.
In January, DGDG presented its original work "War Flower" at the Bath House Cultural Center on the edge of White Rock Lake.
As always, Honeycutt tackled the set-building.
What Georgiou assumed would be at least a full day's worth of work was flipped into a four-hour, one-woman job by Honeycutt.
"She told me, 'Don't worry about it,' " Georgiou said. "'By the time you get back, I'll have this done.'"
As promised, when Georgiou made it back to the bath house, Honeycutt had knocked out the entire set by herself.
"I'm so lucky to have someone who understands me and is so dedicated to the craft that I don't have to explain myself," she said. "I love her so much. She is such a hard worker and one of the strongest people I have ever met. But it's not just about being physically strong. She is always ready to take on the task. Like, no matter what the job is, she has a smile on her face, and it is so uplifting."
[READ MORE: Globetrotting Professor: Nick Vera teaches through travels]
Wear and tear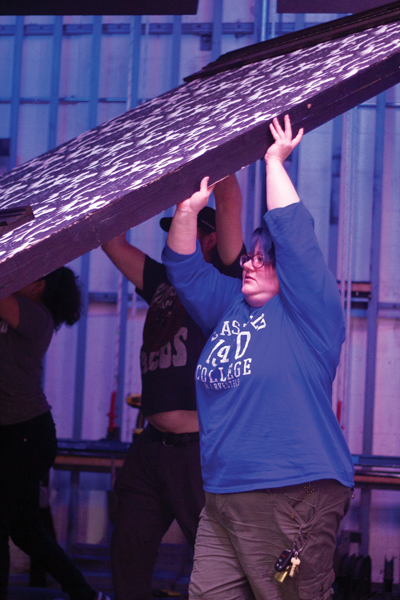 The palms of Honeycutt's hands are rough and rigid, and the bottom of her fingers are hardened with calluses from 20 years of gripping a drill.
The space between her left thumb and pointer finger is a toughened semi-circle of skin, the same shape as the butt of her DeWalt 14.4 XRP cordless drill.
The back of her hands and nails are riddled with scars, too.
At Tarleton, she shot a staple through her right index finger and had to go to the hospital.
When she saw the doctor, he told her that he didn't know how he would get the staple out.
"I said, 'Oh, I know what to do,' and I pulled out a pair of pliers from my back pocket and yanked it out."
The doctor just stared at her.
She later ran a drill bit down the back of the same finger while working underneath a set. She was laying down and when the bit pierced her knuckle, blood splattered and fell onto her face.
When she came out from underneath the set, her face covered in her own blood, her classmates screamed in panic. She laughed it off and cleaned the crimson from her face.
Honeycutt has plenty of gory, bloody stories to share, but the injuries that affect her the most are the ones that linger. A torn rotator cuff in her left shoulder doesn't let her lift her arm up past her head. And, over the years, pushing down on drills has given her tennis elbow.
"My strength isn't what it was three years ago," Honeycutt said. "I'm still probably what people would consider to be super strong and able to do what a lot of other people wouldn't be able to do, but I feel it dwindling. I didn't have to exert as much effort as I do now."
When people ask her if she has ever considered laying off the hard labor and handing it over to someone else, she laughs it off.
"No way."
[READ MORE: Girl Boss- Dean Judith Dumont embraces femininity, strength in leadership role]
Home and healing
It's 1 a.m. After a long day of building faux interiors to houses on the Performance Hall stage, Honeycutt's husband, Jay Phillips, is waiting at the door of their home, ibuprofen and water in hand. He knows how much pain she's in and exactly where it hurts.
He trades whatever clutter she has in her hands for the painkillers and guides her to a foot spa he won at a white elephant gift exchange a few Christmases ago. He fills it with hot water and Epsom salt and places her feet inside.
"I don't like her being in pain, so if I can ease it a little bit, I will do whatever I can," Phillips said.
At home, Honeycutt unwinds. Her restroom is a do-it-yourself day spa. She has a sit-in bathtub with a widescreen TV set up at the foot of the tub. The TV is hooked up to a Roku video-streaming device. After long production weeks she calls "hell weeks," she come home, sits in the spa and catches up on her shows.
"I'm so spoiled," she said, chuckling while looking at Phillips.
Her husband has automated most of the house using Amazon's voice-controlled Echo devices, which do everything from order groceries online to adjust the thermostat.
"Well, the less you've gotta do, the more time you have to recover," he says. "Plus, it's awesome, so why not?"
Phillips and Honeycutt met 11 years ago at Eastfield. Phillips worked in the media department, where Honeycutt began her tenure at the college. During their eight years of marriage, Honeycutt has managed to convert Phillips into a tech hand. Although he doesn't work at Eastfield anymore, he comes to the college to help with production whenever he can.
Phillips and Honeycutt's youngest son, Zane, jokes about being her helper.
"The thing with Lori is, she's not just telling you what to do," Phillips says. "She's right there next to you, drill in hand, working. She motivates you to work and she makes you feel like you can do anything."
Zane remembers being 12 years old and already knowing how to build flats. He would hang around the Performance Hall watching Honeycutt juggle a cluster of jobs.
One day, she gathered the students helping with set-building, and let them know that Zane would be teaching them how to build a basic flat.
"They were so blown away that this little kid half their age was walking around with a drill teaching them how to build flats," Honeycutt says with a laugh, remembering the looks of the theater students.
After a nine-hour day full of budgeting the cost of upcoming productions and deconstructing sets, Honeycutt comes home to her two-story house in Forney and helps Zane trim the limbs off a couple of bushes in the front yard. They head inside, where Phillips is setting up YouTube videos to watch while they prepare dinner.
After Phillips finishes grilling chicken, Honeycutt cuts up avocados, chops some tomatoes and pops open a jar of salsa.
The family slip into their comfy clothes, find their spots on the living room couches and turn on the Syfy channel.
Honeycutt meant it when she said she realized what she wanted to do for the rest of her life that day at the Eisemann.
"This is what I love," she said. "I enjoy working with the students. Yeah, it's stressful, I work super long hours and sometimes I complain, like 'God, I hurt,' but I can watch the dance shows after I design lights for them and go, 'Man, that's pretty. That came out of my brain,' and I can go do the professional stuff that I do with Danielle, and at the end of it, I'm like, 'Yeah, this is it.' "
Professor Cindy Casteneda journeys from dumpster diving for books to four degrees