Panel encourages aspiring student artists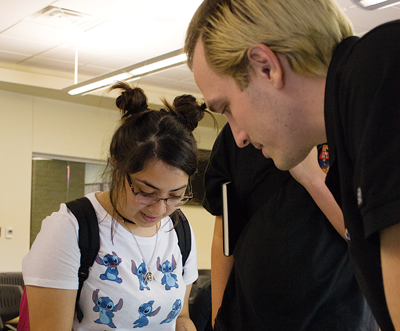 Working artists must be flexible and embrace modern marketing to find commercial success, said participants in the April 4 Making Art Work: Dispelling the Myth of the Starving Artist panel discussion.
Shamsy Roomiani, a muralist, printmaker and installation artist said it is always a good idea to network on social media.
"Instagram has been a game changer," she said. "It's a way to connect with people that would otherwise be really hard to get in contact with."
Roomiani also recommended that artists work with mediums they may not be comfortable in if they want to grow and be successful.
"It's important to keep pushing yourself," she said. "Investigate and try teaching yourself different techniques that maybe you're not familiar with."
[READ MORE: Gallery explores double meaning]
Artists Brennen Bechtol, Andrea Tosten and Will Heron also served on the panel, part of the monthlong Literary & Fine Arts Festival.
Heron, a muralist and printmaker, is an art teacher at a West Dallas charter school and owner of local gallery The Platform. His ongoing exhibition "Entendre" will remain in the H Gallery until May 1. Heron said being an artist is nothing like a regular 9-to-5, sit-down job.
"There is always something going on," Heron said. "There's always different circumstances you need to be flexible for. My studio practices in being flexible and thinking creatively and quickly."
Heron recommended a book by Twyla Tharp called "The Creative Habit," which advises upcoming artists on creating their own space in the world to help them distinguish a unique taste in art.
Bechtol, a freelance sign painter from Oak Cliff and husband of art professor and gallery director Iris Bechtol, said the skills he learned out in the field helped him gain the recognition he has today.
"When I get my work out there and people notice it, that for me is an accomplishment," Bechtol said. "I've had situations where multiple people recommended me at the same time. I feel like when I get that type of exposure, for me it feels like I've done good work and have accomplished what I need to do."
Tosten, a calligrapher and bookbinder, said she sets high standards for herself and that others should do the same.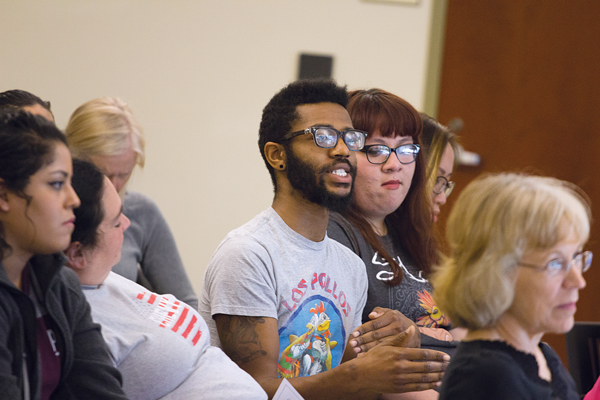 "You can have your natural motivation drive your work instead of money," Tosten said. "In some instances, [money] can actually hurt your work."
Heron said it's best to surround yourself with those who will support you and appreciate the work you do.
"Friends, family and buyers are great in the art world," Heron said. "But the biggest motivator to make me feel like I'm not losing my mind is having other artists around constantly to see what they are working on and be able to get critique and feedback."
Every panelist stressed the importance of enjoying what you are doing.
"Don't take yourself so seriously," Bechtol said. "Oftentimes, you can be your own worst critic. Sometimes I look at myself and laugh at my own absurdities."