Center aids deaf adults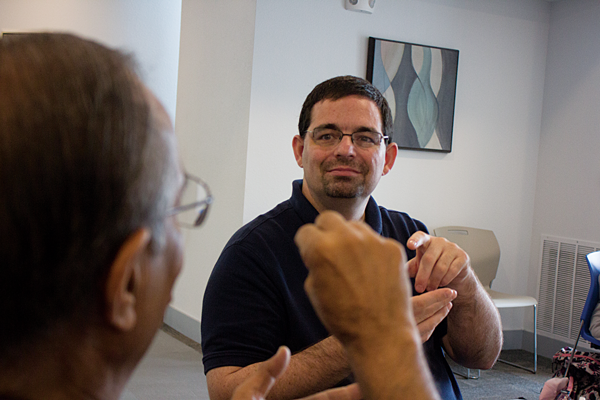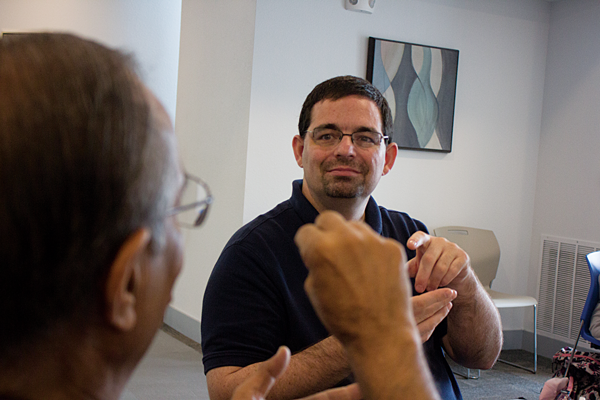 Editor's note: All interviews for this story were conducted in American Sign Language. The story won first place at the Texas Intercollegiate Press Association live feature writing competition in Dallas.
Promptly at 11:30 a.m., the lights in the lobby of the Deaf Action Center flicker on and off. The room, previously filled with unabashedly loud laughter, suddenly quiets. About 20 deaf men and women look up to see a man with steady hands sign that lunch is ready.
Eddie Mae Calhoun is used to this daily routine. She has been coming to the Deaf Action Center in North Dallas for 33 years, since she moved to Dallas from Wichita Falls, Texas.
The center helped her find an interpreter for a job interview and meet new friends in the local deaf community.
When the center moved into a new building attached to Martha's Vineyard Place, an apartment complex specifically designed for the deaf, Calhoun moved as well.
"I moved here in December 2016," she signed, her hands shaky. "Moving here was good."
After becoming deaf as a result of a fever when she was 2 years old, Calhoun continued to learn spoken English despite not being able to hear it.
"Growing up, I didn't use sign language," she said. "I talked and sang in church. My parents didn't learn sign language. They talked or wrote notes to me."
When she was 15, Calhoun moved to Austin to attend the Texas School for the Deaf, where she learned American Sign Language for the first time.
Now she communicates exclusively in ASL and has become immersed in deaf culture through the friends she has made at the center.
Calhoun's story is similar to those of other members who also grew up in a hearing world.
Lance Munson first came to the Deaf Action Center in November 2016, after he retired and moved to Dallas from Cape Cod, Massachusetts. He also grew up deaf, using both ASL and spoken English to communicate.
Munson worked in an alcohol and drug rehabilitation center for 23 years. Now that he's back in Dallas, he comes to the Deaf Action Center every day for lunch and stays to chat with newfound friends. He plans to move into Martha's Vineyard Place in May.
Chris Kerr, a Martha's Vineyard Place tenant and volunteer at the Deaf Action Center, became deaf after catching chicken pox at 4.
With his military father constantly away, Kerr was mostly raised by his hearing mother, who insisted on communicating only through spoken English.
It wasn't until he began attending the Illinois School for the Deaf that Kerr felt connected with other deaf people and began using ASL as his primary language.
Kerr first came to the Center in fall 2016 when he was homeless.
"I was sleeping in the street, and my hearing friends told me to go to the Deaf Action Center," he said.
Previously, landlords had turned away Kerr because of his deafness, but Martha's Vineyard Place and the Deaf Action Center accepted him immediately.
With accommodations for the deaf such as flashing doorbells, emergency strobe lights and an open-concept design for easier communication, Kerr feels that it's perfect for him.
"Now I don't suffer anymore, and there's no pain or struggle," Kerr said. "This feels like home."
Named after Martha's Vineyard, a Massachusetts island that acted as a safe haven for deaf people, the apartments are specifically designed for people with hearing impairments. Still, only about 20 percent of their tenants are deaf or hard-of-hearing.
The apartments were originally intended only for the deaf, but because the Americans with Disabilities Act prohibits discrimination based on ability, they have to allow housing to hearing people as well.
However, it's almost impossible to tell who is deaf and who is hearing in the lobby of the Deaf Action Center because everyone uses ASL to communicate.
Kerr found many friends through the center, where he now spends most of his time. The sense of community helps him feel connected to others, he says, and he enjoys the social aspects.
Kerr appreciates the advice and tips he receives from people at the Deaf Action Center, but his favorite thing to do is play games such as dominoes, Uno and Skip-Bo with other members.
Aside from daily lunches, he also enjoys the holiday events, such as the recent St. Patrick's Day party where everyone was dressed in green from head to toe.
"The Deaf Action Center has a wonderful program because the deaf, hearing and hard-of-hearing all work together," he said. "We're all connected."
The center has volunteers who help with reception and clerical work, activities and fundraising. To join the volunteer team, fill out the volunteer application at dactexas.org/volunteer/, call 214-521-0407 or use the videophone at 214-377-1898.