Professor remembered for humor, passion for students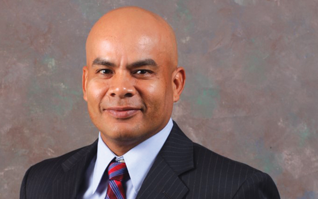 Paint and auto body professor Ramiro Gutierrez, known for his tinkering skills and passion for students' education, died March 20, four months after being diagnosed with terminal esophageal cancer. He was 47.
Executive Dean of Career Technologies Johnnie Bellamy said he was one of the finest teachers she has worked with. She said Gutierrez was innovative and professional while working with his students.
"He was always trying new ways to make it better for them," she said. "He was dedicated to their completion so they could get jobs and be successful."
Gutierrez graduated from Eastfield with an associate degree in auto body technology in 2004. Later that year, he became an adjunct professor for Eastfield's auto body technology program before becoming lead auto-painting instructor in 2010.
Funeral services were held March 27 with arrangements under the direction of Anderson-Clayton-Gonzalez Funeral Home in Mesquite.
The college flag will be lowered to half-staff in his honor at a ceremony in the flagpole area on March 30.
Gutierrez was born Aug. 31, 1969, in Valle Hermoso, Tamaulipas, Mexico. He married Diana Gutierrez in 1996.
He spent more than 15 years working in the auto body industry for Werner Enterprises before beginning his teaching career at Eastfield.
Carlos Ojeda, auto body technology program coordinator, worked alongside Gutierrez for nearly 13 years. Ojeda said he was organized and straightforward but also humorous and caring.
"Everything he's done and did was for his students, inside the classroom and outside the classroom," Ojeda said. "He wanted to make sure that people succeeded. He was great to his students, and that's what his passion was."
He was involved in sports, notably soccer and tennis. He formed a soccer club with Ojeda several years ago. In November 2016, two weeks before his diagnosis, he competed in a state doubles tennis championship tournament.
Gutierrez also had an interest in music. For a while, he was a DJ performing at quinceaneras as well as a manager for his younger brother, Rudy, in his musical career. He also performed with a band and as a soloist for Sunday mass at the Cathedral Shrine of the Virgin of Guadalupe in Downtown Dallas.
Liliana Rodriguez, senior manager for graphics communications, said he had a friendly personality and was always helpful to his students. She is a former student of Ojeda, but she learned extensively from Gutierrez. After being hired by Eastfield, she worked with Gutierrez from time to time.
"He was a great colleague to talk to and very down-to-earth," she said. "He was always about the student and didn't falter in that."
Ojeda said Gutierrez turned around the program for his students with his skills and experience.
"He changed the program a whole 180 degrees in the first two years that he was here," Ojeda said.
"One of the things he suggested we do right off the bat was putting everyone in uniform, so as their industry partners come in to talk to us because they're wanting to hire someone, everything is uniform, just like a shop."
Bellamy also praised Gutierrez's ways of structuring the class.
"They would run it more like a shop would be run, where some students were doing the metal work, and then that metal work would go over to the next set of people to do the painting," she said.
Ojeda said the things he will miss most are their shared daily morning coffees and lunches as well as Gutierrez's humor and laughter.
"He was a jokester," Ojeda said. "There was never a dull moment around him. He always had something silly to say."
Survivors include his wife; siblings Rudy, Lidia, Elizabeth, Andres and Eloy Gutierrez; and numerous nieces, nephews and godchildren.