Female campus leaders unite for 'nasty' panel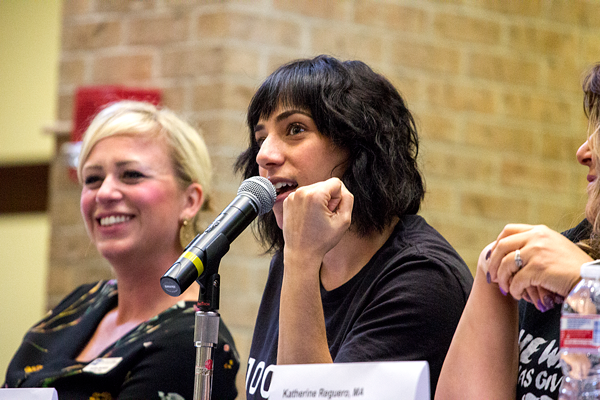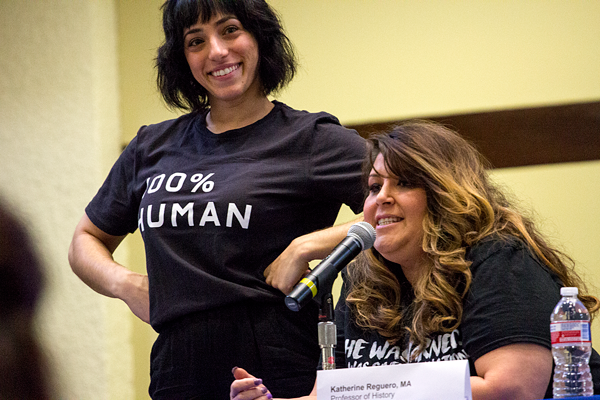 Feminists strive for the common goal of equality, but women should embrace their own individuality as well as the differences of others, a panel of self-proclaimed "nasty women" said on March 23.
"I think we all have mixed ideas or different ideas of what feminism is," history professor Kat Reguero said. "The word for feminism is humanism. … Emma Watson said it really well last week:
'Feminism is not a stick to beat each other with.' Don't use it as a weapon."
English professor Amanda Preston organized the #NastyWomen Panel for Women's History Month.
The six panelists answered questions regarding the challenges they face as women, overcoming the obstacles of physical appearance in the workplace, women who inspire them and what they think it means to be a "nasty woman."
[READ MORE: Professor Cindy Casteneda journeys from dumpster diving for books to four degrees]
The term became a rallying cry for women during the presidential election after Donald Trump muttered it as an insult toward Hillary Clinton during their final debate.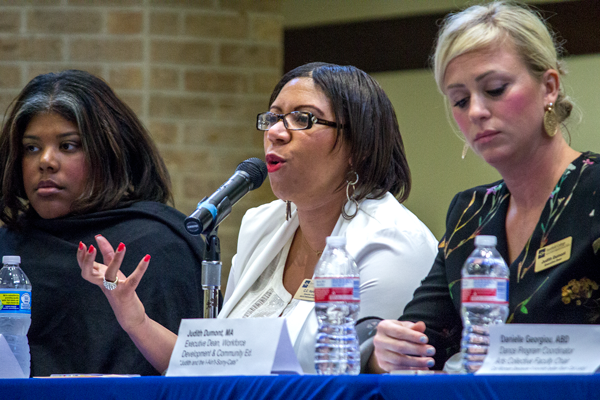 Dance professor Danielle Georgiou said being a "nasty woman" means breaking barriers.
"I've broken every rule ever, and I'm going to continue to keep breaking those rules," she said. "I think that's what it means to be a nasty woman, is to never ever do what anybody actually tells you to do."
Several of the panelists advised women to be confident and make their own choices.
"It means I won't be quiet," Reguero said. "It means that when I see injustice, I will speak up. It doesn't mean that you're going to put me in a box, and you're going to hold the key. I'm free. You don't hold keys to me."
The "nasty women" talked about disrespect they have faced from men. In a video statement, President Jean Conway described how a male colleague called her a "little lady" during a meeting when she first became a dean.
"I was stunned to be addressed that way," Conway said. "I resolved that the next time … I was going to return the comment with, "Well, little man, did you get what you wanted?' "
Embrace the title of "nasty woman," English professor Shazia Ali said, but remember that it is a label.
"Labels have limitations, and they can sometimes box you," she said. "When I see that hashtag 'nasty woman,' for me, personally, it is just not conforming to what society and what men or what other women expect you to be. Use it as a label for its advantages but break free of the label when you need to."
[READ MORE: Stewart brings her best to 'Personal Shopper']
Associate Vice President Rachel Wolf moderated the panel, which also included education and human development professor Myesha Applewhite and executive deans Courtney Carter Harbour and Judith Dumont. The crowd in the Pit cheered and clapped for many of the women's statements.
"It's great that this panel shows that we can kick ass," student Lece Canales said.
In connection with the event, a box was set up to collect donations of feminine hygiene products, such as shampoo, deodorant and menstrual products,  for local homeless shelters.  The collection box will remain in the library throughout the semester.
­—Joel Sierra contributed to this report.