Campus denies need to address drugs: Eastfield offers no drug recovery option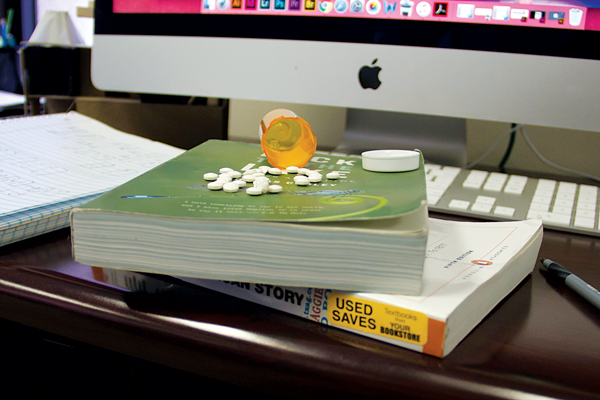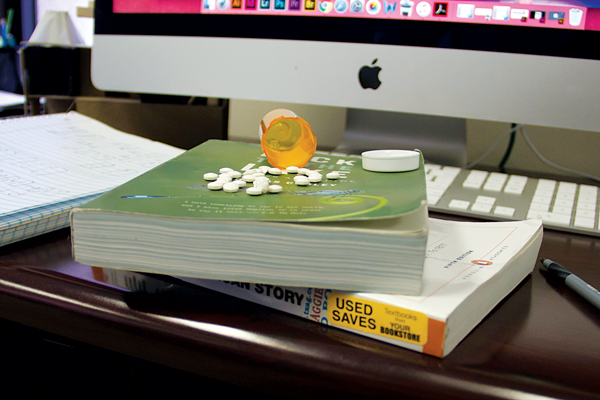 In the past four months, there have been five arrests by Eastfield police related to drugs and alcohol, but the college has zero substance abuse prevention or recovery programs available to students on campus.
Social work and substance abuse counseling professor Daniel Ramirez thinks the fear of a negative image plays a big role in that.
"Nobody wants to put up fliers," he said. "They don't want to have brochures around. The reason nobody wants to admit we have a drug problem on campus is because when you say that, there is a stigma."
The National Center for Education Statistics reports that 66 percent of students in college are under the age of 30, while 75 percent are between 18 and 24.  These young students face academic pressures and many experience increased responsibilities while navigating a vastly normalized drug and alcohol culture.
Daniel Morrison, an Eastfield student whose name has been changed, admits to regularly smoking marijuana, drinking in excess and experimenting with a number of other drugs.
"It's a growing-up process trying to navigate school and work," Morrison said. "It gets stressful, and some people use drugs as a little break. It's an escapism. I've tried weed, cocaine, Xanax, promethazine and Molly. I smoked before I came to Eastfield this morning."
[READ MORE: Free speech area unused despite political climate]
Students can find dozens of informative pamphlets in the Health Center, but few are related to substance abuse. Those that are available focus on details such as street names for drugs or descriptions of various highs. There is one pamphlet for Alcoholics Anonymous.
"It's quite likely there are unknown cases of abuse in Eastfield, but they are likely few and far between," Health Center Director Cynthia Taylor said.
The Counseling Center, led by Katie Neff, offers free, short-term counseling services to students in C-140. Prior to February, Neff was the only licensed counselor available to a student body of more than 15,000 and was operating with no main phone line. Students can wait anywhere from one to three days for an appointment.
"The only thing we have done on the counseling side was during our Mental Health Awareness Week, we had some guest speakers from [the Texas Alcoholic Beverage Commission]," Neff said. "It doesn't seem like much, does it? A typical university or campus would have drug and alcohol awareness."
In 2015, the University of Texas at Austin conducting a survey showing that 26 percent of students from both two-year and four-year institutions across the state reported abusing prescription drugs with 25 percent admitting to increasing drug use upon entering college.
[READ MORE: Puente program aids, expedites college readiness]
Additionally, a 2015 report released by the National Institute on Alcohol Abuse and Alcoholism revealed that about 20 percent of college students in the country meet the criteria for disorders related to alcohol use. The report also found that each year, about 97,000 students experience alcohol-related sexual assault, 696,000 are physically assaulted by drunk students and 1,825 die under the influence of alcohol.
"I think [Eastfield] should offer something because sometimes people do get out of hand with their use, and sometimes it does become life-threatening," Morrison said. "I know people that have overdosed."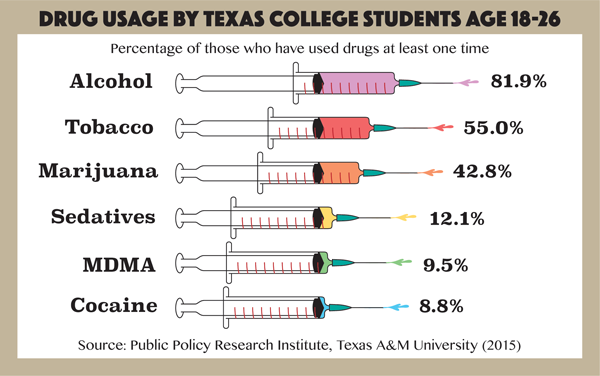 Neff strongly encourages students struggling with substance abuse to schedule appointments at the Counseling Center. Students over the age of 18 can be assured privacy under Texas law with consent forms. If necessary, counselors can refer students to substance abuse support groups such as Alcoholics Anonymous or Narcotics Anonymous.
"They are programs that have shown over time to work," Neff said. "I've had them come to a previous campus but have not had the time to initiate it here."
Neff is also co-chair of the Campus Assessment Response and Evaluation Team comprising police representatives, administrators and faculty. The team relies almost exclusively on anonymous reports from faculty and students regarding the behavior of others.
CARE primarily documents and monitors students of concern but can refer students to support services off campus. Students reported to CARE are subject to criminal and punitive repercussions for violations of the student code of conduct.
Paul Goertemiller, executive dean of student development and support services and CARE Team co-chair, oversees the health and counseling departments.
"A lot of colleges and universities have NA and AA meetings on campus," Goertemiller said. "Now that we have our second counselor on staff, we should have more resources for student programming."
In 2009, the National Center for Higher Education Risk Management published a report encouraging college campuses to abandon reactionary behavior intervention teams for more proactive, prevention-based models.
These more modern teams are intended to provide support and resources to students and avoid serving exclusively as a response measure to campus threats or disruptive behavior. This requires collaboration between campus and community programs to coordinate awareness campaigns and risk mitigation strategies. Another goal is to identify students struggling with addiction before they hit crisis.
According to Morrison, not all students with substance abuse issues are in crisis.
"Most of the people that I know on campus that do drugs are A students," he said. "People that are going places, people that get awards, people that are out doing incredible things, they might have a little issue."
Of the five drug-and-alcohol-related arrests made by Eastfield police in the last four months, three were students and four were a result of traffic stops. According to police reports, two students were arrested for possession of marijuana paraphernalia. The third was arrested for public intoxication and is listed as a previous offender. The two non-student arrests were for possession of marijuana paraphernalia and a positive substance test for heroin, respectively.
[READ MORE: Eastfield could offer four-year degree]
All three students were released after initial arrest with citations and a referral to Goertemiller, who also serves as Eastfield's judiciary official when it comes to student code of conduct violations. The student arrested for public intoxication had his car keys temporarily confiscated until he returned to campus sober and was escorted to a DART pick-up location.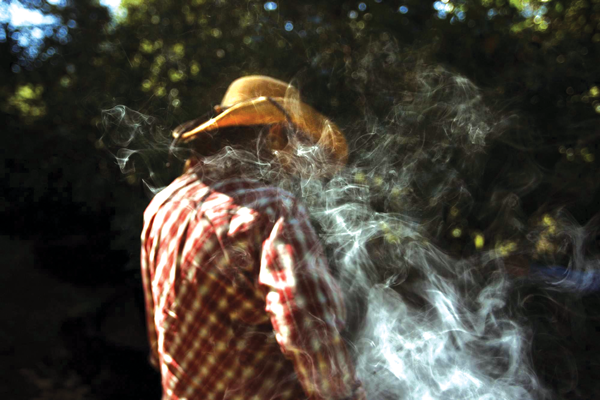 Students referred to Goertemiller can expect a thorough investigation into their alleged conduct violations. Once he reviews the police report in full, students are invited to meet with him and explain themselves. If he feels the student is facing a substance abuse problem, he refers them to the Counseling Center.
"I can't mandate counseling, but I can offer it and strongly encourage it," Goertemiller said. "I don't know if they carry it through, though."
Eastfield Police Chief Michael Horak encourages his officers to take a caring approach to students.
"Our goal is to build a sustainable community," Horak said. "It's all about community policing and keeping our students safe."
Morrison said Eastfield police are effective at their job, which encourages students to separate drug use from campus.
"We keep it away from the school," he said. "If you walk by the N building, you're already at risk. They're dedicated police, and they will search you."
Eastfield is the only Dallas County Community College District campus to offer a substance abuse counseling certification program. Program coordinator Phillip Ortiz teaches his students the importance of prevention programs and the benefits of proactive treatment combined with crisis intervention. He believes Eastfield students are at risk.
"We've got at least 14,000 students," Ortiz said. "A lot of them are probably going to have issues, and the resources are far from adequate. I have had some call the office and ask about treatment, and we cannot help."
Only a small portion of colleges are providing organized, formal support for students suffering from substance abuse.
[REDA MORE: Revisions to advising aimed at personalizing experience]
The Association of Recovery Schools encourages campus-based 12-step programs, events on campus to facilitate the development of substance-free social networks, counseling services with clinicians who have specified training concerning substance abuse and a focus on educating the broader campus community to reduce stigma and increase participation in peer accountability.
This is the change Ramirez wants to see at Eastfield.
"School is a community hub for many students, and it would be ideal for the student body to be able to connect that community with finding resources when they need help," Ramirez said
Neff is working to implement digital surveys that will help students self-identify the need for substance abuse support. She also wants recovery support groups like AA and NA to hold meetings on campus.
"It's on the big list of things to do," Neff said.
Ortiz supports new peer support programs.
"That's something that I probably would be open to by coordinating with Katie Neff or with other faculty, or even with some of the student organizations," Ortiz said.
Ramirez hopes to change perception of drug use and addiction on campus through organizations such as the Human Services Honors Club.
"A lot of what we're talking about is culture and attitude," Ramirez said. "I think it would be really helpful if we had more promotion of ways students can hold each other accountable and facilitate help for one another."   
[READ NEXT: Bathroom bill leaves transgender students in limbo]