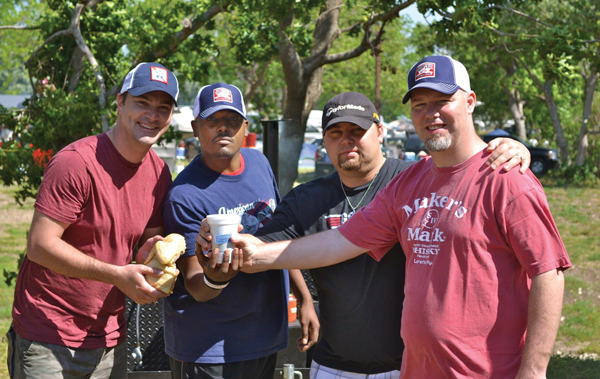 Oslynn Williams (second from left), a digital media professor and competitive barbecue chef, poses with his team, the Capps. Photo courtesy of Oslynn Williams.
On an early Friday morning in spring, Oslynn Williams sits in the passenger seat of Keith Evans' pickup truck as the two friends drive 70 miles north of Dallas-Fort Worth to Muenster for their second-ever barbecue competition.
Williams is reading text messages containing detailed lists of ingredients and instructions from their mentor, Nick Lacy. Lacy was unable to join the Capps cook-off team at Germanfest, a North Texas festival celebrating German and Texas culture, but Williams hopes they will be able to win some awards without Lacy.
At the entrance, dozens of other groups wait to be checked in. Though the real festivities do not take place until the following day, nerves start to build as teams compare cooking techniques and equipment. Williams and Evans drive through the entrance gates with their heavy-duty meat smoker in tow. Suddenly, they hit a bump, and their smoker goes flying off.
Williams thinks they're doomed.
"Everyone was looking at us like, 'Who are these guys? They can't even put a smoker on right!' " Williams said.
Williams hooks the smoker back onto the truck with his head down. He feels like a pageant queen tripping onstage.
[READ MORE: Shorty's serves great food, helps the hungry]
As someone in the graphic design and computer industries, Williams' professional and personal life revolve around competitiveness. In his computer illustration and digital imaging and publishing courses at Eastfield, he teaches his students to work well as a unit while also maintaining awareness that their classmates are future job competition.
David Danforth, head of the digital media program, praises Williams' passion and patience as an educator and likens it to other skills needed in a competition setting.
"He takes his time, like you would have to do in a barbecue cook-off," Danforth said. "He's good under pressure.
"I think our industry in general is very competitive because it has to be. When it comes to creative people and commercial designers … a lot of us are very competitive."
Williams said it was this competitive drive that kept his team going after their first experience in barbecue cook-offs. He likens it to the classroom.
"The goal is for everyone is to come together and be a strong unit and accomplish the main goal," he said.
After the flub at Germanfest, Williams and Evans meet teammates Adam Witherspoon and Chris Andrews and the friends set up their campsite and begin their cooking process in the hopes of redeeming themselves. Over the next few hours, Witherspoon smokes chicken, Williams prepares beef ribs, Evans cooks brisket and Andrews helps wherever he can. They take turns getting up throughout the night, tending to the fire in the smoker.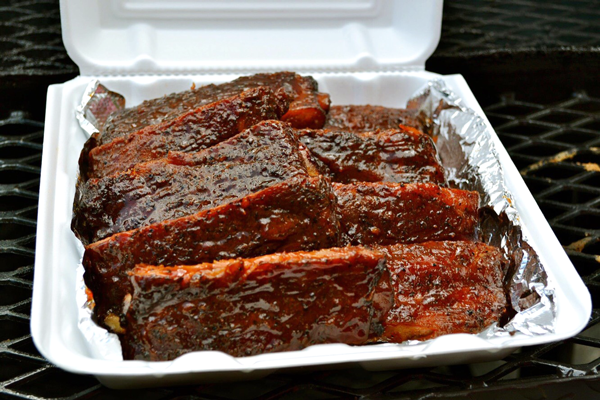 The next morning, the team turns in their meat and hopes for the best. As teams gather under a large tent at the center of the festival grounds, Williams and the rest of the Capps crew are positioned near the edge of the crowd next to a popular reality show cook with a camera crew and entourage. He thinks there is no way they will win anything with someone so experienced around.
As results in the three major cook-off categories are announced, they watch the barbecue hot shot next to them grow red with anger. The Capps rookies place second in brisket and fourth in ribs.
The reality show cook does not place at all.
"You would've thought we won the lottery," Evans said. "We were jumping up and down screaming."
Danforth has known Williams for 12 years but had not heard of his cooking hobby until recently.
"What really bugged me is that I didn't know about this until that video was shown," Danforth said, referring to the new employee introductory video, released at the beginning of the fall semester, in which Williams revealed his hobby.
Williams' love for cooking evolved after years of watching his relatives grill and smoke meats at family reunions.
"In a sense, I was an observer," he said. "I would watch my mom prep certain dishes and my dad cook his chicken. I would look and I would learn, and I would try something different."
Growing up, he tried different techniques with ribs and brisket, his family volunteering to taste test his creations. His experiments were not always good, but the experience helped craft him into a seasoned barbecuer.
"I've always helped [my family] cook meat, but getting into competition and learning, now I've become the go-to guy to ask about barbecue," Williams said.
[READ MORE: 'It's supposed to hurt:' Harvesters miss shot at nationals]
Williams first competed at a barbecue cook-off in 2009, shortly after Lacy, a member of the International Barbecue Cookers Association, persuaded Williams and his friends to join him at a competition in West, Texas.
"We didn't know how serious it was," Williams said. "We just thought you go out there, cook some meat, turn it in and see what happens. But no, there's this art behind it."
The team called themselves No Name BBQ their first year, but after they noticed all the winners at their first contest wearing baseball caps, they rebranded as the Capps. They thought everyone won because of this good luck charm, but during the next competition in West, Capps received no awards, and every winner was donned in a Hawaiian shirt. They kept the name anyway, and the team agreed they would continue entering competitions together.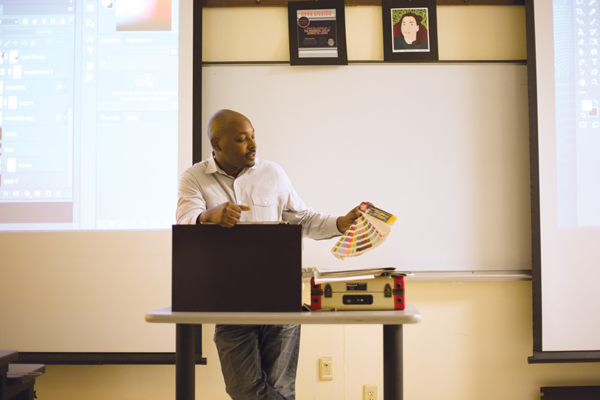 Most barbecue competitions the Capps compete in include at least 100 other teams, so they are always looking for new ways to stand out. Williams likes to try different rubs for the ribs he prepares, and Witherspoon researches new ways to brine chicken. But the entire team shares a passion for one aspect of cooking.
"It's all about the smoke and the wood," Williams said. "Taking the time out to show the barbecue some love."
Pecan wood is the team's primary choice for its rich sweetness, which helps with the flavors for Williams' signature ribs.
Williams' process is a labor of love. First, he rubs the ribs with a secret blend of spices and smokes them for two hours. He then takes the partially cooked ribs out of the smoker and douses them in honey, brown sugar and butter. After, the ribs are wrapped in foil and cooked for another two hours.
Though this is an award-winning recipe, the team is not afraid to experiment.
"It's an ongoing learning process," Williams said. "There's not one particular way that … helps you win."
The Capps strive to bring a general party vibe alongside their award-winning recipes. From their very first competition in West, they noticed how seriously most other competitors treated barbecuing. Williams knew they wanted to approach it in a new way.
"Our campsite had streamers and beads," he said. "We had all kinds of blow-up stuff and lights and pop-ups for our camp site. One year, we had this huge Miller Lite blow-up can that was 20 feet tall."
Evans likens it to camping.
"At the same time, you have this competition," Evans said. "It's a perfect storm."
Williams used to joke about people who cooked competitively, but now that he and the Capps crew are award-winning cooks, he is unashamed to open up about his hobby.
"We just fell into the art of it," he said. "It grew into something we really love doing."
Though the team is spread out from Houston to Dallas and has not participated in a competition together in the last year, Evans finds himself "re-energized" and ready to "get the band back together."
"If we don't win anything at all, we're happy because we got to go have a good time," he said. "If we win something, it just makes it so much better."
In the meantime, Danforth is still pleading to get a taste of some of Williams' award-winning ribs.
"My wife's had his barbecue," he said, "but not me!"