In Sunnyvale, off  Highway 80 and Lawson Road, lies a barbecue joint that used to be a gas station. The bright red and yellow lettering draws your eyes and the exterior decorations welcome anyone who pulls up. Inside, walls are lined with antiques and handwritten notes from customers.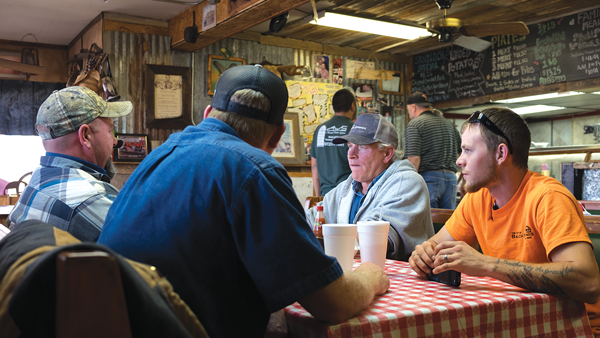 Shorty's BBQ is so full of character that you would wonder how they can fit it all in one small, remodeled gas station.
Once you meet the owners, it's clear where all the character comes from. Brad Greene and Yolanda Cole have been working tirelessly since Shorty's opened in 2008.
When Brad was 13, his first job was pumping gas at the old Diamond Shamrock gas station. In 2008, when Brad was working for Yolanda's father and his trucking company, Yolanda's father had the idea to transform the now-abandoned Shamrock into a convenience store.
Brad and Yolanda quit their jobs, paid off their bills, and with the $500 that remained, they bought supplies and sold hot links, chopped beef sandwiches and canned sodas at their store. The name, Shorty's, was taken from Yolanda's father's CB Radio handle.
[READ MORE: Professor cooks up prize-worthy BBQ]
Brad had never cooked barbecue before opening the restaurant, but you can't tell once you take a bite. The "Sanford and Son" is a ribs and hotlink sandwich that is my personal favorite, or you could just go with the normal chopped beef sandwich. Both are excellent and mouth watering choices.
Soon after they opened, they were invited to The Taste of Forney event where they gave out samples and free sandwich coupons. Things started to take off soon after.
Over the years, Brad and Yolanda have been through many trials. At one point, they lost their house and had to spend Thanksgiving and Christmas inside the restaurant. Both said it's been through God's blessing that they have kept Shorty's up and running. Their story is nothing short of miraculous.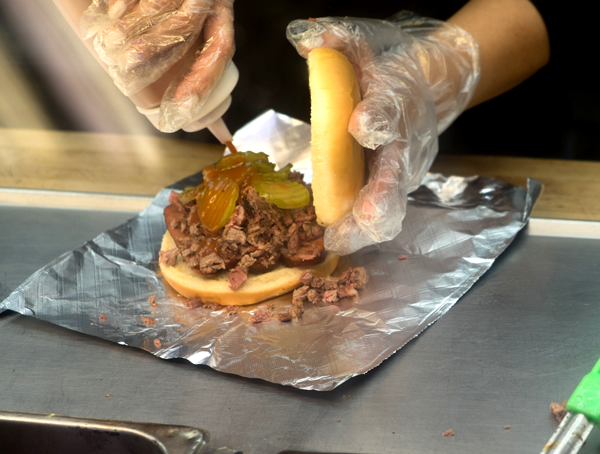 They started selling all sorts of things to make ends meet, with their main side business being firewood.
During this time, Brad had taken to sleeping at the restaurant during the winter to sell people firewood during the night. He was letting a trucker stay one night when he saw someone head into the smoker room.
Inside, he found a little elderly woman trying to keep warm. She had been kicked out of a hospital and was walking along the highway when she found her way to Shorty's.They brought her inside to sit by the fire, and Brad made her some food. Brad noticed she had a piece of paper and pencil that she was scribbling on.
When they woke up the next morning, she went out to use the restroom but didn't return. She had left the piece of paper behind, and on it was a sketch of the fireplace and a poetic thank you note.
The note touched Brad and Yolanda so much that they had the piece of paper laminated on the wall of the restaurant.
[READ MORE: Angry Dog offers 'highest quality food']
Shorty's BBQ has the standing philosophy that it's their job to feed people. They have complimentary beans, which means customers can buy only a drink and still have all the beans they can eat. Brad even has his employees on the lookout for anyone who is on foot on the highway. If they see someone, they stop what they are doing and bring them inside.
Brad describes himself as a giver, and his actions prove that. He has provided all that he can for someone in need who has made their way to his restaurant. In this way, Shorty's is not only a barbecue joint, but a lighthouse to people down on their luck and stranded on the highway.
Shorty's was recognized as the Sunnyvale Chamber of Commerce Business of the Year for 2016, despite the owners not even knowing they were nominated, and has won other honors since its opening.
Shorty's BBQ is a place where wonderful people, great food and superior customer service all meet under the awnings of an old gas station and create what is possibly the best hidden gem I've been to. Check them out and ask to see the message from the elderly woman.