PHASE program addresses mental health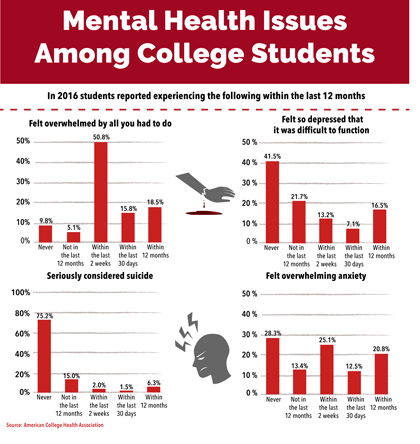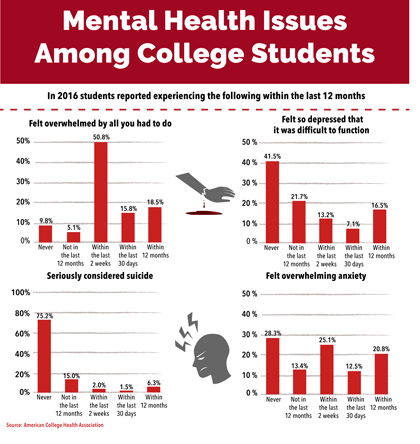 Without family and friends for support, mental illnesses such as depression can make life seem impossible. This is what the Providing Hope and Suicide Education project is designed to address.
PHASE coordinator Courtney Pickens thinks depression is a daily battle with small victories won over time.
"Because that's what life is," Pickens said. "It's a constant set of getting over things and looking back at those things that we've overcome. It's just that internal motivation and what we're trying to get out to the students."
Pickens battled depression after graduating college.
In the beginning, she confided in a therapist. She discovered anger, self-hatred and "externalization of things that shouldn't have existed."
Pickens said it took a few years, but she coped with her depression piece by piece.
"You have to take care of yourself because your need to take of other things and other people," she said.
[READ MORE: STEMinar highlights demand for video game designers]
The PHASE project is funded by the Substance Abuse and Mental Health Services Administration, a branch of the U.S. Department of Health and Human Services. Every year, Eastfield will receive $102,000 for the project, which began in September 2015, to conduct suicide prevention initiatives.
Suicide is the second-leading cause of death in college students age 20 to 24 and third among young adults age 15 to 24,  according to the Centers for Disease Control and Prevention.
"Eastfield is actually the only college in the state of Texas to have the grant," PHASE program director and Eastfield counselor Katie Neff said. "Part of that is Dallas is statistically high in terms of suicide. Also, the subpopulation that the grant is addressing is the LGBTQIA community and veterans."
Eastfield offers students free counseling by appointment. The service is intended to address short-term issues, but students can be directed to specialized care.
From Feb. 13 to Feb. 17, the PHASE project sponsored the Week of Love to promote self-love, empathy and understanding between individuals.
On Valentine's Day, Nikki Head with the Family Place's Be Project, an anti-violence program, gave a presentation on setting boundaries in relationships, recovering from abusive relationships and maintaining healthy relationships.
[READ MORE: Revisions to advising aimed at personalizing experience]
"I wish that our high school had a program like [the Be Project]," Head said. "We act as mentors, then we're able to give them tools and skills and a different way of thinking about things."
Head stressed setting boundaries and resolving conflicts in a respectful manner. Doing so allows a person to express behaviors they are comfortable with.
Head warned any violation of these boundaries opened the door to conflict. She advised that conflicting partners should communicate with honesty, clarity and empathy to reach a resolution all while respecting themselves and each other.
According to Head, the advice could be applied to romantic relationships, friendships, familial relationships and others.
The PHASE project will invite more speakers with topics related to suicide education every month until September 2018, when the project will conclude at Eastfield.
The college also subscribes to the online tool Kognito that trains faculty and staff to recognize depression symptoms and refer people to help. Students can also use Kognito, which also helps veterans adjust to campus life and become more empathic to the LGBTQ community.
"What we do hope is to keep the Kognito program and make that a professional requirement for faculty and staff," Neff said.