Chinese automotive instructors visit Eastfield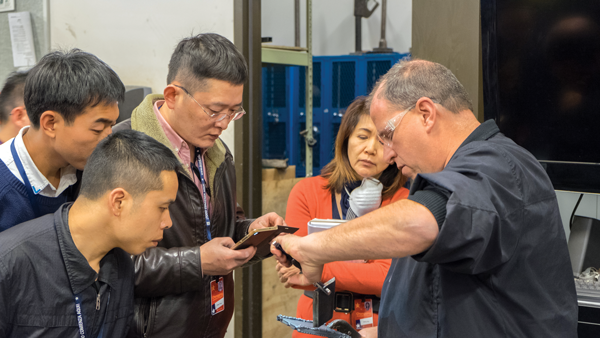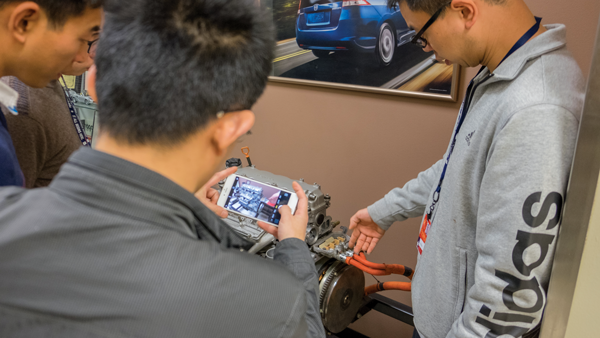 With home more than 7,000 miles away, the instructors from Chongqing, China, knew that Eastfield would have a teaching culture very different than their own.
The delegation arrived on campus Feb. 13.
Their arrival was kicked off with an opening ceremony that included Dallas County Community College District Chancellor Joe May, Eastfield President Jean Conway, Executive Vice President Michael Gutierrez and many other Eastfield staff and DCCCD officials.
The visit is the result of Eastfield's partnership with Global Corporate College, an organization that aims to provide training solutions for an expanding global economy.
Through this organization, Executive Dean of Workforce and Development Judith Dumont was able to pair Eastfield's automotive program with 10 automotive institutions in Chongqing.
The instructors have traveled to the United States for the first time in their lives to learn about Eastfield's automotive program, its teaching styles and the tools, machinery and vehicles to use.
The Chongqing instructors were taken through automotive technology courses with auto body faculty Carlos Ojeda and Martin Nicholas.
The group also toured the T building, had integrated class time with students and visited a professional body shop operation.
The campus visitors were quick to point out the novel distinctions between Eastfield and Chongqing.
"There are 171 [technical] colleges in Chongqing," instructor Liu Jun said through an interpreter. "All the schools and colleges have a gate, a guard, and if you want to come in, you have to go up and register your name."
Delegates  also said that Eastfield instructors are much more relaxed and hands-on than those in Chongqing, where auto body professors hold traditional lectures.
"While China is preparing their students academically to compete and to be hired on a global level, the soft skills aren't in place [such as] collaboration," Dumont said.
Dumont believes that Eastfield's style of teaching has made an impression on the delegation.
She believes that impression will transfer over to their teaching philosophies back home.
Ojeda credits their success to the teamwork behind the program.
"To be looked at from a country as far away as China, that says a lot about what we're doing here," he said."With this partnership, Eastfield students and professors may soon get the opportunity to travel to Chongqing.
"The [delegation] leader already wants to talk to us about how we can engineer exchanges with faculty and students between the Chongqing region and Eastfield," Dumont said. "So hopefully we can send faculty students to learn from them."
According to Dumont, visits between the two groups would allow both to learn more about the automotive technology industry on a global scale and be an experience of a lifetime for those involved.
"Hopefully it becomes this beautiful cycle of culture, international relations and study abroad," Dumont said. "With how well this works, we can use this as a model to replicate with countries all over the world."
The Chongqing visitors will remain at Eastfield until Feb. 24.