STEMinar highlights demand for video game designers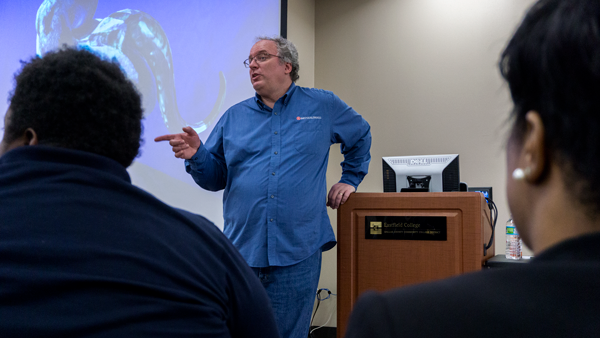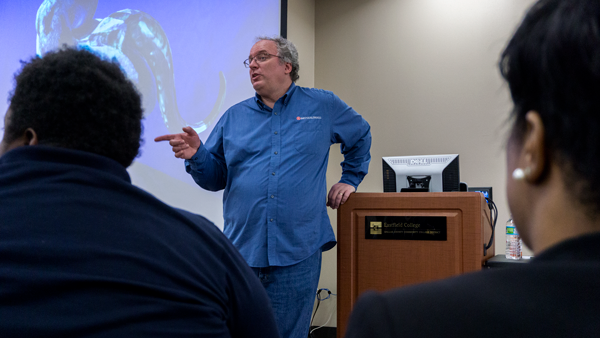 By JOEL SIERRA
and ALYSSA R. FULLILOVE
@TheEtCetera
Dozens of students, one dressed as Pikachu, gathered Feb. 7 to learn about career paths for aspiring video game developers.
Former game developer Gary Brubaker shared his experiences in the field in "Unexpected Ideas from the Video Game Industry," part of the spring 2017 STEMinar series.
Brubaker directs Southern Methodist University's Guildhall, a graduate-level video game development program that teaches art, design, production and programming.
While potential game-makers need creativity, he said, the most valued qualities in the market are technical competency and the ability to work in a team.
"Skills will get you the interview, and character will get you through the door," he said.
[READ MORE: Globetrotting professor Nick Vera teaches through travels]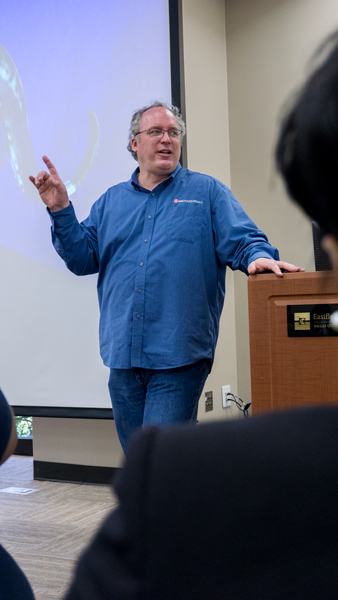 Brubaker, who has a bachelor's in physics and a master's in business administration, started his programming career at the Jet Propulsion Laboratory, working on NASA's Voyager and Galileo projects.
He switched to game development in 1992, joining LucasArts Entertainment to create "Star Wars: Rebel Assault," "Star Wars: Shadows of the Empire," "The Curse of Monkey Island," "The Dig" and "Indiana Jones and the Infernal Machine."
He also worked for Stormfront Studios and Atari/Paradigm before joining Guildhall in 2004 to teach programming and game studies. Brubaker said video games are a growth industry accounting for more sales than music and film combined. He said PC and mobile games are outselling console games.
[READ MORE: Top financial blogs for students]
A huge demand exists for developers who know how to make games for Steam, an online digital distribution platform, he said.
Students in Brubaker's program get hands-on experience and create multiple games before they graduate. He showed students' 3-D art, including a depiction of what a Starbucks would look in the fictional realm of "World of Warcraft."
"Our students are very passionate," he said.
Student Gentry Tovar, who critiques games, said he found the seminar informative and "learned that video games are not just for playing."
Film major Anahi Reyna said she was curious about ways film and video games could be integrated aside from movies based on games.
"Nintendo of America has always been looking for commercial editors to promote their products," she said. "So hopefully, in the near future, once I get my degree, I'm hoping to apply for that."