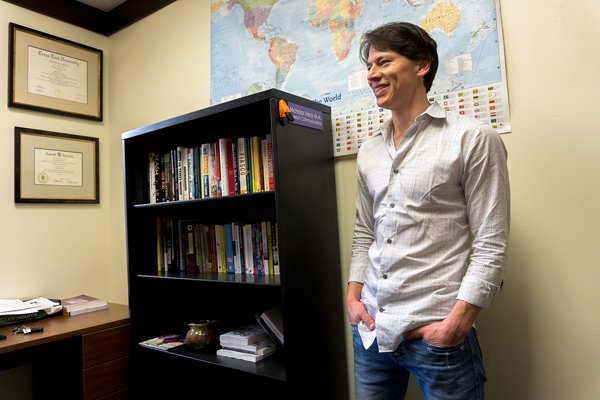 It's May 2012, and Nick Vera's frequent flyer miles have brought him to the city that birthed the deadliest drug cartel on the planet. Arriving in Medellin, Colombia, at midnight, he asks his cab driver to take him to the center of the city, but the driver refuses. It's too late, and he wants to go home. Instead, he takes Vera to a bus station.
On the way, the driver jerks his head and utters a word Vera isn't prepared to hear.
"Cocaine?" the cab driver offers.
"Umm, no thank you," sputters Vera.
"No way they would ask me this in Dallas," he thinks.
After boarding a bus, Vera glances out the window and is introduced to the hierarchy of Medellin as the bus circles the city. Gorgeous mansions on top, residential homes and dance clubs in the middle, where nearly all the riders get off, and then his destination — the bottom.
It feels as if he's descending through the levels of Dante's Inferno.
"I should have done some research," Vera tells himself.
A month earlier, studying the massive continent of South America had given Vera a desire for exploration. But researching his travel destinations or hotels isn't his nature. As a full-time speech professor and a part-time solo traveler, the goal has always been to immerse himself in the culture, not to go to fancy tourist traps.
But this is not the vacation Vera expected.
When the bus reaches its final destination, the driver informs Vera that he's uncomfortable dropping him off. He radios a nearby friend to escort him to the safest area in the vicinity.
"You see those two guys over there?" he asks Vera, glancing across the street. "I guarantee they have their eyes on you."
At 1 a.m., a complete stranger holds Vera's carryon luggage and leads him through the most dangerous part of Medellin. In the dead of night, the wheels on the suitcase, which contains a month's worth of clothes, crackle against the unkempt road, drawing the unwanted gaze of locals. If they were preoccupied, perhaps their glares wouldn't feel so menacing. But rather than drinking or talking, or even walking with a sense of purpose, they remain stationary, like patient crows waiting for an opportunity to snatch something shiny away and disappear into the darkness.
Vera has completed endurance marathons and scaled the peaks of icy mountains, but his previous endeavors have not prepared him to wander through the slums once ravaged by Pablo Escobar's cocaine epidemic.
"These dark alleys are straight out of Gotham City," he thinks.
Reaching the hotel, they wait for the doorman to let them in. As Vera steps into the building, he is relieved to watch the man close the door and lock its five security latches.
The inside resembles a rundown townhome with two flights of stairs leading to the hotel rooms. Opening his door, Vera notices an oddly placed bathtub in the middle of the room. He turns the knobs, but no water comes out. Near the bed there is a strange black swing with straps hooked to the ceiling.
And that's when it hits him.
"They brought me to a brothel."
[READ MORE: Dean Judith Dumont embraces femininity, strength in leadership role]
Shaped by his travels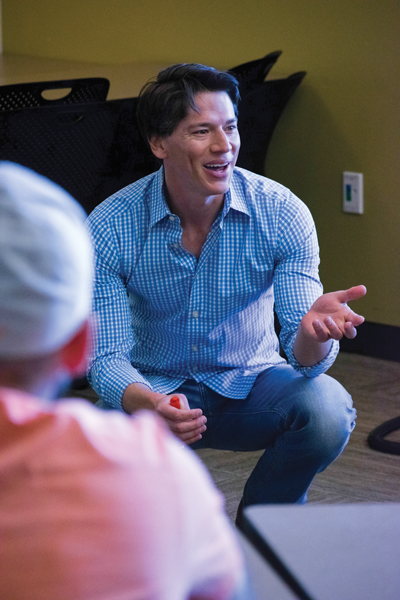 Now, four years later, Vera strides through the walkway that connects the G and C buildings at Eastfield. Many people avert their eyes as they pass by strangers, but not Vera.
One of his former students, Bryan Crady, catches his eye and informs Vera that his wife just gave birth to their sixth child.
"I'll show you some pictures later," Crady says.
"Yeah, I wanna catch up," Vera shoots back. "Congratulations, man."
Continuing down the hallway, Vera chats with another student, then follows his scheduled route from his classroom back to his office, greeting two more students and a custodian along the way. Vera knows them all by name.
Hired as a speech professor in 2011, Vera made quick impressions on his colleagues and students. At the age of 31, he wasn't the youngest faculty member, but he wanted to be the most relatable. Wearing an Express button-up shirt with sleeves rolled up, faded jeans and cowboy boots, it is difficult to distinguish him from a student.
Reaching the end of the hallway, Vera opens the door to his office. A world map hangs on the wall opposite his desk. He often thinks about Hong Kong, Thailand, Vietnam, Laos, Cambodia, South America and what he learned when he visited each destination.
"When you travel, you realize we're all the same exact people," Vera explains. "Every person has something to teach regardless of title or social class."
Outside of his office hangs a plaque with a quote from Mark Twain: "Travel is fatal to prejudice, bigotry and narrow-mindedness, and many of our people need it sorely on these accounts. Broad, wholesome, charitable views of men and things cannot be acquired by vegetating in one little corner of the Earth all one's lifetime."
Vera has embraced this philosophy and indirectly utilizes it when he teaches.
For some students, it's a process to become acclimated to his teaching style. Dual credit student Avery Williams didn't know what to make of him when she first arrived for her Speech 1311 class. Walking into the classroom, she was flabbergasted to hear hip-hop music playing in the background and to see her new professor nonchalantly sitting on a windowsill with his feet up on the deck.
"Hey, come on in!" Vera said enthusiastically.
"What class did I get myself in to?" Williams wondered.
But after a few lectures she was captivated by his teaching methods. Williams was relieved that Vera didn't teach verbatim from the textbook.
"He teaches out of the box," says Angel Tobar, a military veteran. "He'll write something the textbook says on the blackboard, cross it out and use his own terminology to help his students understand the big picture."
Even though Vera is a seasoned traveler, he doesn't lecture his students on the importance of seeing the world. Instead, he teaches them the indispensable knowledge of learning from one another and has designed classwork with this principle in mind.
For one exercise, he instructs his students to each bring 50 cents to class. He doesn't explain the reason, but promises they won't regret it.
Students who arrive early wonder what is in store. They deduce it could be a competition, but what kind? Poker is suggested as fun but unlikely.
After Vera arrives, he collects the change from each student – about $13 in coins. He instructs the class that the winner of today's exercise will earn the pool by persuading classmates to let them have it.
They look at one another in anticipation.
Persuasion was the name of the game and utilizing what he taught them on ethos, pathos and logos was crucial to the exercise.
Williams was the runner-up. She knew that her classmates wouldn't accept a selfish reason to take home the money. If she won, she told the class, she would bring snacks to share.
But Tobar cleverly pulled on the class's heartstrings.
"I'll use the money to buy a toy and donate it to a child," he said.
Vera was silently impressed.
[READ MORE: Grammy-winning artist returns to alma mater]
——
It's 5 a.m. in Colombia and Vera has gotten less than four hours of sleep. As soon as he hears his alarm go off, he throws on a white tank top and heads downstairs. Only one thought permeates his mind.
"I've got to get out of this whorehouse."
As soon as Vera arrives to the common area, he finds the desk clerk and tries to figure out where he should have flown to in the first place.
"Que esta buscando?" the clerk asks what he's looking for.
Vera explains that he wants eat local food, enjoy the beach and experience the Colombia's culture.
The clerk has no idea why or how he ended up in Medellin. He points him to the right direction. North.
Vera frantically searches for a Wi-Fi signal to book a departing flight. Before he purchases his ticket, he fends off a couple of prostitutes and assures them he doesn't want to have a good time.
Next stop? Cartagena, Colombia.
The harsh rain is an ill omen as he arrives at Rafael Nunez International Airport, but Vera isn't having any of it. Having learned from the previous night's experience, he tells the bus driver exactly what he is searching for: not a five-star resort, but somewhere quiet, nice and safe.
After a four-hour bus ride, the rain begins to subside, revealing lush vegetation in the surrounding hills. This view soon transforms into the mountains that encompass the small town of Taganga, where Vera will spend the remainder of the month.
The hostel isn't luxurious, but it's exactly what Vera has been looking for.
Each morning, the owner and her 80-year-old mother entice Vera with their homemade tortillas and beans for breakfast. Some days he indulges, others he declines because he is training for an upcoming marathon.
Before leaving to swim or run, he waves to the owner's father sitting outside the hostel facing the Caribbean Sea. Although the old man is nearly blind and seems somewhat bitter, Vera can't help but imagine what his life was like before.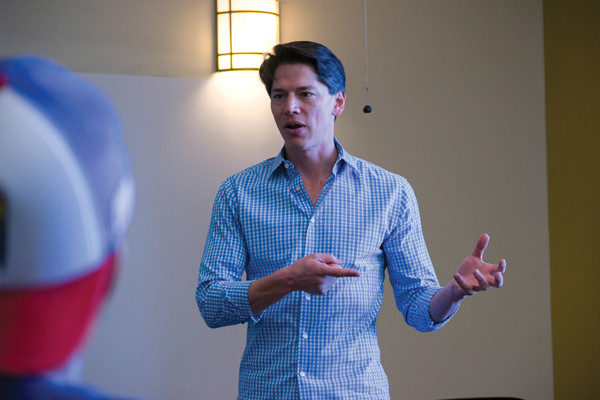 Living in an isolated paradise, the old man must have come across some interesting travelers.
After a few days, Vera meets one.
"Are you here by yourself?" she asks. "My brother and I are going to lunch. Come with us."
Lone travelers, Vera has learned, recognize their own kind.
Carolina Galand, a French journalist searching for inspiration, quickly becomes Vera's unofficial tour guide throughout Taganga.
Every other day they walk a couple of miles into Santa Marta to learn about its culture. The port northwest of the town is rich with activity, and ships constantly load and unload cargo. Such a resource should be bringing prosperity to the town, but instead of a thriving economy, they witness a troubled community.
It is a weekday afternoon and the streets are littered with children as young as 4 years old. A few of the boys wear tattered shirts and shorts. Most don't even have shirts.
"Where are these kid's parents?" Vera wonders.
As they stroll through town, Vera uses his iPad to pinpoint a restaurant.
"Put that away," Galand scolds.   
"Why? I'm trying to find a good place to eat," he says.
"That costs around $700," she says. "Do you realize what these people could do with that kind of money?"
"I paid good money for this," Vera tries to defend himself. "I earned it."
But as he looks around, he sees poor neighborhoods and small children running around like wild dogs.
"Well now I feel like a piece of crap," Vera thinks. "I might as well be painting a target on my back."
In retrospect, he's thankful for the privileges he has. "I could have easily been one of those kids wandering aimlessly," Vera said. He would have missed this if he'd stuck with the tourist attractions.
Weeks pass by and before he knows, it's time to go home.
But leaving won't be so easy. The people running the hostel have become his second family.
Despite the language barrier, Vera feels that for the short month that he lived there, he was treated as their son. As he's about to leave, the daughter rips off a small piece of paper and writes her email. To keep in touch, Vera knew.
Instead of saying goodbye, he tells everyone, "Hasta luego." See you later.
——–
Today at Eastfield, Vera collects materials from his office for class and is greeted by those words of Twain: "Travel is fatal to prejudice, bigotry and narrow-mindedness … ." The faces of friends he has made across the world flash in his mind.
As he steps inside his classroom, he reminisces about the adventures he has experienced, what they taught him and how he can pass them on.