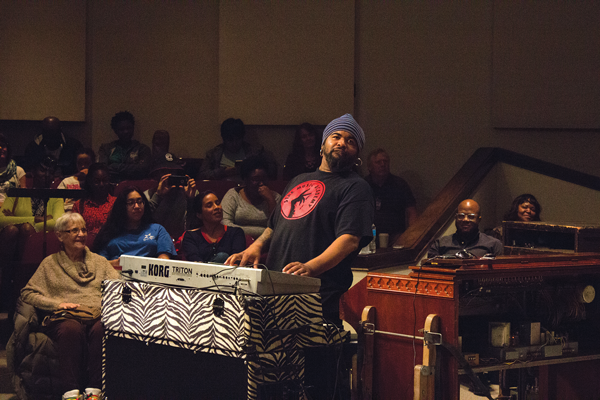 Bobby Sparks stands behind a Hammond C3 organ and Fender Rhodes piano, right hand on the Rhodes, left hand on the Hammond. He runs them across the black and white keys and guides his band through the set, using only his eyes to communicate.
He's performed in arenas in front of thousands of people, played alongside iconic musicians such as Prince, Ray Charles and St. Vincent and won multiple Grammy Awards. But right now, he's just happy to be back at Eastfield playing for students, faculty and staff in a tiny room in the F Building.
Sparks remembers his father driving him from Corsicana to Eastfield as a kid to watch famous jazz players like Dizzy Gillespie blow his trumpet and Count Basie jam on his piano in the Performance Hall. Years later, he visited the college as a teen and met the music department faculty, who he said were very kind and inviting to him.
When it came time to choose a college in 1992, those memories helped him decide to attend Eastfield. He packed his bags and moved to Mesquite, where he still lives.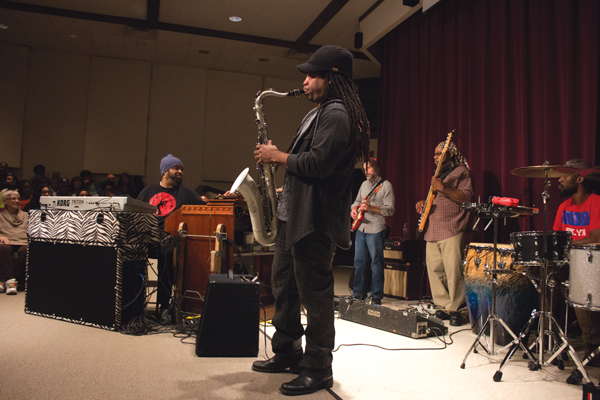 "Eastfield holds a very special place in my heart because this place is what made me become a musician," Sparks said after kicking off Black History Month at the college with a Feb. 1 concert.
[READ MORE: Spark's performance transforms Eastfield to jazz club]
While his love for music initially steered Sparks toward Eastfield, that same love eventually steered him away from it.
Sparks never finished college and instead chose to become a traveling musician, but he still thinks about returning to earn his degree. While at Eastfield, he met gospel musician Kirk Franklin and began touring with Franklin's band in
1994. Sparks later received two Grammy participation certificates for producing Franklin's "NuNation" and "Hello Fear." He also won a Grammy for Fred Hammond's "Free to Worship."
Winning a Grammy was like winning a Super Bowl ring, Sparks said. He's proud of his awards, but he doesn't keep them at his house. They stay at his mother's house so she can show them off.
Sparks first learned to play the organ on a Hammond at 5 years old, practicing gospel songs and hymns with his mother, who was a gospel singer.
His father, Bobby Sparks Sr., was a jazz trumpet player and introduced Sparks to artists such as Basie, Duke Ellington, Miles Davis and Sonny Stitt.
The contrasting musical styles were always pulling him in different directions.
"Then, around 8 or 9, I discovered Prince, and I became a funkster," Sparks said.
The "funkster" was on full display at the recital. He churned out an electric solo on his zebra-printed Rhodes piano in the middle of Joe Henderson's "Black Narcissus," turning a standard jazz tune into a fast-paced, breakneck-beats-per-minute ride as he blasted driving riffs and bent notes, face scrunched and eyes closed.
[READ MORE: 'Vibrator Play' creates buzz on campus]
Sparks was positioned at the front left side of the stage, face in the keys. Guitarist Todd Parsnow stood behind him, and bassist Justin McKinney stood to Parsnow's left.
Drummer Jason Thomas was set up at the far right, and percussionist Frank Moka was sandwiched between the electric strings and drum kit.
Saxophonist Keith Anderson stood next to the assortment of keyboards, pianos and organs.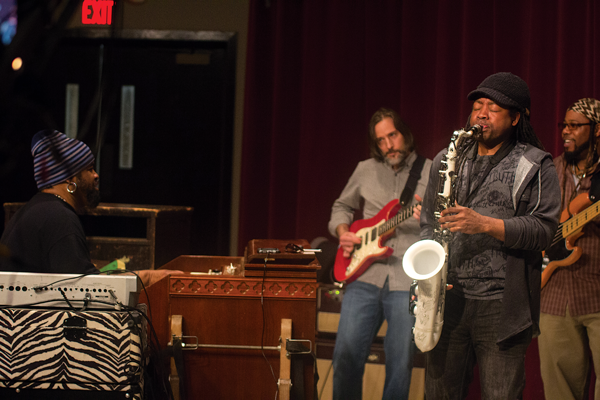 When the song was over, the crowd erupted into cheers and a flurry of claps, making Sparks' words inaudible. The audience included dozens of music students taking the same classes he did.
He then ran through the beginning of Herbie Hancock's "Sly."
As the song progressed, Sparks sent out cues for individual musicians to improvise, something they'd been doing throughout the show.
The band had only rehearsed 10 percent of the songs because Sparks likes spontaneity.
For him, it's more fun creating the music on the spot than knowing what everyone is going to play. He calls it "exploring."
"Sometimes it works, and other times it doesn't," he said. "You just gotta keep swimming."
Moka was blown away by the in-song creativity Sparks was able to extract from the band.
"It makes you antsy and anxious because you know Bobby is thinking about the future, and you're excited to see what the ride is going to be like every show," he said.
Sparks tries to be generous with the playing time for everyone in the band. Sometimes he wishes he could give everyone five minutes to do what they want.
"If the spotlight's on you all the time, people get tired of it," he said. "But if everybody brings something different to the table, I think it's just better."
Music major Alexander Brown said it was a rush watching Sparks and the band jam out and concoct alternate grooves.
"It's like driving 200 mph and then just getting out of the car," Brown said.
Anderson said it's the way Sparks has always played. He and Sparks met while playing together in a band called "Magic Touch" in the '90s. Since then, they've played together on countless bands and projects, most recently with Prince.
Anderson said Sparks' passion for music has always been strong.
"He lives and breathes it, " Anderson said.
As Sparks stood in a room across from the theater where he watched jazz legends as a child, he packed up his gear and headed back out on the road, this time with Lauryn Hill.
He has a new record in the works, although with so much time dedicated to traveling, he doesn't know when he'll finish it.
No matter where his career takes him, he said he will never forget Eastfield and how it molded him into the man and musician he is today.
"Eastfield was very instrumental in my life," he said.