Government shuts down: Many federal agencies affected, students safe for now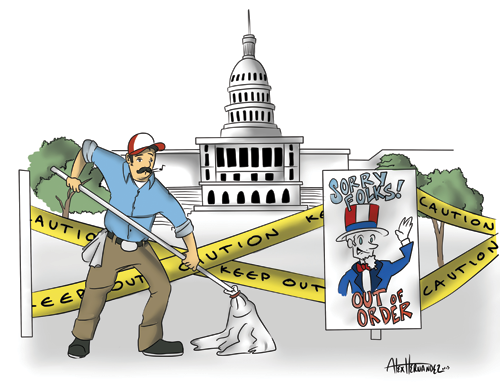 BY KEVIN CUSHINGBERRY JR., EDITOR IN CHIEF
As the clock struck midnight on Oct. 1, with the House Republicans and Senate Democrats still unable to come to an agreement on the fiscal budget, the government shut down.
Only those federal workers whose jobs are necessary to protect against an imminent threat to life or property were allowed to work through the shutdown. As a result, more than 800,000 federal workers were furloughed.
The federal government also stopped funding some of its programs including WIC, a program for pregnant women and young children. WIC funding impacts 9 million people per month, according to its government website.
Most students have not been directly affected by the shutdown because budgets for federal pell grants and students loans had already been solidified for the 2013-14 academic year.
Financial aid adviser Roshunda Jackson said that although many students received their FAFSA awards on time, those selected for tax verification have been unable to contact the IRS to get their tax transcripts during the government shutdown.
Also, students applying for federal loans prior to the spring semester won't be able to receive them if the budget hasn't been passed.
TRiO/Student Support Services program coordinator Shatremeyia Porter said services in her department will continue because TRiO is funded every two years and the money has already been appropriated.
"Students in the program won't be affected," she said. "The shutdown would have to last until our funds run out in order to have an impact on us."
Likewise, Upward Bound is funded every five years, so staff members said their students won't be immediately affected either.
DCCCD Chancellor Wright Lassiter sent out a district-wide email on Oct. 2 detailing the effects the government shutdown could have on the colleges. Although the district does not rely on federal funding, he said his staff is monitoring how the shutdown might impact financial aid and grant programs in the future.
"We all hope that this government shutdown will not last long since we do not want to see further damage to the American economy and its services to the nation's population," he said. "Whatever the outcome, we will be prepared, with support from our governing board, to take any required actions."
Federal offices that have been fully or partially closed include the Department of Education, Department of Labor, Department of Transportation, Environmental Protection Agency, Equal Employment Opportunity Commission, Executive Office of the President for special functions, Federal Trade Commission, General Services Administration, Treasury and Internal Revenue Service, U.S. Postal Service, federal endowments and foundations, museums such as the George W. Bush Museum and Library in Dallas and the Smithsonian.
The last government shutdown happened under President Bill Clinton in December 1995 and lasted 21 days. Government professor Stacey Jurhree said the country has changed greatly since that time.
"The big difference between when the government shut down under Clinton and now is unemployment was under 5 percent," he said. "Under [President Barack] Obama, it's 7 percent."
Another major difference, he said, is the political climate.
"Bill Clinton was able to get with the Republicans and compromise," he said. "Obama's not budging, and he's not dealing with people that will compromise with him."
Jurhree said many professors assume they will not be affected by the shutdown because their salaries aren't provided directly by the federal government.
However, he said other factors could come into play.
"We're paid by the county, but any tentacle of the feds is going to be affected," he said. "If we're still shut down four months from now, students won't get financial aid. If there aren't students in class, then we can't teach."
Obama called top congressional leaders to the White House on Monday in an attempt to avoid a U.S. debt default that would rock the economy. However, the
White House later announced that the meeting was postponed "to allow leaders in the Senate time to continue making important progress."
On the Senate Floor, Senate Majority Leader Harry Reid expressed confidence that a compromise would be reached sometime this week.
"I'm very optimistic that we will reach an agreement that's reasonable in nature this week to reopen the government, pay the nation's bills, and begin long-term negotiation to put our country on sound fiscal footing," he said.