Cast readies for 'You Can't Take it With You'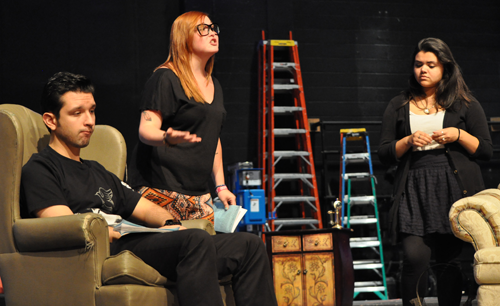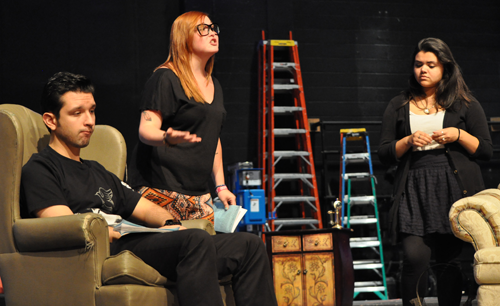 BY EMMA HAHN, REPORTER
Now that the semester is fully underway, the Eastfield theater department is wrapping up rehearsals for the first production of the year, "You Can't Take it With You."
With the opening-night performance only about two weeks away, things behind the scenes are peaceful despite the stress and responsibility.
Cast members have been scrambling to prepare for opening night, but they said the experience has helped them grow closer.
"It's kinda like we're our own little family even though none of us knew each other before," freshman cast member Ashley Vessels said. "But now it's really easy for us to get along."
Fellow actor Stephanie Booth said one reason she auditioned was because of the social aspect.
"It's a good opportunity to meet people," she said. "It's my first semester, and it's a good way to make friends."
"You Can't Take it With You," set in the 1930s, tells the story of Alice Sycamore, who falls in love with the rich and powerful Tony Kirby. The only problem is that her family is anything but normal.
The comedy features everything from homemade (and illegal) fireworks to a boisterous Russian dance teacher.
"Essie thinks she's going to be a ballet dancer, but in reality, she sucks," Booth said of her character Essie Sycamore. "It's really fun that I get to dance around the stage and let loose."
The cast and crew have devoted a lot of time to perfect the play. Cast member Garvin Locket said they are putting in three hours of rehearsal every night.
"[After that] you have to go home and learn your lines," Booth said. "It's hard work, but it will pay off in the end."
The play will be held in the performance hall at noon and 7:30 p.m. on Oct. 17, and at 7:30 p.m.  on Oct. 19. It will also show at 7:30 p.m. on Oct. 25 and 26, and at 2 p.m. on Oct. 27.
Tickets can be purchased at the box office before the show or in advance from the business office.