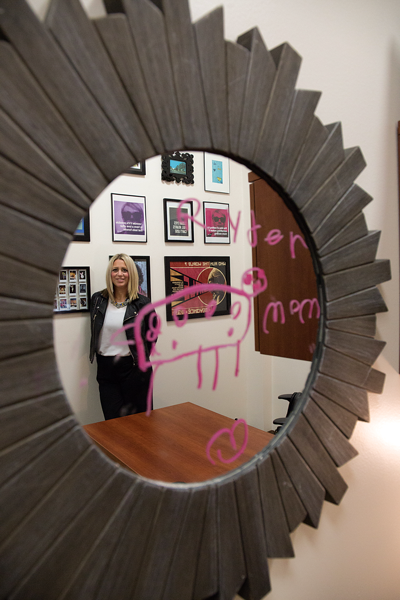 "Who runs the world?"
Judith Dumont wants to – or at least her little corner of it.
A Beyoncé poster in her office asks that question. Dumont agrees with the singer's response: "Girls."
Dumont is proving that "girls" can be successful, even those who were once told they weren't "college material." She has been promoted four times in a five-year period since coming to Eastfield College in 2010. Now, as executive dean of workforce, corporate and continuing education, she is responsible for organizing, planning and budgeting multiple departments as well as building relationships with corporate agencies to help find jobs for future students.
In doing so, she has earned the respect of her staff, who have given her the title "Girl Boss."
"She is full of enthusiasm," Center for Corporate Solutions account manager Janet Foreman said. "She's full of ideas, and she sees into the future. She sees what this department can be and where we can go. She knows how to get us there."
But for Dumont, getting here wasn't easy.
Through many jobs and negative messages, Dumont has been on a journey to prove her leadership skills.
She grew up in Enid, Oklahoma, where a high school counselor told her that she would be better off in cosmetology school than college. The discouraging messages didn't stop there. She felt disgraced by teachers and even family members.
"You are very smart, Judith, but you lack discipline," they said.
"There was always a 'but,' " Dumont says today.
Sometimes Dumont feels like she's still fighting that battle for respect. When she was promoted to executive dean last in December 2015, she was eager to share the news with her family.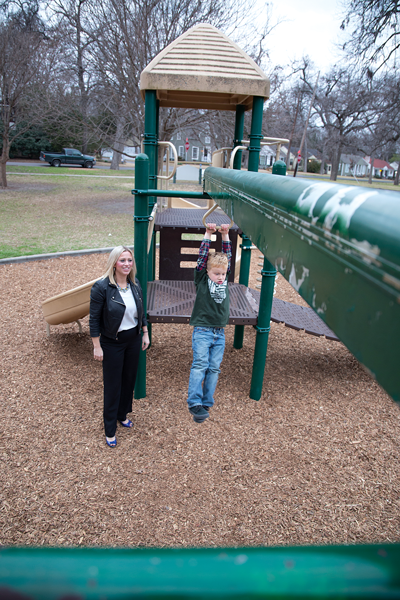 "I don't believe you," her father said.
"Dad, I promise you."
Eventually, she sent a picture of her office nameplate to her father to prove it was true.
Dumont has been working non-stop to prove herself once again. Since she has been executive dean, she has led the district in the tornado relief effort of 2015, created Camp Harvey, a youth camp for children to stimulate learning, and built up the Adult Education and Literacy Program.
"She is whip-smart," said Rachel Wolf, associate vice president of academic affairs and student success. "She's hilarious, high-energy and she is able to take things that are really kind of undefined and underdeveloped and turn them into really amazing things."
Being a wife and mother of a 5-year-old while working consistently, Dumont finds it hard to juggle her husband, son and job at the same time. When she is at home, she focuses on her family, and when she is at work, she sticks to the task at hand.
This past year has been long but rewarding for Dumont.
"You know how the presidents look way older after they've served?" she says. "I kind of feel that way."
Her early life
Dumont grew up poor in a small town with her brother, sisters and mother. Her father was rarely in the picture.
One of Dumont's earliest memories is visiting her father in prison. She was only 9 months old when he began serving a two-year sentence for his part in a stolen car ring. He spent another 18 months in a halfway house after that.
Her mother raised four children on her own. With no college degree, she relied on welfare and donations from the church to get by. When the children needed clothes, she would buy them at thrift stores.
When the children reached grade school, Dumont's mother enrolled in college. Her father was out of prison, but he was a heavy drinker and drug-user, so the children were kept busy.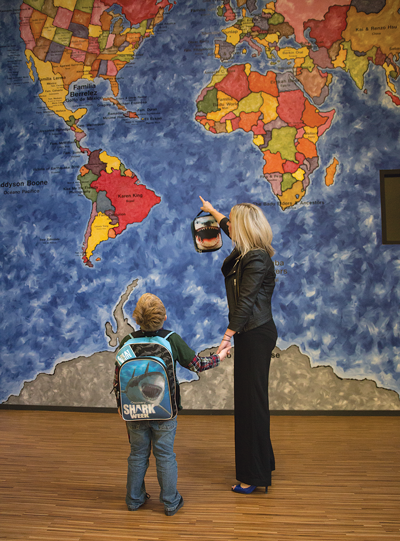 "We were at church Sunday and Wednesday. Softball Tuesday and Thursday," she says. "I realize now that [my mom] was booking us so we weren't home."
But Dumont always knew where to find her father. His office was Chuck's Place, a local bar. And she knew the phone number by heart. Sometimes
she even visited him there.
One afternoon, Dumont walked into the bar, grabbed a cue and began shooting pool with her sisters. Then she encountered a bar regular who called her by name.
"Oh, you're Judith!" he says. "You were on student council, and you won the writing contest."
Dumont's father had never attended any of her school events, but somehow, everyone at the bar knew who she was.
She felt special, like she was a celebrity. But not all the memories of her father were pleasant.
"We didn't know what behavior was going to walk through the door when my dad got home," Dumont says. "We were scared to go to bed sometimes. We would hear my dad's truck and we would hide and say, 'Oh, what's he going to do?' Some nights it was fine, but other nights it wasn't."
When Dumont was in sixth grade, her mother graduated from college and left her father. Her mother's diploma allowed her to pursue a career in teaching, which gave Dumont and her siblings a more comfortable lifestyle.
This was Dumont's first lesson about the value of a college degree.
"It was like an escape route," she says.
Noticing social injustices
From a young age, Dumont saw injustice everywhere, and it seemed that girls and women were always treated differently.
To her, nothing seemed fair.
It wasn't fair that her brother got to stay out until 2 a.m. while she had to be home by 11 p.m. It wasn't fair that her father didn't pay child support when her mother was raising four children on $40,000 a year.
"We didn't have a choice but to be poor, and that made me mad," she says.
She recalls sitting in a church pew with her siblings and feeling the stares of the congregation piercing through them during the sermon.
Everyone knew her father was in prison.
They pitied her, and it pissed her off.
[READ MORE: 'War Flower' creepy, uncomfortable, outstanding]
Sometimes Dumont took her aggression out at school.
"I popped off at teachers and was suspended a lot," she says. "I was suspended once a year. Seventh grade, eighth grade, ninth grade and 11th grade. I skipped so much that I wouldn't have graduated if I didn't forge a bunch of letters from doctors."
Later, after she began working, she found more inequity. It wasn't fair that a male colleague who had the same education as she did was taken more seriously than she was.
And it wasn't fair that every time she went to lunch with an older male mentor, she was automatically accused of sleeping with them for a promotion.
It felt as if the whole world was against her.
Finding her path
Dumont knew at an early age that if she wanted to go to college, she would have to pay for it herself.  Before graduating high school, Dumont was not happy at home. Her mother's second husband had abusive tendencies.
During her senior year, she basically lived out of her car because she didn't want to go home. This strained her relationship with her mother.
After graduating high school in 1995, she headed to Oklahoma State University. But she quickly realized that college was more expensive than she originally thought.
"I could barely feed myself," she says. "I was giving plasma to eat. I had to choose between shelter and school."
Dumont ended up choosing shelter.
"I felt like a dropout and a quitter," she says.
At 19, with only $50 in the bank, Dumont wasn't sure where to go. She was dating a law school student who was moving to Dallas, so she decided to move there and live with him.
"It's like a stupid 'Thelma and Louise' story," she says now.
Her boyfriend was the "perfect guy," until he drank. Dumont soon saw that he was an alcoholic, just like her father.
After living together for two months, he started becoming physically abusive. Dumont tried to get all
of her belongings out so she could leave before he returned home one day, but she was too late. The two began arguing, and he hit her several times.
She left with nothing but the clothes on her back.
"I didn't have a place to live for three to four weeks," she says. "I stayed on [a friend's] couch. I could have gone home, but I was too stubborn."
Five days before Christmas, Dumont moved into her own apartment.
She recalls spending Christmas Eve listening to Christmas carols on the radio while sitting on her twin mattress. The only other furniture was an end table she found on the side of the road.
"It was a dark time," she says. "It was then I knew I needed to start doing something different. I just didn't know what it was yet."
Dumont picked up extra shifts at the restaurant where she worked. Within a year, she earned enough money to go back to school at Richland College.
This time, college was her escape route.
Fighting for social justice
Today Dumont holds a bachelor's degree from the University of Texas at Dallas and a master's degree from the University of North Texas. She is currently shopping for a college to begin work on her doctorate in educational leadership.
While in graduate school, Dumont interned with Youth First Texas, a nonprofit agency that works with young runaways, ages 14 to 22, in the LGBTQ community. She chose the organization because one of her best friends in college came out as a lesbian as was kicked out by her parents.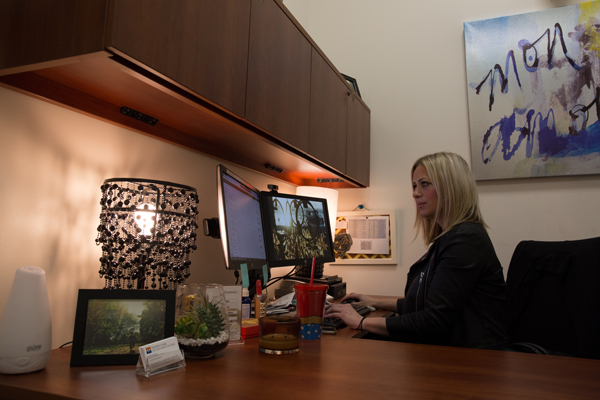 The internship led to a permanent position where she gained experience in administration. She sorted budgets, created programs and worked with agencies to find money.
While working there, Dumont helped create a counselors group, survivors group, gender identity group and a Coming Out 101 program.
"The gender question fascinated me," she says. "I like anyone who challenges the system."
Dumont was selected to be a part of the "NOH8" campaign, a photographic silent protest in response to California's Proposition 8, which prohibited same-sex couples from marrying. She was also a part of the 2009 Equality March in Washington D.C., which she attended with several of her Youth First kids.
Her academic career began in June 2010, when Dumont became the program coordinator of the Gateway to College program at Eastfield. She quickly moved up to associate dean of college readiness and mathematics in December 2011, and three years later she became the associate dean for arts and communications. While in this position, she created The Link, a tutoring center for students enrolled in English, reading, writing or language courses.
"In just a very short amount of time, she created a space in the library," Wolf said. "We didn't have a location for [The Link], so she created a space for it."
By December 2015, Dumont had moved up to her current position as an executive dean.
In the past year, she has found ways to strengthen the college's brand as well as the individual programs in the Workforce, Corporate and Continuing Education Division.
"The thing I am most proud of is the team I hired," she says. "Young people, fresh out of school and grad school that are ready to make a difference."
[READ MORE: Muslim professor embraces positivity]
Reuniting with family
Despite their rocky history, Dumont reconciled with both her parents.
A few weeks before Thanksgiving, Dumont got a phone call. Her father had had a stroke.
His organs began to shut down, and he was unable to control his body.
Family and friends came to visit Dumont's father in his last few days, knowing there wasn't much the doctors could do. He died Nov. 17.
"[I'm] just really grateful I had as much closure as I did with him because absolutely nothing was left unsaid," she said.
While Dumont was in Oklahoma, she went through her father's apartment and came across a few items. She found her father's GED certificate, his voter registration card and a scrapbook with everything Dumont and her siblings had ever accomplished.
"He had every news clipping," she said. "Even though he wasn't emotionally present and sometimes not even physically."
The favorite thing she found was his silver identification bracelet. Dumont wears it from time to time and thinks of him.
Dumont is still healing from her loss. She feels as if she is in the middle and doesn't know how she is doing yet. Dumont often draws upon her father's energy and wants to enlighten people about him.
"I try to think about what was really good about him and what was really beautiful about him, and how I can present those same characteristics," she said.
While happy with her successes, Dumont knows she will face further challenges, both professional and personal. But she plans to draw energy from a source that has never betrayed — her self-confidence as a strong woman.
"It gives me a sense of relief that I can be a big, loudmouth, sassy girl that's not going to roll over and be told who I am and what to think," she says. "I've been called a bitch more in the last year than I have been in my life, but I'm OK with it."
Review: 'Series of Unfortunate Events' mysterious, binge-worthy