Protests, celebration mark President Trump Inauguration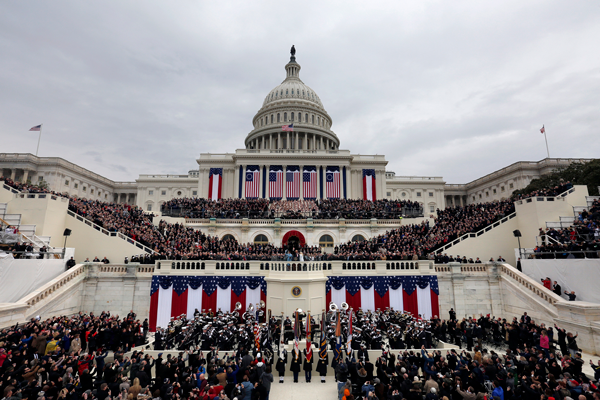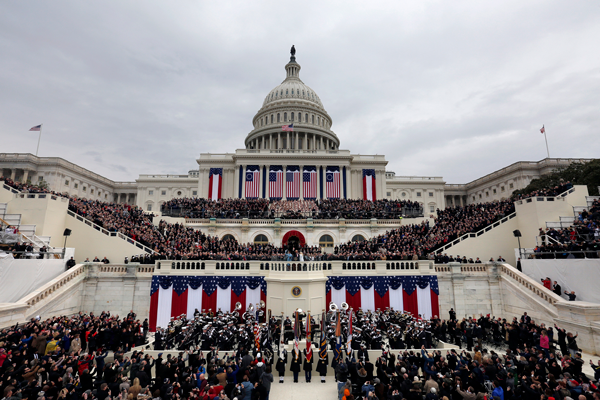 By HANNAH ALLAM, LINDSAY WISE and TIM JOHNSON
McClatchy Washington Bureau
(TNS) WASHINGTON – Rain drizzled and the sky was gray, but Matt Krapish sported a big smile as he strode toward the National Mall to watch Donald Trump become the 45th president of the United States. Krapish, a 6-foot-7 bail enforcement officer from Baytown, Texas, ignored the Black Lives Matter protesters down the block. A frayed Texas Rangers ball cap shielded him from the bad weather.
These were just minor irritations to a man excited about the prospect that Trump's inauguration would set the country on a new and positive course. "I'm just an average American," Krapish said. "There's something different about Trump that makes the rest of America feel good."
That "something different" is what drew thousands of supporters here Friday to celebrate the improbable ascent of a business mogul and reality-TV star whose populist speech and brash behavior set him apart from his predecessors in the White House. That "something different" is also what drew thousands of protesters, who reject Trump's policy stances and temperament as dangerous at home and on the global stage.
With half-empty subway cars and sparse crowds on the Mall, Trump's subdued welcome stood in marked contrast to outgoing President Barack Obama's first inauguration in 2009, when hundreds of thousands of people flooded into Washington to witness the swearing-in of the first black president.
The Washington Metropolitan Area Transit Authority, which operates the subway, posted rider figures from Trump's inauguration with comparisons to the inaugurations of Obama in 2009 and George W. Bush in 2005. An hour before the ceremony, 193,000 people had taken the Metro – far fewer than the 513,000 who had ridden by that same hour when Obama came to office and even below the 197,000 for Bush.
Supporters, some reluctant, fill the National Mall
This time around, there was also a palpable trepidation, detectable at times even among the Trump fans sporting red caps and American flags as they filed toward the inauguration grounds.
Take 19-year-old Caroline Lawe, who grew up in Chapel Hill, N.C., and who came to the inauguration with a couple of friends. She had voted for Trump, though he wasn't her first choice among Republican candidates.
She said she still harbored some reservations about his temperament but not enough to dissuade her from heading to the Mall to bear witness to a moment that defied virtually every poll and prediction in the election year.
"It's part of history, no matter what your political views are, to be here with everyone and to feel the momentum," said Lawe, a sophomore studying nursing at Catholic University in Washington.
Christina Jeffrey, of Spartanburg, S.C., is a conservative political scientist who suspects her political stances were behind her dismissal from an adjunct teaching position at Wofford College after Trump's visit there last November.
Jeffrey said her mother was a journalist who had documented the rise of the Nazi regime in the 1930s; she takes her mother's experience as a cautionary tale for the rise of Islamist extremism.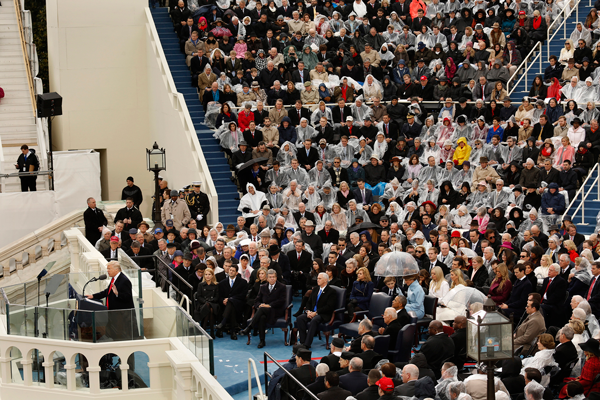 That's why Jeffrey is on board with Trump's platform, including his staunchly anti-immigrant and anti-Muslim positions.
"I expect him to do all the things he said he was going to do," she said. "I'm perfectly happy with his program."
For all the pundits decrying the doom and gloom of Trump's inaugural speech, the lines played well with the audience on the Mall, hitting the major concerns of his supporters: jobs, immigration, terrorism.
To Trump voters, the thinly veiled barbs at Muslims and other minorities represented telling it like it is, the rhetorical style that fans like for the lack of "political correctness."
"He's a very different kind of candidate than we're accustomed to," said Jade Morey, of Byron, Ga., a delegate to the Republican National Convention last summer and, initially, a reluctant Trump supporter. "In some ways, that can be a little scary because he does say what's on his mind. But for a lot of people that's also very comforting. They find it to be honest and refreshing."
Cheers rose from the audience when Trump mentioned the military, fighting the "carnage" he described in American streets and bringing back outsourced jobs.
When Trump wrapped up with his signature slogan, the crowd chanted it along with their new president: "Make America great again!"
Former Florida Gov. and current Rep. Charlie Crist, a former Republican now in office as a Democrat, said he'd found moments of uplift in Trump's speech and that the brevity _ about 16 minutes _ served the new president well.
"I think he tried to paint a picture of a bright future for our country," Crist said as he walked back to his Washington apartment after the inauguration. (END OPTIONAL TRIM)
Jessica Lunceford, a Trump supporter in town from Johnson City, Tenn., said the only hate she'd heard Friday was from the protesters, who seemed unwilling to give their new president a chance.
"Don't be close-minded," she said of the demonstrators. "Instead of using your voice to promote hate, use it for unity."
Still, several in the crowd tempered their enthusiasm for Trump by saying they'd hold him accountable for his promises.
They wanted to see "the wall" on the border with Mexico. They supported buying American – for some, even if that meant higher prices. They wanted to see the jobs Trump promised on his trips to cities gutted by collapsed steel or textile industries. Danny Castle, 53, in town from Colorado, said he owns a tow-truck business in Texas and has seen firsthand the effects of illegal immigration.
If the wall plan "falls on its face," Castle said, he wouldn't be voting again for Trump.
"I'm pro-immigration, but they have to come here legally," Castle said.
Protesters Arrested
Enraged bands of protesters dressed in black smashed windows and pelted riot police with rocks Friday afternoon, as demonstrations before Donald Trump's inauguration turned violent. Police reported more than 90 arrests.
Helmeted police wearing anti-riot gear sent clouds of tear gas against the protesters in downtown Washington, about five blocks north of the planned route for the inaugural parade. The thunder of percussion cannons reverberated as police skirmished with demonstrators before appearing to have restored calm shortly before the parade was to begin.
"We have significant damage in a number of blocks in our city," Interim Police Chief Peter Newsham said.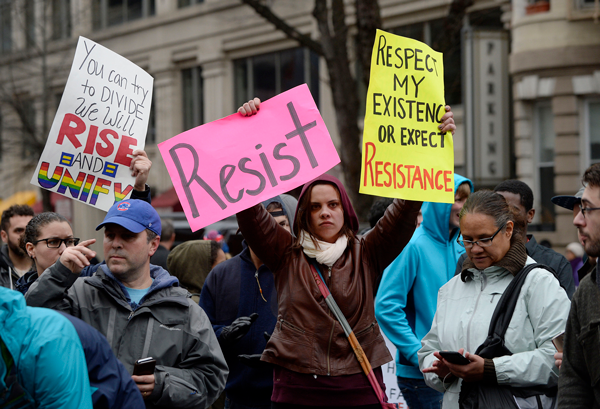 Rioters, some wearing black clothing and masks, smashed huge glass windows at a Starbucks on I Street, near the Inter-American Development Bank, and at a nearby McDonald's. A Crowne Plaza hotel also suffered broken windows, as did an outlet of Au Bon Pain, a fast-casual bakery.
Most windows were shattered on a parked, unoccupied black stretch limousine.
Protesters overturned newspaper vending machines, kicked over trash receptacles and vandalized ATM machines. At least two protesters carried flags with the circle-A symbol for the anarchist movement, which has carried out sporadic violent protests in Western countries in recent decades. "
We have a little over 90 arrests," Newsham said, adding that the protesters were only "a very, very small percentage of the numbers of folks who came to peacefully assemble in our city."
Newsham put the number of violent protesters at "a couple hundred," although Reuters estimated as many as 500 people may have taken part. A handful of injuries were reported, none life-threatening, Newsham said.
White nationalist Richard Spencer, who made headlines when he gave a Nazi salute at a gathering after the Nov. 8 election, was giving a video interview at roughly 2:30 p.m. when a protester clothed in black leaped out of the crowd and hit him in the face, then ran away.
"You hate black people!" another protester yelled. "I don't hate black people," Spencer said, in pain, holding his hand to his face.
A few minutes later, a protester ran up and spat in Spencer's face. Spencer was then whisked into a car, which drove off. Earlier in the day, the scenes were all peaceful.
After some initial shoving, riot police separated protesters from visitors making their way through the blue-ticket gates close to the Capitol, at First and D streets Northwest. The clump of protesters, though, squeezed the flow of visitors to a trickle, and police worked to divert some ticket holders to a nearby entrance. About 200 protesters banged drums and chanted "Si, se puede," "Shut it down" and "We reject the president-elect!"
One sign, in Arabic, read "Freedom."
Occasionally, chants of "U-S-A!" were returned by inauguration celebrants.