ITT Tech shutdown leaves students back at starting line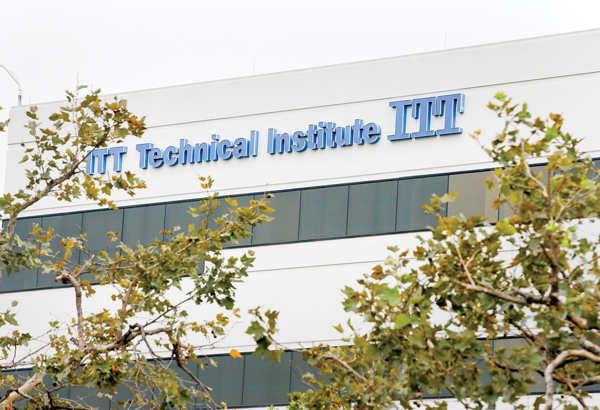 At least six former ITT Technical Institute students will continue their educations at Eastfield after the for-profit college shuttered all its campuses Sept. 6, just a few days into the fall semester.
"I was 18 months away from graduating, and now out of all the credits I earned, I am only able to transfer three credits," said former student Ivan Rodriguez, who was studying for software development. "It just frustrates me knowing that I basically have to start over from scratch with all the hard work I put in."
Rodriguez, who plans to enroll at Richland College in the spring, is one of 35,000 students left wondering how to receive credit for the classes they completed at ITT Tech's 130 campuses, including one in Arlington and one in Richardson.
ITT Educational Services, which operated the college, blamed the closure on the U.S. Department of Education's decision to bar them from enrolling students using federal financial aid. Questions about the company's financial solvency and accreditation preceded the Education Department's move.
"I honestly feel like ITT Tech was a big waste of time," said former student Tony Bennet.  "I had plans to graduate next semester, and now I have to start from the beginning."
[READ MORE: College sidelines staff who teach as adjuncts]
Bennet is considering enrolling at El Centro College in the spring to pursue his career as an electrical engineer.
Students enrolled at ITT Tech when it closed or who withdrew within six months before the closure have two options: loan forgiveness or transfer of credits to another college.
"With loan forgiveness, you can scratch all of that debt out, but you have to start all over, and that's the challenge," Eastfield Director of Recruitment Marlonda Taylor said.
Credits earned at for-profit institutions such as ITT Tech transfer at each college's discretion, and many nationally accredited colleges have chosen not to accept them. If course credits do transfer, students are ineligible for loan forgiveness.
A student's field of study determines if a Dallas County Community Colllege can accept the credits. The district offers programs such as accounting, business administration, criminal justice, computer aided design and drafting and electronic and computer technology.
For more information on transferring from ITT Tech to Eastfield, visit eastfieldcollege.edu/pressroom/news/welcome-itt-tech/ or email Taylor at [email protected]
[READ NEXT: Generations stand together to protect native land]