Generations stand together to protect native land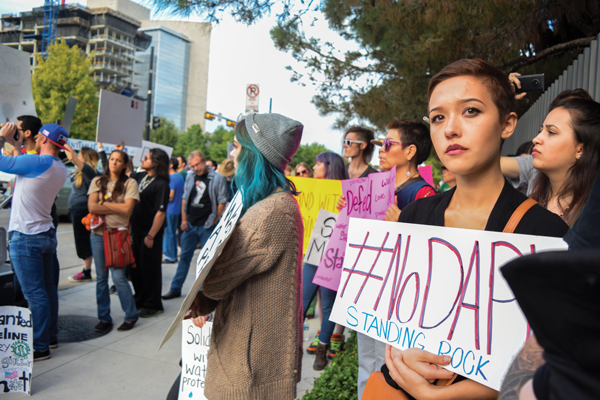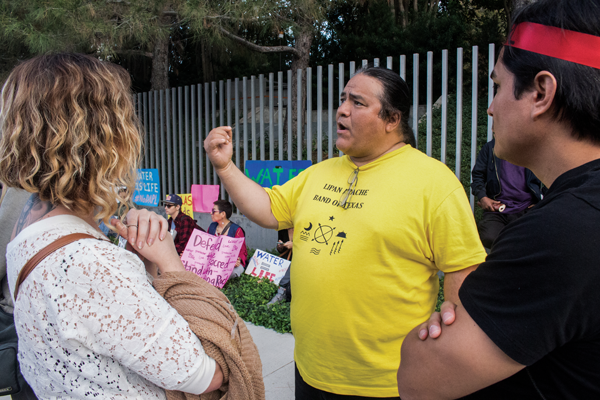 After months of protests, the Army Corps of Engineers reversed course Dec. 4 and said it would deny a construction permit to Energy Transfer Partners to build the Dakota Access Pipeline on land claimed by Native Americans.
"It sounds good, but at the same time I'm cautious," said former Eastfield student Leroy Pena, who has protested at the site in North Dakota and at rallies in Dallas. "I'm not expecting them to stop."
Pena is proud of his native heritage. He is a member of the Lipan Apache Band of Texas and follows his ancestors' teachings.
He has been an activist for native rights for decades. But in August, a pipeline project in North Dakota was approved, which caused Pena to become even more involved in native rights issues.
"My [Lakota] friend Tiffany called me crying," Pena said. "She said, 'They approved that pipeline, and it's going to go through our sacred land.' That's when I started getting involved."
Pena was in North Dakota from Oct. 27-Nov. 2, helping with security, organization and protesting.
Pena's interest in social activism began when he was a teenager in the Rio Grande Valley with protests over local issues, such as the termination of his high school's vice principal. In 1985, Pena was a student at Eastfield and was involved in environmental and political protests.
The turning point came when his younger brother was deployed in the Gulf War. Pena began protesting again, this time with more vigor.
"I went to our state senator at the time, and asked him to pull the troops out," Pena said. "I started protesting the war, and it was a long war, so I was [protesting] most of the time, when I wasn't going to school."
Now Pena is involved in Latino rights, political and environmental protests and Native American issues.
The Dakota Access Pipeline would transport crude oil from North Dakota to Illinois. Opponents say the pipeline could have harmful environmental effects and would cut through sacred Lakota burial grounds.
"It was originally planned to go up by Bismarck, close to the city, but the residents rejected it because it was too close to their water supply," Pena said. "So they did another plan to go through the native land, and that one got approved, but everything was fast-tracked. They were supposed to do an environmental impact study, and they never got one."
Julie Fedorchak, chair of the North Dakota Public Service Commission, told NPR that there was a 13-month review process in which the route of the pipeline was changed over 140 times to ensure that cultural and historical resources were preserved.   
[READ MORE: College sidelines staff who teach as adjuncts]
The pipeline would be placed under the Missouri River. Many are arguing that, although the people in Bismarck had a chance to vote against the pipeline, the Lakota did not.
"The people, and they're mostly Anglo, they said, 'We don't want that here. It's going to burst and affect our water supply. So, more or less, go put it where the Indians are. No one cares about them,' " Pena said. "They did all this without going through the proper procedures."
Fedorchak also said that the North Dakota Public Service Commission notified the Lakota of the plans for the pipeline and held nearby public hearings, neither of which the Lakota responded to.
The Lakota and their supporters believe that the land through which the Dakota Access was planned could legally belong to the Lakota Nation.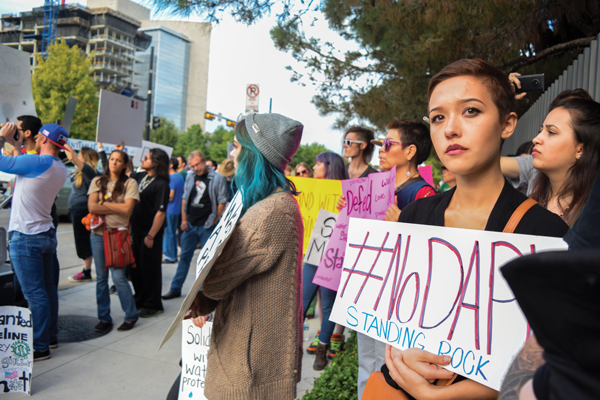 "Where they put that [drilling] pad might actually be on tribal land," Pena said. "So we're getting these little delays and we're seeing if those little delays will allow us to bring in people who can do something about this."
Lakota tribal historian Ladonna Brave Bull Allard originally organized a protest of 15 people when the pipeline was first approved four months ago. Now there are close to 6,000 people from different states, countries and ethnic backgrounds at Standing Rock, supporting the Lakota.
"We're coming from every corner of this country," Pena said. "The last time this happened was during wartime, when the different tribes of the plains got together and they were fighting the United States Army. But this, they're coming to save the environment."
There have also been many protests in Dallas, which is home to Energy Transfer Partners and its CEO, Kelcy Warren.
Pena has helped organized protests in the Dallas area, including one on Sept. 2 outside the Energy Transfer Partners building, in which Pena held a sign reading "Kelcy Warren: Wanted for the Rape of Mother Earth."
On Sept. 13, Warren released a letter stating that "concerns about the pipeline's impact on the local water supply are unfounded. Multiple pipelines, railways and highways cross the Missouri River today, carrying hundreds of thousands of barrels of oil."
On Nov. 5, Pena attended a DAPL protest outside Klyde Warren Park. People gathered on the sidewalk outside the park, chanting "Keep it in the soil. We can't drink oil" and singing "Which side are you on, my people, which side are you?" They held signs saying "Water is Life" and "People not Profits."
The event was organized by Jonathan Chisum, a 25-year-old food service worker, and Kit Jones, a 70-year-old local counselor.
Jones said she is concerned about an oil spill in the future.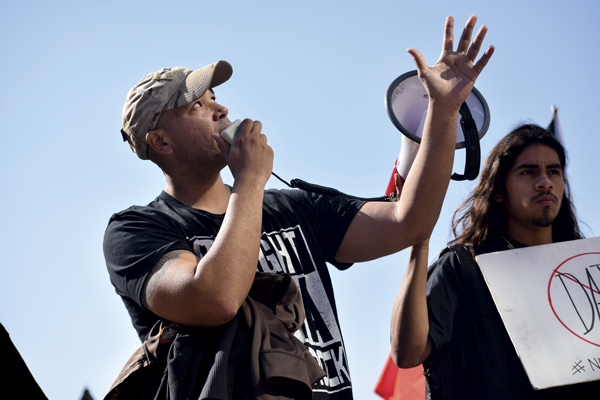 "All pipelines leak eventually," she said. "So if it's allowed to be constructed, then, at some point when it breaks, that oil is going to go into the river and all the way down to the Gulf of Mexico."
Pena, who worked on pipeline projects for 11 years, agrees.
"I know about what's going on with DAPL," Pena said. "I know it's going to break. It's not if it's going to break, it's when it's going to break."
[READ MORE: Assured through faith: Muslim professor embraces positivity]
At the Nov. 5 protest, Pena stepped up to a megaphone before a crowd of around 75 people, urging them to travel to North Dakota to aid in the Standing Rock protests.
"Things are starting to change up there," Pena said. "They could use your help."
His call to action was met with cheers from the protestors.
However, Richland student Cien Carmona, a computer science major, feels that he can support Standing Rock from Dallas.
"I think that this entire land is native land and whether you've been [to Standing Rock] or not, you should support the Sioux nation," Carmona said. "They deserve clean water just like anyone else. Kelcy Warren's not going to build a pipeline through his backyard. He shouldn't build it through native backyards."
Pena said the Lakota elders have stressed the importance of non-violent protest.
"When they got to Standing Rock, the elders were praying and asking the ancestors what they should do, and according to them, the ancestors told them that we should not use violence," Pena said. "[We] use our voices and our presence. That's what we've been doing. If you see [the protesters], the police are grabbing them and taking them down, but they're not fighting. They get handcuffed, they get taken to jail. I have yet to see one of them take a swing at the police officers."
On Oct. 28 at Standing Rock, a protestor allegedly fired shots at the police, and later, dozens of fires were started. Each side claims the other started the fire.  
Daniel Vargas, an Eastfield student majoring in HVAC, said the pipeline is "ridiculous."
"I think they should find other solutions," Vargas said. "There's no point in contaminating all the water. People rely on it."
Pena urges Eastfield students to join the protest movement.
"This is their world," Pena said. "I would advise them to get more involved. I'm doing what I can, but I'm not going to be here that much longer. As far as the damage that we've already done, maybe they could put a stop to it. It's not reversible, but they could stop it from continuing."