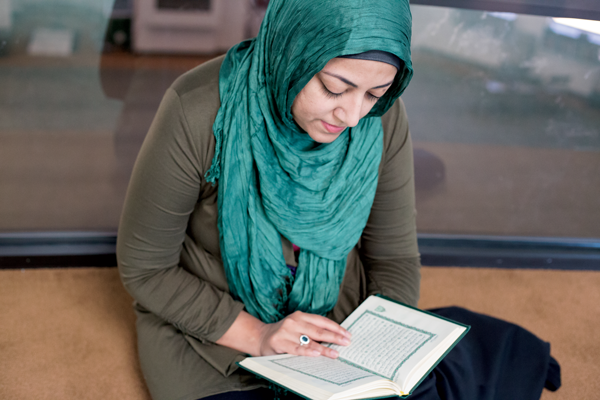 Shazia Ali stepped into line, ready to board the plane, when a security guard came over to her. He asked her to remove her shoes, explaining he was performing a "random check." Ali had already been through more than four security checks since she set foot in customs, and it was getting old.
When Ali had left for vacation two months before, she passed through customs without any extensive pat-downs or security checks. As she returned to Dallas, she was stopped at every new station and asked to repeat the same checks over and over. The only difference was that she was now wearing a hijab.
This incident took place in 2002, when airport security was heightened in response to the 9/11 attacks. Ali wondered why they weren't pulling aside people without headscarves. The increase in security seemed directed specifically toward Muslims.
At the time, Ali had just recently begun wearing a hijab.
"It was the most incredible experience of my life," she said. "And that moment really hit me, 'Oh my God, I'm going to be a different person if I wear this, and I'm going to be viewed very differently.' "
Ali, an English teacher at Eastfield, has seen a resurgence of hostility and harassment over the past year since Donald Trump began arguing that Muslims were dangerous people. The president-elect has previously stated he would like to ban all Muslims from entering the United States and have Muslim-Americans register so that the government can keep a better watch on them.
"I would argue that it is worse today for Muslims in America than it was post-9/11," Ali said. "The rhetoric is being spoken out openly, everywhere. Before, it was more under wraps. Now, when you have [the future president] who's going to talk about it openly on a podium, you need a little bit of inner strength."
She said this climate of mistrust and fear that Trump is creating is damaging to the community.
Ali said she frequently experiences the negative effects of stereotyping. Because she grew up in the Middle East, many people expect Ali to speak Arabic or have a very traditional, religious lifestyle. While Ali was born in Pakistan, she grew up in Dubai, which she described as "almost the Las Vegas of the Middle East."
[READ MORE: Trump taps Sessions for attorney general]
In Dubai, Ali led a secular and privileged life. Although she grew up surrounded by Muslims, she was unaware of many aspects of the religion. She considered herself culturally Muslim because of her family's customs and traditions but knew very little about Islam.
Ali went to a British high school in a time when her family had housekeepers and chauffeurs. For fun, she would go to ice skating rinks with her friends or hang out on the activity floor of her building, playing tennis or badminton. Ali wore jeans and T-shirts, spoke English and craved hamburgers and milkshakes.
"It was like the melting pot of the world," Ali said. "Different nationalities, different ethnicities, exposure to different kinds of people. It was a very diverse population."
Moving to the U.S. at 22 wasn't much of a cultural shock for Ali, barring her introduction to American football. She was a cultural minority, but she was already used to a Western lifestyle.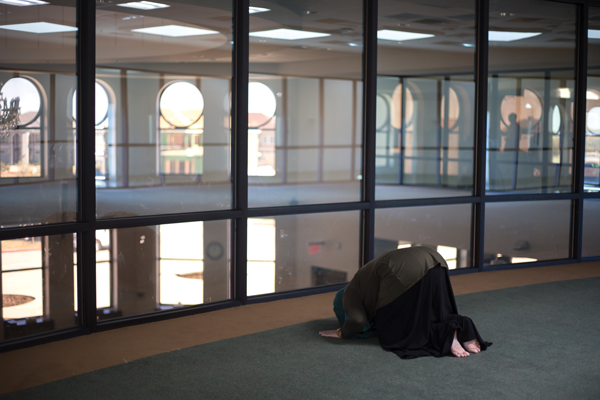 On Sept. 11, 2001, things changed.
She was an administrative assistant at the University of Texas at Dallas and still leading a non-religious lifestyle, caring for her son and pregnant with her daughter. Her friends knew she was Muslim, but she didn't necessarily "look" Muslim.
"One of the first things I encountered [after 9/11] was that people asked me these questions," Ali said. " 'Oh you're a Muslim too, right? So can you tell us why they're doing this? Can you tell us where it says that you have to kill people or you have to bomb yourself?' They were asking really hard questions, and I had no clue how to answer them."
At this point, Ali took a step back to take a long look at herself and Islam. She began reading more about the religion and tried to figure out what it means to be Muslim. She soon realized that she truly identified with Islam and decided to embrace it.
As she grew into her newfound faith, Ali began changing aspects of her lifestyle. She began wearing long-sleeved, loose-fitting clothing, and she abstained from alcohol. The most noticeable outward change was that Ali began wearing a headscarf, known as the hijab.
"I liked the idea of being recognized as a Muslim," she said. "That kind of made me feel more confident about myself."
Ali said that pulling aside everyone who "looks" Muslim or wears a headscarf is an uneducated and sometimes nasty approach to security. She said not everyone who wears a hijab is Muslim, and not every terrorist is going to have roots in the Middle East.
"It's the same thing as looking at an African-American male, and if he's 6 feet tall, you're just going to assume he must be some kind of a thug," she said. "It's stereotyping at its worst."
Simeon Dohmen, a 6-foot, African-American majoring in construction, is taking Ali's English class. Dohmen said he has experienced instances where people assumed he was going to steal from them. His mother raised him and his brothers to dress in ways that would stop people from stereotyping them.
Even at work and school, Ali noticed people treating her differently. She had trouble adjusting to wearing the hijab regularly. She would choose not to wear her headscarf some days.
[READ MORE: Buck helps students overcome insecurities]
"The first year was a mess," Ali said. "I could see the difference. I would walk the same halls, and when I had the headscarf on, people would look at me differently."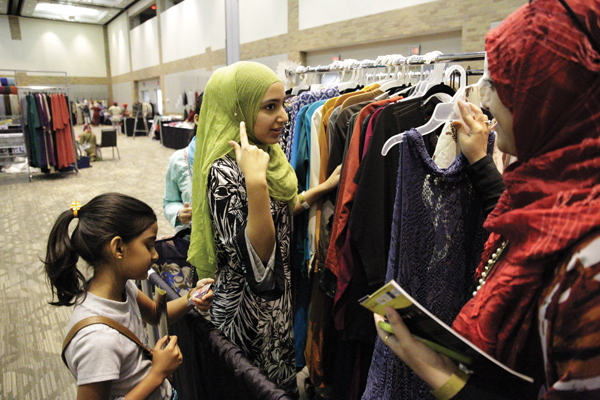 In 2003, Ali faced the brunt of more stereotypes, this time in the classroom. Ali was a freshman at Richland College and approached her humanities professor to ask what majors were available in the field. She was interested in the humanities, but her professor dismissed her. He said she could "possibly do something with religion," implying that a Muslim woman had no other interests or passions.
Seven years later, Ali earned her doctorate in humanities and literature from UTD.
Now, Ali said she sees more aggression toward her community.
The first few days after the election, reports surfaced of assaults on people of color in Trump's name. A woman in Ali's neighborhood was assaulted in a grocery store, and her hijab was pulled off. Even before the election, people had verbally assaulted Ali in public and vandalized her house.
"I think the biggest problem that all minorities face is the silence of the spectators," Ali said. "When you see something wrong happening, don't be silent. Speak up. There are no more choices left. If you see something happening, you have to address it. You cannot be quiet anymore."
Ali is not worried that Trump will have a chance to implement his plan to ban Muslims from the U.S. because it would most likely violate the First Amendment.
"I know that Trump's ideas of banning Muslims and building a wall, none of it is probably going to happen," Ali said. "But that's not the point. The point is that he said it. It has been verbalized and articulated and out in the open for everyone to hear. The 50 percent of America that voted for him thinks that the right thing to do. So if we are going to go ahead and assault a minority just because they're Latino or Muslim or gay, they're going to be OK with it because our president does it. It's perfectly fine. No one is going to hold you accountable for that. So you've lowered the bar of your morality and your integrity by electing him."
However, she is trying to focus on the positives. The Thursday after the election, Ali attended a program at her third-grade daughter's school. A man gave up his seat for her, and another woman told her "things are going to be OK." It's little acts like these that give Ali hope.
"Even though there's a lot of negativity about Trump's election, this is one ray of hope that I see, that I've actually witnessed," she said. "I strongly believe that whatever happens is for the good. There's some good in it. We just don't see it right now."
Ali believes that the only way to end these prejudices is to educate others and stand together.
"There is that curiosity that his rhetoric has built up within intelligent people who want to sit down and say … 'What exactly are Muslims about?'" Ali said. "There are more conversations happening. There are more interfaith events happening. We are having those interfaith, intercultural conversations that are leading to more awareness and a more positive educational system where we start learning about one another."
Dean of Social Sciences Mike Walker said that Ali disproves stereotypes by being herself. She is patient and kind with others, even when they ask her inappropriate questions about her headscarf or Islam.
"She allows all of us to see that the stereotypes are nonsense," Walker said.
Until he met Ali, Walker said he had never truly known a Muslim person before. He only knew of the vague stereotypes portrayed by the media. Now, he considers Ali a great role model.
"She's all about the kind of values traditional American culture is about," Walker said. "She couldn't be more American."
Ali also has an advantage in the classroom, bringing in stories from her childhood in Dubai and her personal experiences as a minority in America. Ali and Walker co-teach a learning community that combines English composition and U.S. history. Walker knows that Ali has a unique background and perspective, and he encourages her to tell her side.
"We're a better nation if people bring their different cultures into the mix," he said. "We're a better country for that."
Ali and Walker's students appreciate this as well.
"It opens up our eyes to different perspectives of what she went through differently than what we go through," nursing major Nani Brown said.
Ali does not deny that there are differences in her daily life from that of other Americans. However, she sees herself as a regular person; a wife, a mother of four, no different than the next American. She takes her children to the roller skating rink, entertains friends and writes creatively in her free time. Her poetry was recently published in the Dallas-Fort Worth anthology "Cattlemen & Cadillacs."
Most importantly, Ali thinks, is the fact that she's a mom. She smiled as she mentioned her eldest daughter, who is 14 and began wearing the hijab within the last few years. She laughed about her daughter stealing her more fashionable scarves in order to match them to her outfits.
Ali admires how her daughter wears her hijab without hesitation. Ali made the decision when she was in her mid-20s, and it came with lifestyle changes and a search for her identity. For her daughter, wearing the hijab is simply part of growing up and doesn't come with much baggage.
As Ali's two other daughters come of age, Ali said that ultimately, the decision to wear the hijab will be their own.
"It's a choice that [they] have to make," Ali said. "It doesn't need to come from me or anyone else."