'The Yellow Boat' voyage explores courage, childhood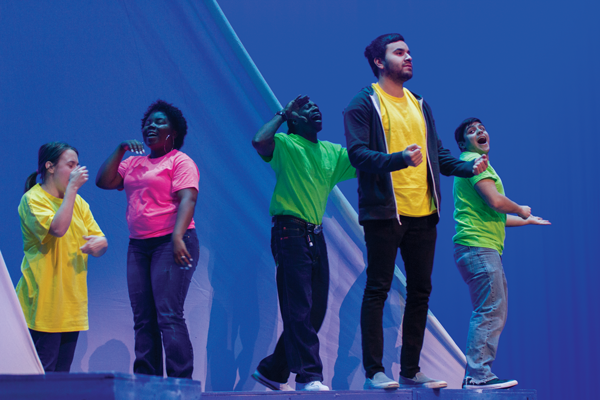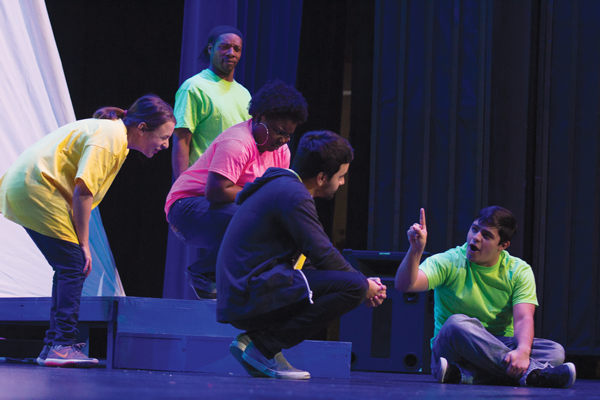 The Harvester Theatre Company is preparing to embark into David Saar's "The Yellow Boat," a drama that portrays the physical and emotional pain of death through a child's eyes.
The main character is based off of Saar's own son, Benjamin, who was born with congenital hemophilia and died at the age of 8 from complications related to AIDS in 1987.
Benjamin's imagination, strength and visual artistic talent allow him to transform his struggles with his health into colorful paintings. Experiencing the story through Benjamin's perspective keeps the focus on the young boy's courage, according to the cast.
"You might not realize it at first, but it's kind of a heavy topic," theater major Victor Deterra, who plays Benjamin's father, said. "It is masked with a sense of child's play, but this is a pretty deep subject regarding the AIDS virus and how it affects lives. There's a lot of subtext."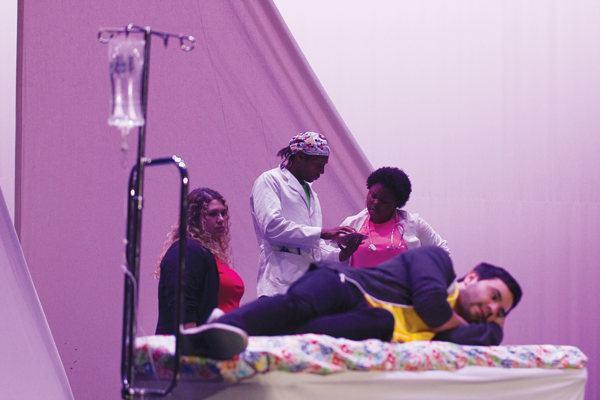 Deterra has performed with the Harvester Theatre Company in productions such as "The Legend of Sleepy Hollow," "Harvester Cabaret" and "Alice in Wonderland." He said his experience with the company has helped him grow as a performer. With a cast so varied in experience, Deterra said he has come to understand the importance of developing personal relationships to create the best possible production.
"It's not necessarily the same group of people [each time]," he said. "We do have some new faces. But production-wise, we've learned a lot. When you get to know people, you can work with them better. That's why I try to get to know everyone as well as I can."
Business major Joey Mojica will be making his theatrical debut at Eastfield as the lead role of Benjamin.
"I definitely feel for him," Deterra said, referring to his lead role debut in 'The Legend of Sleep Hollow.' "[But] he seems to have his head in the right place. He's doing really well, and I think he's having fun too."
Mojica said that the emotional weight of his role hasn't made him feel nervous in any way. He said that the depth of the story impressed him.
"You would think it's a depressing story," Mojica said. "But you have little kids doing little kid things, and [Benjamin's] looking upon and explaining to the audience what's happening to him."
Also making his Eastfield theatrical debut is paralegal major John Williams, who has starred in various plays at El Centro College and the Denton Community Theatre.
Williams plays multiple characters and said that although this is his first play for the Harvester Theatre Company., he feels he has a connection to the content.
"This is my first time being exposed to this play," Williams said. "But [Benjamin] was born in '79, and I was born in '76, so this is a part of my generation. I'm passionate because this was during a time that the disease came out and we were unfamiliar with it."
The play is being produced as an acting project for the DRAM 1351 Acting 1 class and is directed by Professor Dusty Reasons-Thomas.
The play will be performed at 7 p.m. on Dec. 1, 9 a.m., 11 a.m. and 7 p.m. on Dec. 2 and at 7 p.m. Dec. 3. Tickets are $10 for adults and $7 for children and students. The first two performances on Dec. 2 will be free matinees, and the Theatre Company will offer free admittance to volunteer student ushers.