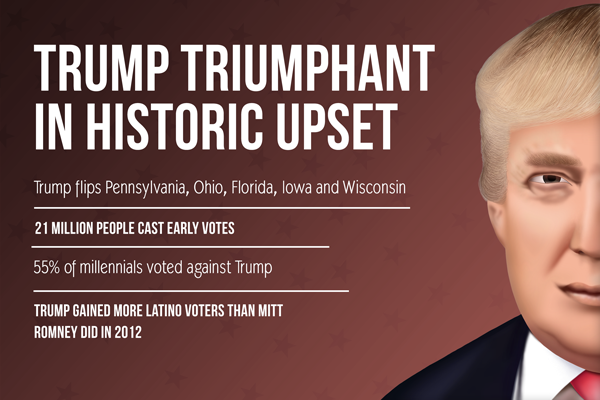 Riding on his promise to "make America great again," Republican Donald Trump defied polls and expectations Tuesday, winning key battleground states to upset Hillary Clinton and become the next president of the United States.
In a historic election, Trump will become the first president not to have served in the military or in a political office prior to being elected.
Trump surprised pollsters by winning Florida, Ohio, Wisconsin, North Carolina and Pennsylvania. He finished with 276 electoral votes to Clinton's 218. Clinton was predicted to win the election with more than 300 electorates.
Trump reaffirmed his plans to create a job-friendly environment and rebuild inner cities. He promised to answer to the people and look to them when he makes his decisions.
"Every American will have the ability to recognize his or her fullest potential," Trump said in his victory speech. "We will put millions of people to work as we rebuild [the nation]. … Hopefully, you will be so proud of your president. You will be so proud."
Trump addressed Democrats, third party supporters and independents, calling for them to put aside differences.
"To Republicans and Democrats and independents across this nation, I say it is time for us to come together as a united people," Trump said. "I pledge to every citizen of our land that I will be president for all Americans."
Shortly after the race was called about 1:30 a.m., Clinton called Trump to concede and congratulate him on the victory.
"The American people have spoken, and the American people have selected their new champion," Vice President-elect Mike Pence said over chants of "USA! USA!" before Trump spoke to supporters.
'Brexit plus, plus, plus'
On Nov. 7, Trump predicted that his campaign would defy polls.
"I think it's going to be Brexit plus, plus, plus," Trump told supporters, referring to the poll-busting vote for the United Kingdom to exit the European Union.  "It'll be amazing."
As the race drew to a close, Clinton Campaign Chairman John Podesta announced about 1 a.m. that Clinton would not speak until morning.
"We waited this long, we can wait a little longer," Podesta said to a crowd of Clinton supporters. "Everyone should go home, get some sleep. We'll have more to say tomorrow."
Less than an hour later, after losing Wisconsin, Clinton made her call to Trump.
"I don't think in the last hundred years, and I'm not familiar with presidency before that, that we've had a president who had never been in Washington or politics and has been just a businessman," said Phillip Huffines, chairman of the Dallas County GOP. "I think you'll find that the lobbyists are upset because they like having politicians in there."
Trump's win comes despite the fact that his campaign was filled with controversy. His derogatory statements about women and minorities caused him to lose support from Republican loyalists.
Republican voter John Fielder of Dallas said he switched sides for the presidential election this year.
"I never liked [Trump's campaign] from the very beginning when he made the speech and called Mexicans rapists," Fielder said of his decision to pull the lever for Clinton.
Trump's path to victory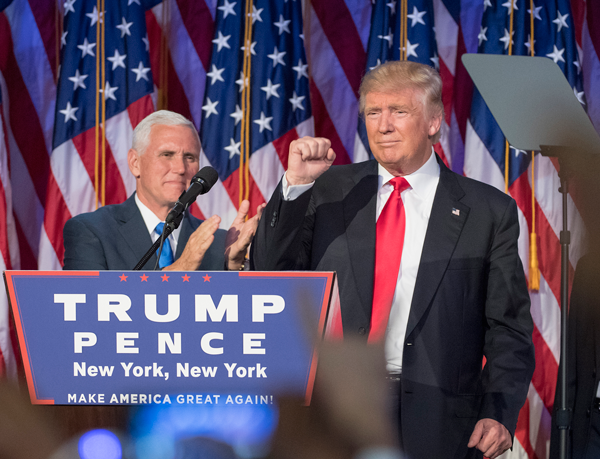 Early predictions showed Clinton with a strong chance of victory, but an upset in Florida followed by a victory in Ohio paved the way for a Trump win.
FiveThirtyEight, which correctly predicted all 50 states in the 2008 and 2012 elections, showed Clinton with a more than 71 percent chance of victory over Trump on the morning of the election.
The data analysis website predicted a 54 percent chance of victory for Clinton in Florida, the major tipping point for the election. Instead, Trump pulled out a narrow win with 49 percent of the vote to Clinton's 48.
The New York Times predicted a 20 percent chance of victory for Trump at 6 p.m. Nov. 8.
By 8:30, they showed Trump and Clinton at 50/50. By 11 p.m., The New York Times predicted Trump had a more-than 95 percent chance to win.
From Oct. 30 to Nov. 3, after FBI Director James Comey reintroduced the Clinton email scandal, Clinton's polling numbers saw a sharp decline. FiveThirtyEight showed a drop from a 79 percent chance of victory on Oct. 29 to a 64 percent chance on Nov. 3.
Nov. 7 polls ranged between a seven-point lead for Trump to an 11-point lead for Clinton. Most showed Clinton with an advantage.
A win in Ohio boded well for a Trump presidency, and wins in Pennsylvania, North Carolina and Wisconsin solidified it.
Mitt Romney, the 2012 presidential nominee, lost Pennsylvania, Iowa, Florida and Ohio, all states that led to Trump's win.
After Clinton won New Jersey, Massachusetts and Maryland, she took the lead for a short time, but with returns from Texas, Wyoming, North Dakota, South Dakota and Kansas, Trump rose to a 123 to 97 advantage in electorates.
Although 61 percent of Dallas County residents voted for Clinton, and she also carried Austin, Houston, San Antonio and El Paso, Trump still won the state of Texas with 52 percent of the vote.
The GOP retained solid control over the U.S. House while maintaining a majority in the U.S. Senate.
A victory in Pennsylvania ensured continued control over the Senate, which had been up for grabs.
Historically unpopular
Despite his victory, polls still show Trump as the most disliked major party candidate in recent American history.
As of Nov. 4, Trump's disapproval ratings were more than 50 percent, while Clinton's were just under 40 percent.
Controversies and scandals have fueled debates and speeches on the campaign trail, from the video of Trump making lewd comments and the leaked emails showing cooperation between Clinton and media outlets like CNN and Politico.
However, voter turnout was heavy nationwide.
Texas saw record-breaking numbers during the early voting period, surpassing 2012 totals by Day 10.
More than 15.1 million votes were cast in Texas, nearly 55 percent of the total voting population.