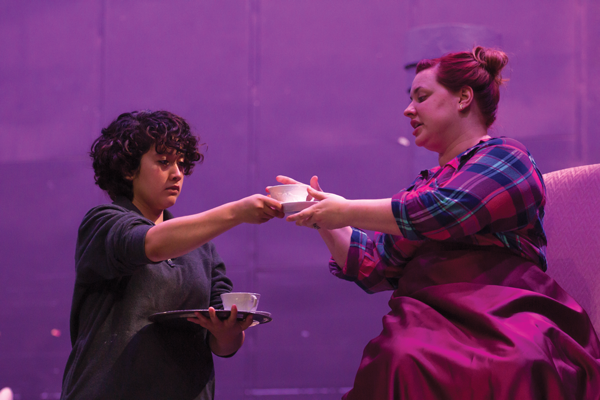 By RODRIGO MENDOZA
Reporter
@TheEtCetera
Guest director Akin Babatunde — an actor and writer who teaches theater and humanities at the University of Texas at Dallas and Mountain View College — will be leading the Eastfield Theatre Company's upcoming production of Henrik Ibsen's "A Doll's House."
"He investigates subtext throughout the directing process," said Dusty Reasons Thomas, head of the drama department. "He is not only directing. He is teaching and coaching. He's worked with students of all sorts of levels, and he's intense so the actors want to impress him."
Babatunde, a Brooklyn native, has been a member of prominent theatrical institutions throughout the country and has acted, written and directed for film, television and Broadway.
Babatunde was also the first African-American to direct the Dallas Shakespeare Festival and win a Dallas Observer Best Actor Award.
Continuing education student Caitlin Duree, who plays the lead character Nora, has acting experience in the Dallas area, including several prominent non-equity theater houses.
She sees working with Babatunde as a great opportunity.
[READ MORE: 'In Good Company' pairs professors' work with artists of their choice]
"It is beneficial and educational for the students here that you do have an outside director come in," she said. "Usually you only have very specific directors."
"A Doll's House" is a late-1800s period play centered around the "perfect family."
However, a crime from Nora's past threatens to disrupt the perception of an ideal home.
The play is significant for its critical stance on women's roles in society during the 19th century.
The play further explores themes of purpose, perception and individuality.
"When you are first seeing the play, you're seeing a woman that at first is a piece of the household, and by the end she wants to be independent," Duree said.
Ibsen wrote the play based on the life of his close friend Laura Kieler. Kieler went through much of the trials and tribulations that Nora goes through in the play. At some point, she asked Ibsen for help.
Ibsen refused, and when Homeher husband discovered Kieler's crime, she was committed to an asylum.
[READ MORE: Brown redefines 'Atrocity' in latest album]
During her time in the asylum, Ibsen was shaken by guilt, and wrote the play with an alternate ending of the real-life situation. Many of the actors find the intensity of the play, labeled a modern tragedy, and the experience of Badatunde to be a rare and intense learning experience.
"It's exciting. He doesn't hold back and there are no small characters,"  art major Iris Hernandez, who plays supporting character Helene, said. "He makes you feel like you hold a lot of weight. I want to learn how to direct movies, and I feel like the intensity of this director is helping me learn the process and how to do it. "
"A Doll's House" runs Oct. 20-22 with evening performances each day and a free matinee at 11:20 a.m. Oct. 21.
"I think the one thing I want people to get out of this play is that people get a better appreciation for the arts, so that people who have never been to a play or aren't accustomed to seeing plays, they can get a good experience," Thomas said.