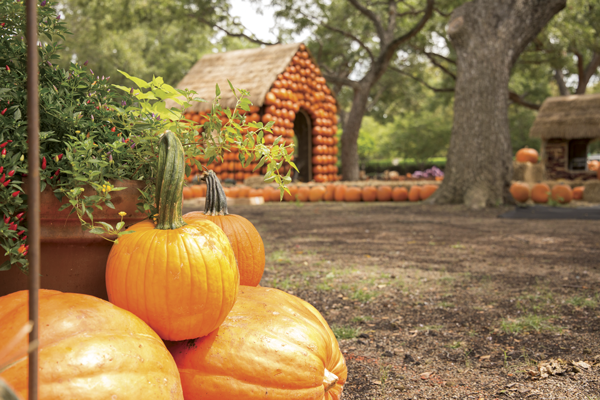 Alejandra Rosas/The Et Cetera
The Dallas Arboretum is featuring pumpkins as a part of its fall festivities.
It's technically still summer and certainly feels it, but the promise of cooler temperatures and pumpkins spice everything looms on the horizon. Celebrate the season of falling leaves, Halloween and harvest at these upcoming fall festivals.
-Compiled by Tanya Uhrich
Addison Oktoberfest
Sept. 15-18
Free Thursday; $10 for adults Friday-Sunday
4970 Addison Circle, Addison 75001
addisonoktoberfest.com
Get your lederhosen and beer steins ready for four days of the best German entertainment in the country. This festival has been named the most authentic Oktoberfest in the United States by Forbes and USA Today and includes live Bavarian music, dachshund races, bier barrel rolling, polka dancing, food, children's entertainment, carnival rides, vendors and beer — lots and lots of beer. Munch on strudel and bratwurst with sauerkraut as well as typical fair food such as turkey legs and burgers. I recommend stopping at the crepes stand for a strawberry banana Nutella. This event can get pricey, so consider attending on opening night when admission is free.
Autumn at the Arboretum
Sept. 17-Nov. 23
Free for members; $15 for adults; discounts available on the website
8525 Garland Road, Dallas 75218
dallasarboretum.org
The botanical garden launches its fall celebration featuring 90,000 pumpkins and 150,000 fall blooms. Fifty horticulturists spent three weeks building Pumpkin Village, gourd houses, a haybale maze and more. Events throughout the festival include live music performances, a live production of Shakespeare's "The Tempest," extended hours on Wednesday evenings, gardening workshops and talks, an art show and sale, pumpkins painting, trick or treating and the Tour de Fleurs race. Check the website for schedules and note that on site parking costs $15.
[READ MORE: Five Unconventional Holiday Sides]
Plano Balloon Fest
Sept. 23-25
Adults $5
Oak Point Park; 2801 E. Spring Creek Parkway, Plano 75074
planoballoonfest.org
Dozens of hot air balloons rise into the skies each morning and evening weather permitting, but plenty of other activities fill the hours between. Listen to live music, watch skydivers, play in the kids' zone and take a tethered balloon ride. After dark, walk amidst the Balloon Glow as the pilots illuminate their crafts by firing their burners. There is a fireworks show Saturday night.
Greek Food Fest
Sept. 23-25
Adults $6
Holy Trinity Greek Orthodox Church; 13555 Hillcrest Drive, Dallas 75240
greekfestivalofdallas.com
This is definitely the place for Greek food-lovers. The weekend's menu includes feta bites, lamb sliders, Greek chicken and potatoes, Greek sausage and more. Catch a cooking demo and then shop at the onsite pantopolion, or grocery store, for ingredients. Tour the church, visit the children's area, play backgammon and watch Hellenic dancers and musicians.
[READ MORE: Five must-have apps that will help you make it through college]
Rockwall Rubber Duck Regatta
Free
10 a.m. to 9:30 p.m. Sept. 24
The Harbor in Rockwall
rockwallduckrace.com
Cheer on your adopted duckling as thousands of rubber ducks race down the Harbor fountain. Activities include a concert, arts and crafts, food booths and a children's play area. Ducks cost $5 each, and race winners receive prizes. This year, planners have added a nighttime race. Visit the website to reserve your ducks.