Employees get a raise, tuition does not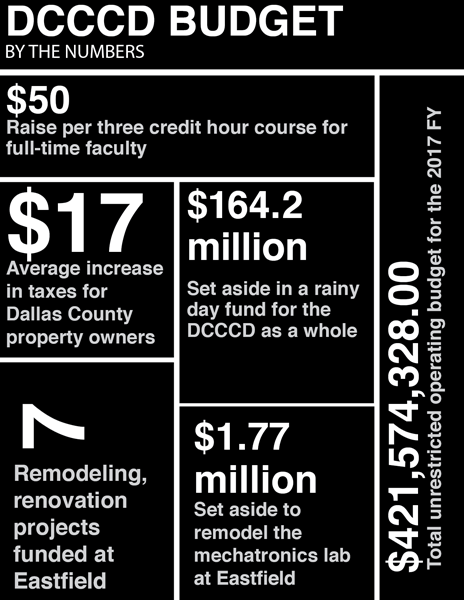 DCCCD board approves 2017 budget, raises for all employees
Tuition rates will stay the same and all employees will receive raises under the 2016-2017 Dallas County Community College District budget approved Sept. 6.
Although the tax rate won't change, rising property values in Dallas County mean homeowners will be paying an average of $17.38 more in property taxes than last year.
The DCCCD Board of Trustees approved the $420 million operating budget in a 5-1 vote. Phil Ritter, newly elected District 2 trustee, was not present.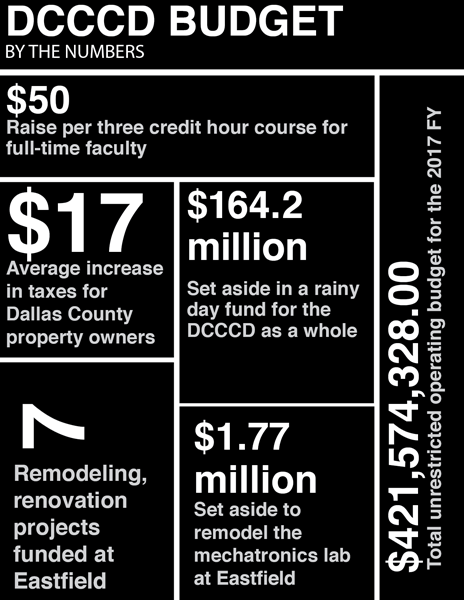 Tax, tuition and budget cuts were a major issue in the 2016 board elections of three new members.
Dorothy Zimmermann, newly elected District 3 trustee, voted against the budget. Zimmermann campaigned earlier this year on promises to cut spending and taxes.
To save money, Zimmermann has proposed cutting "party foods" provided to students and faculty at campus events. She asked for a 2-cent reduction to the tax rate.
Not lowering the tax rate to compensate for rising property values would result in financial trouble and cause families to lose "the dignity of taking care of themselves," Zimmermann said.
"We know that stagnant wages are among us," she said. "Taxes don't usually ever go down. [Taxpayers] lose control of that money, and they have to earn it even if they can't pay it."
DCCCD tuition will remain at $59 per credit hour for in-district students.
"We have managed to keep a low, low tuition for many, many years," Dr. Adrian Douglas, vice president of business services at Eastfield, said.
The board also approved raises for all employees.
"It's important for us as we are hiring people that we are competitive enough that we are hiring the best, most qualified employees," Eastfield President Jean Conway said. "There are other higher education institutions that want faculty or people who do the student services-type work. … We required higher education, yet we weren't paying as much as a [school district], so we needed to be competitive so we can continue to hire the best, the most qualified people."
Douglas said the district would cover the increased payroll cost of the raises for the first year. Then it will be a regular part of the budget.
Conway said the raise is also designed to resolve "compression" by giving a raise to longer-term employees who had been paid the same as new employees during periods of their employment.
[READ MORE: Panel addresses police, community concerns]
The budget also includes funds to install $2.6 million in networked security cameras and $1.9 million in single-button emergency intercoms at all campuses in the wake of the July 7 fatal shootings of five police officers in Dallas, Conway said. Micah Johnson entered El Centro College during the rampage and injured two campus officers before being killed by police.
Three Dallas County citizens spoke at the board meeting to request that the tax rate be lowered to account for rising property values.
"I recently read an editorial by a member of the DCCCD administration advocating for free college tuition," Eugene Ralph said. "While I adamantly disagree with this policy, perhaps there is a compromise that can be reached."
Ralph said that more than 1,000 students could receive free associate degrees by cutting spending for things like parking lots, DART passes, athletic locker rooms, rented properties used to expand El Centro College and an executive search firm.
Charletta Rogers Compton, trustee for District 7, said that parking lots were paved or repaved in concrete, which costs more than asphalt, due to the durability of the material. This would save the district time and money spent on fixing potholes and other damage.
"I don't ever want to vote on something that would not provide a quality environment, not only for our employees but for our students also," Compton said. "We're not just sitting here voting to spend money."
Diana Flores, District 6 trustee, said she believes the DCCCD is a fiscally responsible organization.
"We are one of the lowest-taxing entities in the state among community colleges, and we are the second-lowest in tuition and are very prudent with the taxpayer dollar," Flores said. "We don't just willy-nilly spend and go on a spending spree. We are very conscious of what it takes a taxpayer and what it takes a student to pay in terms of taxes and tuition."
[READ MORE: Mesquite remembers 9-11]
Texas Gov. Greg Abbott, Lt. Gov. Dan Patrick and House Speaker Joe Strauss told state agencies in June to expect a 4 percent cut to budgets for 2018 and 2019.
DCCCD Chancellor Joe May wrote in an email July 1 to district employees that the district should expect to receive $3.4 million less from the state. He wrote that because the district "follows sound, conservative fiscal policies," it is prepared for events like these.
Conway said she believes Eastfield would weather state cuts because its contribution amounts to one quarter of the college's funding. Tuition and taxes account for the rest.
"Because we've got such a robust economy here, and we've got businesses moving to Dallas, we get more of that tax benefit," Conway said.
Douglas said administrators will continue to look for cost-saving ideas.
"What we're getting from the state is continuing to decline, and we expect it to continue to decline," Douglas said. "We have to be able to figure out ways that we can do and kind of keep up with these things and keep up what we're doing."
Conway and Douglas said the new budget would help Eastfield provide a better college experience by funding a Title IX program, technology updates and maintenance projects delayed due to a lack of financing.
A remodel of lower-level C building, replacement of worn out floors and updates for computers, servers and fiber cables are all included.