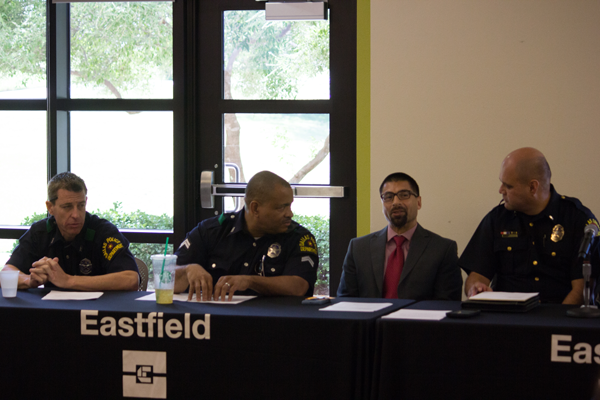 Police officers and community members at a panel discussion on trust between the groups agreed that an "us vs. them" mentality taints their relationship.
Audience member B. Kennyjay Reed said that as a black man, he has come to expect that a police officer is "someone out there who is looking to possibly arrest me."
"I've been harassed," he said. "I have been arrested for things I did not do. … It almost seems like it's something that's not supposed to be spoken about."
Panelist Patrick Patterson, a criminal justice professor and military police veteran, said change must come from both sides.
"I understand exactly where you're coming from," he said. "We have to crack through that and look at what we're gonna change – talking about the culture, not only for the civilians but for law enforcement."
The discussion, sponsored by the campus M.A.L.E.S. Initiative, was designed to open a dialogue about the state of race relations and law enforcement.
"It's very important that we come together and that we have a platform for students to voice their opinions on topics such as this," M.A.L.E.S. adviser Courtney Brazile said.
Tensions between minorities and police escalated over the summer following the shooting deaths of Alton Sterling in Baton Rouge, Louisiana, and Philando Castile in St. Anthony, Minnesota. During a July 7 protest march in Dallas of those deaths, an anti-police assailant killed five police officers.
[READ MORE: Summer of grief (Photos)]
The panel, held Sept. 9, included Executive Vice President Michael Gutierrez, Executive Dean of the Office of Student Engagement and Retention Robert Harper, Eastfield Lt. Jose Hernandez, Dallas police officers Bryan Nolff and Clarence Lockett and Patterson.
Lockett said the Dallas Police Department has taken the lead in initiating change.
"We're the example," he said. "We have sensitivity classes. We go through the best training [with] different scenarios [such as] de-escalation. If Washington, D.C., comes to Dallas and asks us how we handle our business, we're ahead of everybody else."
The discussion revealed how preconceived ideas on both sides can hinder understanding.
Reed said he tried to act authentic when interacting with police and asks the officers to do the same.
"As police officers, … whenever you put on your uniform, you have expected roles," he said. "Are you willing to go into a community setting as a human being and connect with people over values instead of as a role?"
Nolff said he is the same person in and out of his uniform.
"I am this person," he said. "This is who I am.  This is who I signed up to be." He continued, "You're looking at me like a police officer, and I'm up here like a person."
[READ MORE: Campus carry starts at four-year universities in Texas, delayed at Eastfield until fall 2017]
Patterson urged the audience to initiate change through legislative action.
"It's the first step," he said. "That's what Dr. Martin Luther King did. That led to the Civil Rights Act."
Gutierrez said change comes when people work together.
He described a psychological study in which a person stood at a New York City street corner and looked up at the sky.
Bystanders noticed his actions but paid little attention.
When the study was repeated with a group of six students looking toward the sky in unison, passers-by also looked up.
"We have to do it together," he said. "If we do it one by one, then we're not going to be listened to."