Shooter kills police, invades DCCCD campus
The shooting deaths of five Dallas police officers during a peaceful protest July 7 shocked the community and the nation.
The event hit home at Eastfield since the shooter, 25-year-old Army veteran Micah Johnson of Mesquite, entered sister college El Centro in downtown Dallas.
He fired a fatal shot from a second-story window and was later killed by explosives delivered by a police robot.
Dallas police Officers Lorne Ahrens, Michael Krol and Patrick Zamarripa, Dallas police Sgt. Michael Smith and Dallas Area Rapid Transit Officer Brent Thompson died during the ambush. Nine other officers, including two from El Centro, and two civilians were injured.
El Centro remained closed until July 20, and the college held a ceremony July 27 to help the campus community heal.
"I don't feel less safe," faculty counselor Vicki Wood said after the event. "I think our community, our college, has come together to try to make everyone feel as safe as possible."
— James Hartley
Dallas police stand in dress uniform at a
July 11 ceremony at City Hall. PHOTO BY
DAVID SANCHEZ/THE ET CETERA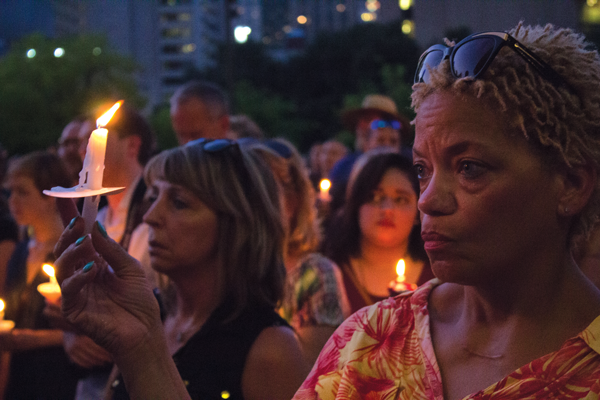 Hundreds gathered at City Hall to light candles in remembrance of the five slain
officers. PHOTO BY DAVID SANCHEZ/THE ET CETERA

A man holds a modified American flag honoring
police before a July 11 candlelight memorial. PHOTO
BY DAVID SANCHEZ/THE ET CETERA
President Barack Obama, former President George W. Bush and Vice President Joe
Biden joined Dallas Mayor Mike Rawlings and Police Chief David Brown at a July 12
memorial service at the Meyerson Symphony Center honoring the five officers killed. PHOTO BY KETURAH J. HILL/THE ET CETERA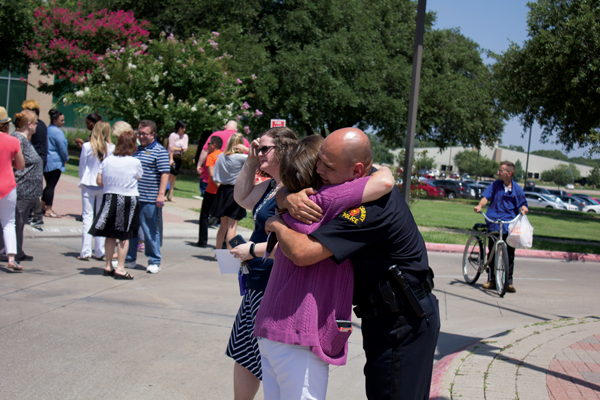 Eastfield police Lt. Jose Hernandez hugs a participant in the moment of silence
July 8 outside C building. PHOTO BY DAVID SANCHEZ/THE ET CETERA