By JASMINE OLIVA
@theetcetera
As you walk the halls of campus buildings, art surrounds you. Paintings, drawings, photos, mixed media, textiles and sculptures decorate walls, display cases and corners.
Over the years, the campus galleries have hosted professional artists and art students. But the college's permanent collection of 142 pieces spills out of the galleries to the entire campus.
The collection originated in 1971 with Raffaele Martini Pandozy's sculpture "Solar Magnet No. 29," commissioned to the artist just after Eastfield opened. The large spherical sculpture was installed in the upper courtyard of the F building in 1974.
According to Eastfield's archives, the sculpture was transported via helicopter from the artist's studio in South Dallas. Now standing stationery, "Solar Magnet No. 29" originally rotated freely and reflected the sky like a mirror, galleries director Iris Bechtol said.
[READ MORE: Drama teacher demonstrates theater makeup skills]
Not long after Pandozy's piece was installed, Eastfield acquired six works donated by philanthropists Eugene and Margaret McDermott to the Dallas Country Community College District. These pieces include paintings by abstract artist Michael Tyzack and surrealist pop artist Ernest Trova.
"This diverse collection of contemporary work encourages scholarly engagement and integrates visual arts in the college environment," Bechtol said. "It serves as an instrument for activating critical thinking, personal social reflection and creativity."
Music major Jennifer Graham regularly sits in the F building surrounded by some of the pieces in the permanent art collection, which she said help "bring color and life to the campus."
"It sparks conversations," Graham said while viewing a painting in the hallway. "You might see it one way. But if you're with a friend, they might see it differently. It's the same piece, but everyone sees it from a different perspective."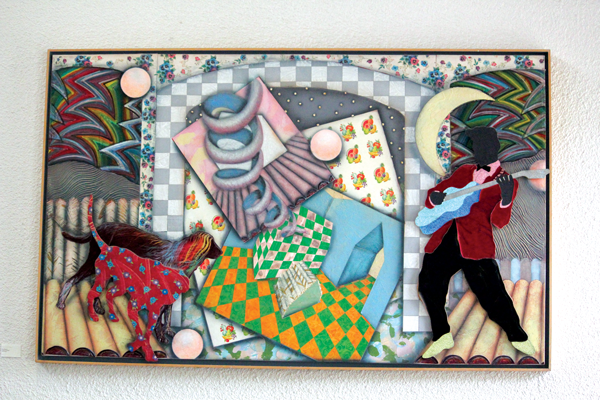 The galleries and collection also provide a service to the surrounding community: "mini-museum here in Mesquite," Bechtol said.
"The community is able to access art without going very far," Bechtol said. "For those that don't have a lot of exposure to the visual arts, we're giving them a place to come to see it."
About 70 percent of the works in the permanent collection are from professional artists and 30 percent have been purchased from current and former Eastfield art students, Bechtol said. If work is purchased by the college, she said, it helps students build their professional portfolios and resumes.
"It's a huge boost to their confidence," art professor Kathy Windrow said. "Students come back to see their work, so I think it makes them feel even more like a part of the school when their work is bought. And it certainly makes them proud."
[READ MORE: Eastfield dancer to graduate, plans choreography career]
Since Bechtol started working at Eastfield seven years ago, the gallery exhibit space has seen an expansion with its addition of the H Gallery.
The galleries, located in F-219C and H-100, host many free exhibitions throughout the year. Past exhibitions include installations, paintings and sculptures.
The art show "In Good Company" opens today in the H Gallery and Gallery 219 and runs through Sept. 29. An opening reception will be held from 6 to 7:30 p.m. Sept. 1 outside F-219. The works in the show are by Eastfield arts faculty members, who each chose a non-faculty artist to exhibit with them.
Viewings of the permanent collection and the galleries are free. Click here for information.