Eastfield dancer to graduate, plans choreography career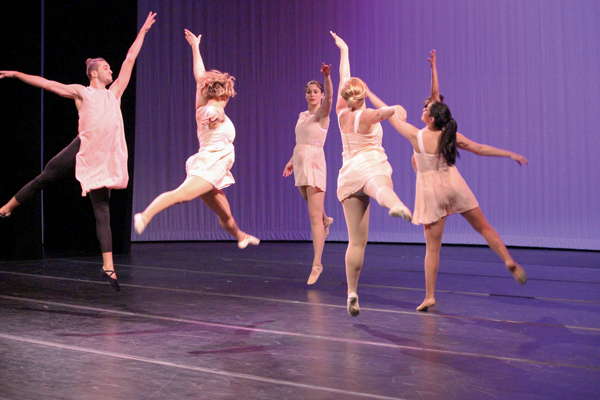 Dance major Colby Calhoun works as a dance instructor in the Eastfield work study program under faculty member Danielle Georgiou. Calhoun will graduate this semester and transfer to Texas Woman's University in the fall to pursue his dream of becoming a choreographer. He performed in the Spring Dance Concert as part of the annual Literary & Fine Arts Festival.
Before the performance, Calhoun spoke with Et Cetera reporter Jamiah Sandles about his experiences as a male dance major and aspiring choreographer.
[dropcap]Q[/dropcap]How long have you been a dancer?
[dropcap]A[/dropcap]In high school, I would be in musicals and I would hang out with the drill team girls when they would practice in the gym before school. I never was really a dancer until my senior year in high school. We did "Footloose." I was the lead role. That was the first time I did a lot of dancing. Then a little bit after I graduated high school, I started attending classes at a studio and I started attending classes here. I guess like two or three years I've been dancing.
[dropcap]Q[/dropcap]Dance instructor Danielle Georgiou says that all she sees are bodies when she choreographs and that there are no gender specifications when it comes to fulfilling the duties of a dancer. Do you feel the same way?
[dropcap]A[/dropcap]I think that is the way it should be. It's great that we have someone here that understands that and helps teach that. Dancers are just bodies.
[dropcap]Q[/dropcap]What are some advantages and disadvantages of being a professional male dancer?
[dropcap]A[/dropcap]Obviously male privilege permeates through everything. Just being a male, not even being a good male dancer, gets you lots of roles, especially in classical dancing. They need guys to do the lifts and the partnering … so it's easy to get a job.
I guess the disadvantage is that you don't really get to find artistry. You're the vehicle to lift a person. Once I get my foot in the door, it's like, "Oh look, I'm good at what I do. Hire me for other things."
Now it's not so uncommon that there's male dancers. It's a lot more common than it was. Especially with modern dance being the new thing. Now that dance is a lot less [driven by] gender, it's easier to be just a dancer as opposed to a male dancer.
[dropcap]Q[/dropcap]What are some of your career goals?
[dropcap]A[/dropcap]I'm really interested in creating things. I want to be a choreographer just like Danielle Georgiou. She gets to create things that are her truth. She gets to package it into something she cares about. I feel like it is sort of my duty as a dancer and as a creator. If I don't follow that, I'm not being fair to myself.
I want to be able to create things and be able to dedicate my time to that.
It's hard to sustain yourself, especially as a dancer, because a lot of times you have to come to rehearsals for months, then get paid for a performance. I teach dance classes in the morning. It's a lot about doing things you don't want to do so you can do what you want to do. I want to be at a place in my life where I can just focus on creating and not worry about where the money is coming from.
[dropcap]Q[/dropcap]What or who inspired you to dance?
[dropcap]A[/dropcap]In high school, I was in choir, band and I was in orchestra at one point. Dance feels like something that is so uniquely me. My body is no one else's. Being able to express through my body, even if it is someone else's choreography, the way I do it just feels so powerful.
We did another musical before "Footloose," and our choreographer went to New York University Tisch [School of the Arts] for modern dance. One day he said, "If you want to stay, I am just going to workshop some choreography so you can stay and learn it." We learned a little 30-second piece that he choreographed, and that was the first time I was like, "Yes, this is how I can really express myself," which sounds so cliché, but it's so true. I believe dance is the most universal way to communicate.