Accessible campus parking being misused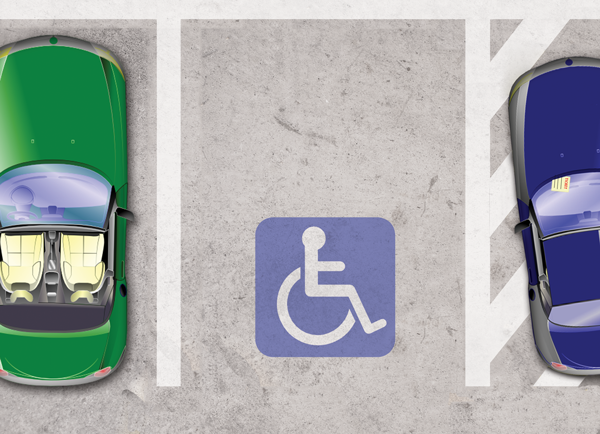 By James Hartley and Brianna Harmon
Disabled parking on campus is apparently being misused by drivers who do not have permission to park in accessible spaces.
The Et Cetera found three to six violations every morning between April 25 and April 30 during peak parking hours between 9:30 and 10:30 a.m. Campus police have only issued four citations since January, according to records.
Capt. Timothy Ellington said that the department does not have a strict policy regarding disabled parking on campus and that officers patrolling parking lots give citations at their own discretion.
"He can give a verbal warning, he can give a campus citation or he can give a [Justice of the Peace] citation," he said.
Veronica Carrera, a social services major, was issued a disabled placard for a leg injury in 2015.
She said illegal use of handicap parking would make it difficult to find parking.
"You would see people there parked illegally at all places," Carrera said. "I would leave my house earlier to make sure that I found parking close. I feel like if I wouldn't have left earlier it would have been more difficult to find a handicap spot. There are a couple locations I would take the last handicap spot or have to wait for someone to pull out."
John McDaniel, 78, says when he can't find handicap parking for his night classes he has to use regular parking.
"I'm parking in regular parking because if I can't find a handicap one that's my only choice. I either do that or don't park at all," McDaniel said. "I have a vision problem and at night I get lost in the dark. If I can find parking place that is handicap and close up to a lighting system where I don't have to go very far in the dark then it helps me."
Ellington said that Eastfield police have not received any complaints regarding misuse of disabled parking this semester.
"There has been an influx on occasion of people who use their parents' or stolen placards," he said. "What we do at the start of every semester, we put fliers on every car. That's a proactive deal that we use."
The fliers inform violators of the penalties of parking illegally in disabled spaces. Ellington said the Eastfield police use these instead of tickets to give violators a warning to quit breaking the disabled parking laws.
Ellington said officers can give verbal or written warnings instead of tickets. He said sometimes drivers forget to hang their placards on their rear view mirrors.
Although police could give a ticket for that, Ellington said they like to give drivers a warning so they can have the chance to hang it up next time they park in a disabled space.
"A lot of times, for whatever reason, they may not hang them on the mirror," Ellington said. "We like to show a little courtesy. A lot of times they'll have it on the dashboard. … We'll give them a written warning."
To report violations, visit the police station in N-112 or call campus police dispatch at 972-860-4290.