Trustee hopefuls vow to cut costs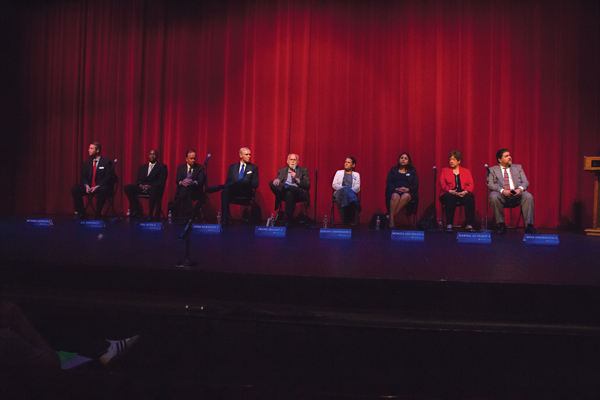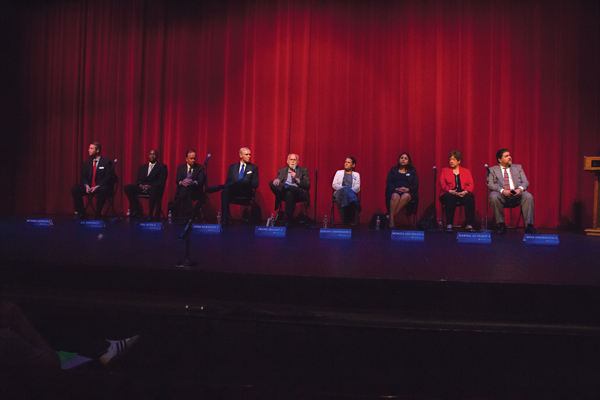 By James Hartley
Three seats are up for grabs in a historic DCCCD Board of Trustees election May 7, with 10 candidates running and no incumbents seeking re-election.
"I would argue that it may be more important than the presidential election," Matt Hinckley, president of the Eastfield College Faculty Association, said. "Obviously, the U.S. president exerts a great deal of influence over the direction of the nation as a whole. But when it comes to real issues about the availability and affordability of high quality educational programs in Dallas County, … the ability of our county to be an economic engine and our ability to provide means into the middle class for so many people in our community is at stake."
Nine of the 10 candidates visited Eastfield on March 30 for a forum hosted by the Student Government Association and Faculty Association. Topics ranged from campus carry to budgeting and lesbian, gay, bisexual and transgender acceptance.
Tax and tuition
Of main concern were district graduation rates and possible budget cuts to lower tuition and taxes.
District 3 Candidate Dorothy Zimmermann, an Eastfield alumna who has been attending Dallas County Community College board meetings since April 2012, said that spending at the district level raises tuition and does not provide a better education for students.
"I'm not sure that your tuition money is being spent, is being handled in the best way possible," Zimmermann said. "I know that my tuition money came very dearly because … we could afford daycare or we could afford for me to go to school."
Zimmermann suggested eliminating amenities such as "party food" served at campus events from the budget.
District 2 candidate Gene Robinson, a former Brookhaven student services employee, said that removing vice chancellor and vice president positions would save money.
"We need to get rid of all the administrative bloat. … The presidents and chancellor can do all that work," Robinson said. "I no longer want to see the budget balanced on your backs while administration continues to increase their salaries."
Robinson said there is excess spending on projects like parking lot construction.
He referenced losing his job at Brookhaven due to budget cuts while the college spent "$5 million on two concrete parking lots" in the same year.
Campus carry
The campus carry law, which allows concealed weapons license holders to carry handguns on college campuses, will go into effect in August 2017 at two-year schools like Eastfield.
The law allows the DCCCD to designate gun-free zones on campus.
Most of the candidates said they support the law and students' right to have concealed handguns on campus. District 2 candidate Phil Ritter said that while the law should be followed, he believes in hearing community input about where on campus it would be best to have weapons.
"I'm going to be relying heavily on the advice of law enforcement professionals, attorneys who can clearly articulate the parameters of this law for us and also other stakeholders who are going to have to live under this policy," Ritter said. "Some of our campuses have high schools, some of them have daycares, and all of those types of issues will affect policy as well."
District 4 candidate Brad Underwood connected the law to the Second Amendment and related guns on campus to fire extinguishers.
"Why do we have fire extinguishers?" Underwood asked the audience. "To immediately address the issue. … The Constitution of the United States of America is not subject to the dispositions or the whims of the few. It is the law of the land, and we can't pick and choose. Because if we can pick and choose, then that means maybe the First Amendment doesn't count."
District 4 candidates Martha Jo Talbot and Monica Lira Bravo said they want to hear community input.
"Personally, I want students to be comfortable and to feel safe on their campus with the security measures that are in place here," Talbot said.
Bravo added: "This is a decision that the board cannot make on their own. I think we need to hear from everybody that will be impacted by it."
LGBT equality
When the topic of LGBT equality came up, the candidates agreed that no matter their personal beliefs, all people are equal.
District 2 candidate J.C. Osborne said that as a member of the LGBT community, he believes private organizations have the right to discriminate, but any government organization should offer full equality.
"The government is subject to the equal protection laws," Osborne said. "I believe LGBT discrimination is basically gender discrimination. Because essentially the premise is that because you're a man you are not allowed to marry who you want or because you're a woman you have to behave a certain way."
District 2 candidate Richard Morgan said that anyone in the community should feel welcome.
"I think this one is real simple," Morgan said. "A community college environment should be a place where any student of any background, of any religious affiliation, of any sexual orientation, of any belief system can attend and get a quality education."
District 3 candidate Frank Millsap, an auto body instructor at Eastfield, said he would not support any discrimination or special treatment.
"A person's lifestyle is their business," Millsap said. "It is not my business as long as it does not interfere with me."
Zimmermann added that the problem will easily take care of itself.
"If we do not discriminate period, we do not have to enumerate what we will not discriminate against," Zimmerman said. "It's pretty easy."
Eastfield is in District 4 of the DCCCD. Many Eastfield students live in Trustee Districts 3 and 4.