STEM Week: Professor examines wildlife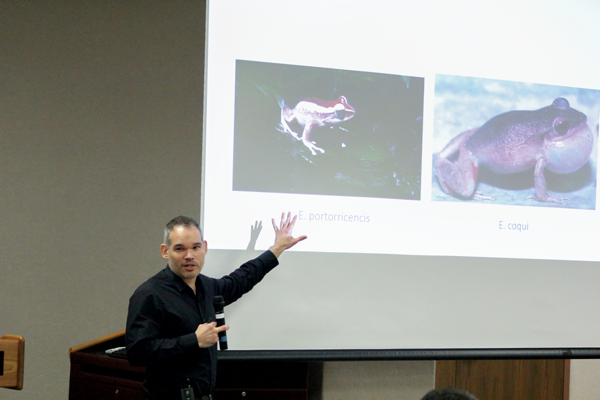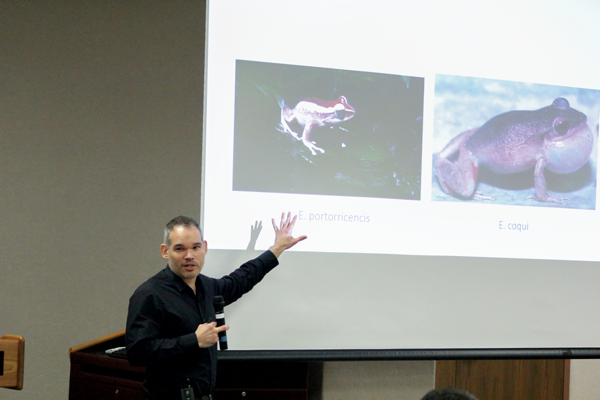 By Tiffany Aragon
Puerto Rico native and biology professor Jose Flores introduced "Herpetology of Puerto Rico" during a March 1 presentation for Science, Technology, Engineering and Math Week.
One of the most common genus of frogs in Puerto Rico is the eleutherodactylus, also known as the tropical American frog.
Puerto Ricans call the frogs coquis, he said, and he played a recording of their distinctive mating call — a loud whistle that sounds like the frog saying its nickname.
"The coqui is well known for its sound," Flores said.
The Carolinesis lizard, the only species native to the United States, lives in different parts of trees.
"Some species can live in the trunk of a tree, in the trunk crown and even in the trunk ground, but they are not interested in each other," Flores said.
People on the island like to catch lizards, Flores said, so he gave the audience a few pointers on how to accomplish the task.
"These lizards are fast," he said. "Understanding herpetology can give you an idea on how to catch them."
For instance, lizards removed from their comfort zone become clumsy, he said.
Flores also discussed the diversity among species in Puerto Rico and how they travel.
"With this, you can get an idea basically how the different species evolve," biology major Jimmy Hernandezr said.
Flores concluded his presentation with the fact that citizens of Puerto Rico brought green iguanas from South and Central America, which, they have since become abundant on the island.
"To the point that the government is promoting iguana meat," he said.
Biology professor Brie Day, who helped plan STEM Week, said Flores' lecture provided insight into real-world applications of science.
"It really shoots the light into what ecologists do in conservation biology," she said.