By Jasmine Oliva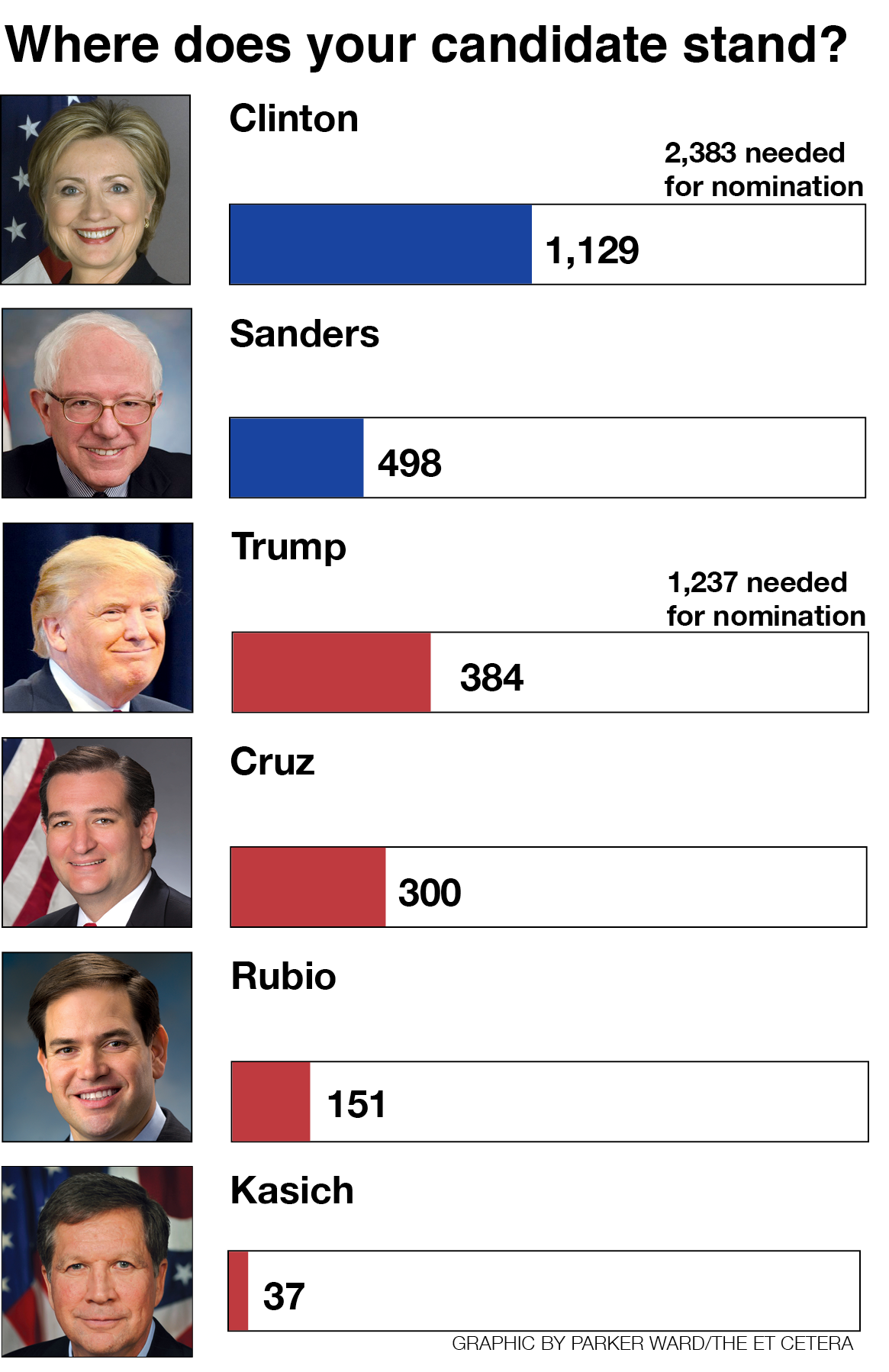 College-age voters have the potential to steer the presidential race if they continue showing up at the polls in upcoming primary contests and again for the general election in November.
"Students are recognizing the power they wield and the ability they have to actively participate in governance," history professor Liz Nichols said.
Young voter turnout on Super Tuesday rivaled the unusually high number of young voters who helped elect President Barack Obama to his first term in 2008, according to data from Tufts University.
About 1.8 million people ages 18-29 voted March 1 in the 12 states that held primaries, according to the Center for Information and Research on Civic Learning and Engagement at Tufts. Nearly 1 million voted in Democratic races and about 900,000 in Republican.
In Texas, young people comprised 20 percent of total voters on Super Tuesday. An additional 100,000 young Texans voted in the Republican primary compared to those who participated in 2008.
"Young people in general have a low voter turnout but in past years have been energized by President Obama, Wendy Davis in Texas and now Bernie Sanders," said Allan Saxe, a political science professor at the University of Texas at Arlington.
If the high-turnout trend continues in the upcoming primaries, expect young voters to sway the general election.
"The persons who vote in local elections are likely to vote in national elections in November as well," Saxe said. "They will stay up-to-date with politics."
Republican Donald Trump and Democrat Hillary Clinton moved closer to securing their respective parties' nominations, each winning seven states on Super Tuesday.
"Honestly, I feel like the candidates running are cliché," Shelbie Willmond of Dallas said. "I say that because I don't really feel like America benefits a lot from any of the candidates, with the exception of Bernie Sanders, because they are more focused on getting and keeping the voters than talking about issues that actually matter."
In Trump's case, his success prompted an uprising within his own party. Mitt Romney and John McCain, the Republican candidates in 2012 and 2008 respectively, both oppose Trump as the nominee.
"His domestic policies would lead to recession. His foreign policies would make America and the world less safe," Romney said in an unprecedented speech March 3. "He has neither the temperament nor the judgment to be president, and his personal qualities would mean that America would cease to be a shining city on a hill."
Romney called on delegates to challenge Trump at the Republican convention. Other party leaders have suggested launching a third-party candidate to derail Trump.
Former New York Mayor Michael Bloomberg, who for months laid groundwork for a third-party run, removed himself from consideration Monday, citing concerns that a three-candidate race would lead to Trump's election.
"Although I am not voting for Donald Trump, I could see him winning," said Tessa Holt of Plano, who voted for Florida Sen. Marco Rubio. "Because although he is often too blunt and not politically correct, he says and does things truthfully and plainly right in the public eye. He's not being sponsored by people who expect certain allowances if he wins."
At the March 5 Republican debate, the discussion at times devolved into trading insults rather than ideas, with Trump even defending the size of his penis.
"I feel like I'm watching a circus show," radio, television and film major George Perez said of the election process.
Texas Sen. Ted Cruz and Trump each won two states March 5, and Rubio was victorious in Puerto Rico March 6. Over the same two days, Clinton collected three more wins and Sanders, a senator from Vermont, one.
The next big contests are  in Florida, Illinois, Missouri, North Carolina and Ohio on March 15, when 535 Republican and 792 Democratic delegates will be up for grabs.
The primaries and caucuses will continue through mid-June, followed by the party conventions. The Republicans will gather July 18-21 in Cleveland, Ohio, and the Democrats will meet the following week in Philadelphia.
Results from the March 8 contests  were not available at press time.
Brittany Parker and Devon Rice contributed to this report.