Tornado survivors recount devastating night, look toward future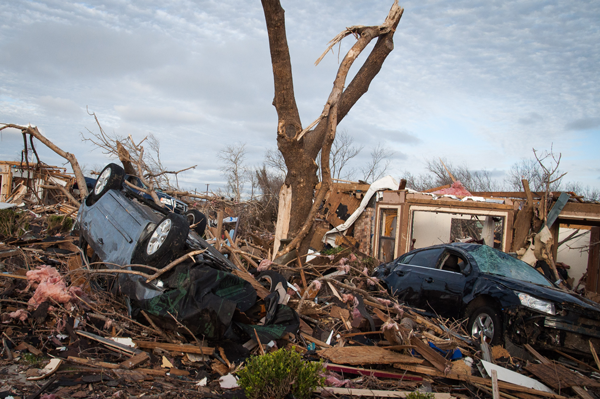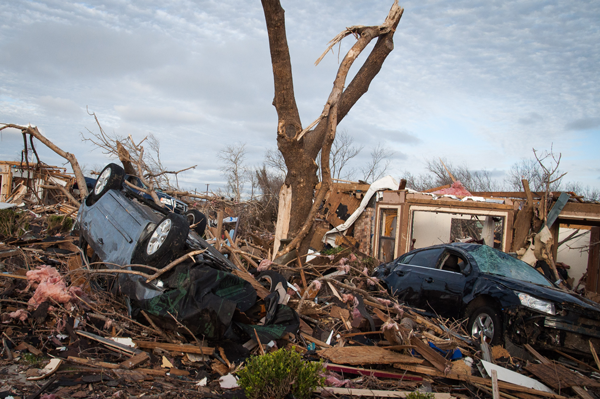 By Andrea Carrizales
Pushing against the first-floor bathroom door, Frank Ford and his wife, Sharon, battled against the fierce winds of an EF4 tornado, fighting to keep their family safe. Their 33-year-old daughter reclined in the bathtub, embracing her 1-month-old baby, both covered with blankets. Their grandson and great-grandniece, ages 5 and 6, hid in the cabinets underneath the sink.
Just moments before, the family had gathered in the kitchen, the children playing with the Christmas presents they received the day before. As they drew pictures with their new finger paints, Ford stepped out to look at the skies.
"I went outside to see where the birds were because when the birds go silent and they disappear, you've got some bad weather in the area," Ford said.
The 67-year-old Vietnam War veteran, a social work major at Eastfield, recognized the signs that a storm was approaching. The drastic change in weather, from cold to almost 70 degrees, reminded him of the time when another tornado hit his apartment complex in Shreveport, Louisiana in the 1980s. That storm leveled his home and he knew the kind of damage a tornado might bring.
As Ford surveyed the skies, an alert went off on his flip phone, warning him of the bad weather. Another followed, telling him to take cover.
"I immediately ran into the house and got everybody to come to the center of the house," he said.
As the tornado rumbled toward the family's home, they suddenly found themselves in complete darkness due to a power outage. Then Ford heard the twister coming over them, its roar as loud as a train.
Seconds later, the pressure against the door receded and Ford and his family ventured out of their safe place, going straight for the main door and out into the street. His 1996 Toyota pickup truck had been crushed under the oak tree in his front yard. Parts of his roof were gone. But most importantly, his family was safe.
The tornado that hit Ford's house in Garland had just ripped through Sunnyvale and continued toward Rowlett, damaging more than 1,800 homes and businesses. Thirteen people died due to injuries sustained during the storm, including Petra Ruiz, 27, a student at El Centro College who was driving on Interstate 30 when her SUV was blown off an overpass.
Several other twisters hit Ellis and Collin counties on Dec. 26, prompting Gov. Greg Abbott to declare a state of disaster on Dec. 27. He requested a presidential disaster declaration on Jan. 26, one month after the tornadoes.
Memories Torn Apart 
Less than two miles away from Ford's home, the tornado was tearing apart the house of Eastfield biology assistant Jessica Cadick. Fortunately, Cadick and her fiancé, along with two of their children were dining at her father's house. Her oldest son was visiting his dad in Forney.
"We were all watching the news," Cadick said. "The sirens went off and we all took cover. We called all of our friends and family that we knew were in the path of the tornado, unbeknownst to us that it had gone in our area. We had no clue that it had hit over there."
On their way home, Cadick noticed some signs of damage. An occasional tree limb in the street. A fence on the ground. Nothing alarming. With every turn, the damage intensified.
"The closer we got, houses were torn apart," she said. "And that's when it dawned on us: Our street specifically had been leveled in places."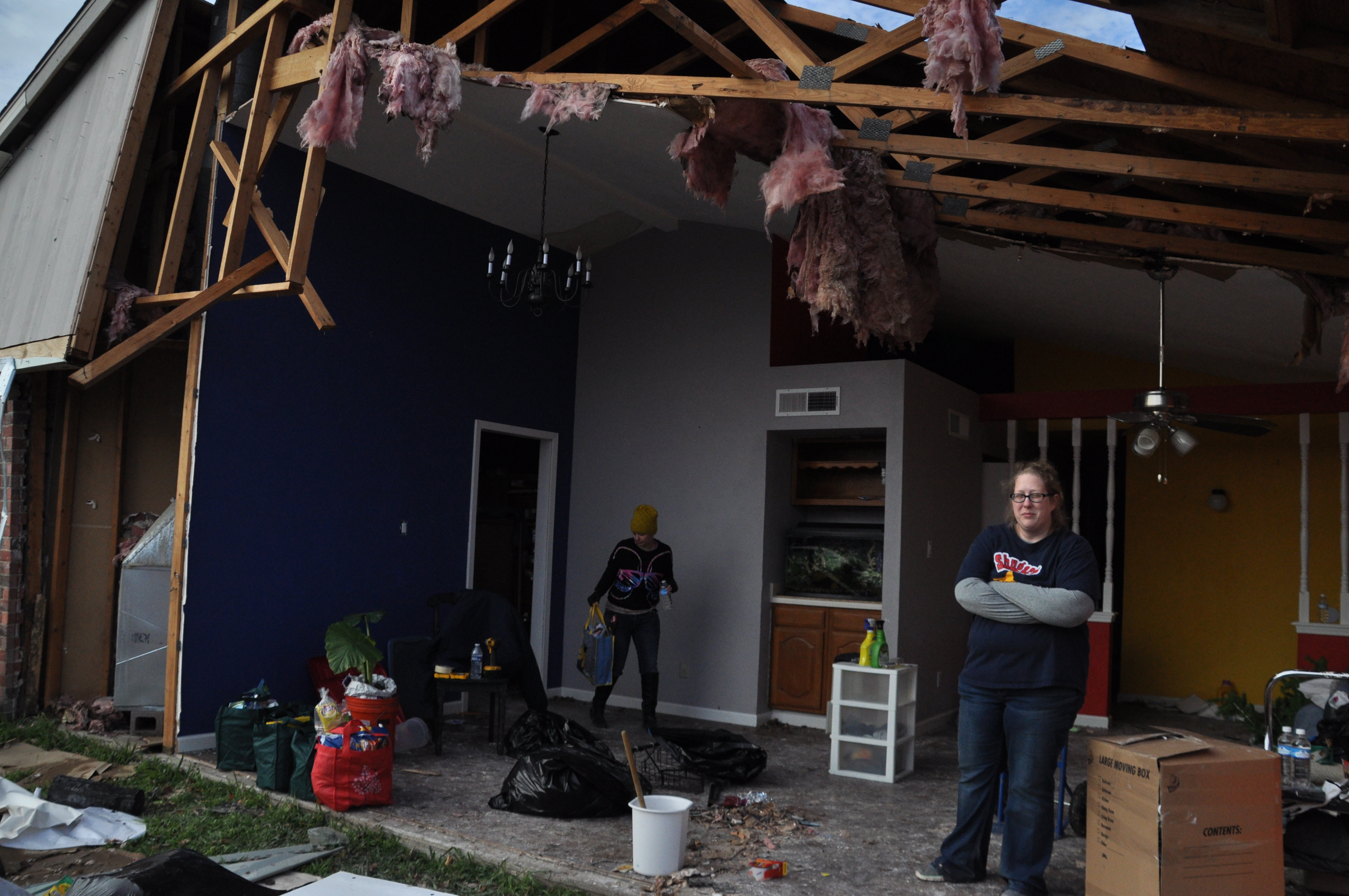 As she reached the corner of her street, a huge tree prevented Cadick from getting any closer. The four tires of her 2007 Saturn were flat. Adrenaline rushing, she got out of her car and headed for the house, climbing over trees and stepping over debris in her black flip flops. The wall on the north side of the house was missing, exposing the inside room – her children's game room.
Cadick rushed into the house and found her parrot, Squawky McNugget, in her hut. Her pug Myrtle was in her kennel, covered by debris but unharmed. It would take her two more days to find her cat, Binksey.
She was able to salvage family pictures, personal documents, some toys for her kids and her favorite stuffed animal, Mr. Moo Moo Cow. Then the family went back to her father's to spend the night.
The next morning, pouring rain prevented Cadick from returning to her house. Worried that her renter's insurance wouldn't be enough to cover the damages, she set up a GoFundMe account, which raised more than $6,000 from 100 donors in one month.
On Dec. 28, Cadick returned to collect some of her family's belongings. However, the daylight revealed that several ceilings had collapsed under the rain and many personal objects were ruined by the water.
The house, which Cadick was renting from her best friend's family, was full of memories.
"I did so much growing up in that house," she said. "There was a time I actually lived with [my best friend's family]. I met my son's father there.
"I had planned to finish raising my children there and to grow old with my fiancé there and have my grandchildren in it. That was my favorite home."
The damage to the house totaled $95,000. It has now been stripped down to the framework, awaiting reconstruction. Cadick's fiancé, Charlie, an independent contractor, also lost his truck in the tornado, which prevented him from working immediately after the storm. Currently he is employed by their landlord's contractor and is working in rebuilding their home.
The family is now living in a smaller house, but Cadick hopes to move back into their home when repairs are complete.
"I'm excited but reserved," she said. "Until we sign that lease, I don't want to be too excited, because I'm afraid that if something happened it would crush me."
The Rebuilding Begins 
After living in his house for 21 years, Ford and his family are faced with rebuilding their home from scratch. With more than $200,000 in damage, their house is scheduled to be demolished soon.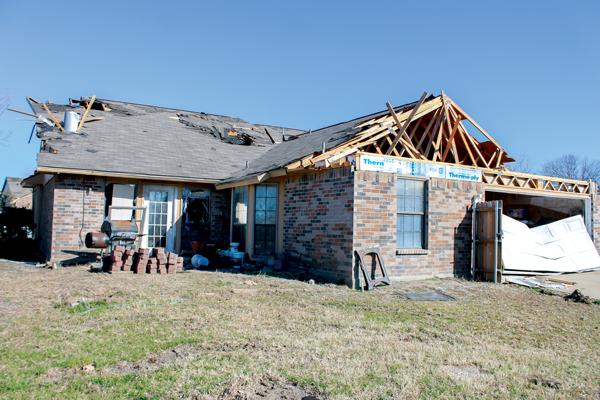 Ford and his wife, along with their great-grandniece, Zariah, have moved into a three-bedroom apartment, close to the child's elementary school. They're hoping to return to their new home in the summer.
Ford now spends his days running around meeting contractors, picking up Zariah from school and making sure he doesn't fall behind on his classwork. He wasn't sure he would even come back to college this semester because of time constraints.
Thanks to the tornado relief efforts of the Dallas County Community College District and Follett Bookstore, Ford was able to replace his textbooks, which had been damaged by the rain. His classes were paid for by the Veterans Administration.
Although he said that his past experiences in the Louisiana tornado and in the Vietnam War have "conditioned" him to respond effectively to chaos, returning to normalcy is Ford's priority now.
"You try to get your life back on track as quickly as possible, so the impact won't be as tragic," he said.
Ford has tried to comfort his grandson, who has experienced nightmares about the tornado, assuring him that better times will come.
"It's just a house," Ford tells him. "We'll build another one and you can come back and visit Papa."

See the photo gallery at eastfieldnews.com/2016/01/21/eastfield-offers-tornado-relief.