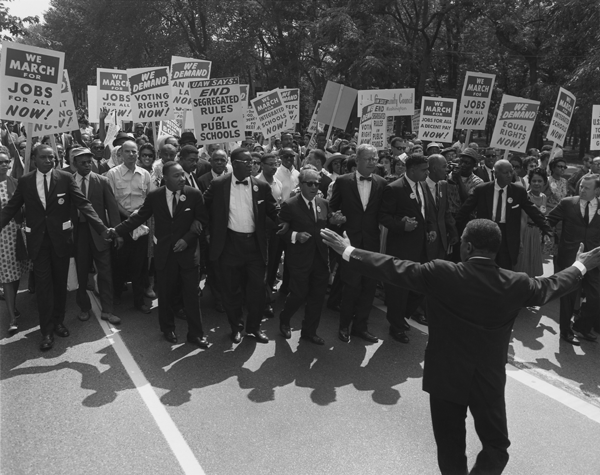 By Parker Ward
Martin Luther King Jr. Rosa Parks. Malcolm X. Some of the most well-known figures of the American civil rights movement — a movement that would have been nothing without the help of students, according to history professor Kat Reguero, who also teaches a course on civil rights.
"You do know about Martin Luther King Jr., Malcolm X, but why do you not hear about the students?" Reguero said. "If it wasn't for four students in Greensboro, North Carolina, we wouldn't have desegregated the Woolworth's [department stores]. They got the ball rolling for the civil rights movement."
Four students from North Carolina Agricultural and Technical College who organized the first sit-in inside of a white's only diner began a wave of peaceful protests against the "separate but equal" southern culture.
The role of high school and college students in the civil rights movement is the topic of a library presentation, "Standing Up for the Right to Sit Down," in recognition of African-American History Month. The tradition of student activism continues today.
Just last year, student activists at the University of Missouri prompted the resignation of the school's chancellor and president over racial tensions on campus.
The previous year, students at Harvard created the "I, too, am Harvard" movement to highlight stereotypes placed on minority students.
These examples show that students are choosing to not be part of the problem, history professor Liz Nichols said.
"If you sit there and laugh at an off-color racial joke, you're part of the problem," Nichols said. "It takes courage to speak up and say, 'Hey. That's not funny.' "Nichols, who teaches African-American History with Brett Wilkinson, said that becoming a student activist during the civil right movement took a great deal of perseverance.
"Students were the ones who were getting jailed, so they had to exhibit a great deal of patience and maturity, which I think sometimes our students struggle with," Nichols said.
Although the United States is almost 50 years removed from the civil rights movement, Reguero encourages her students to be involved in their communities if they believe there is a problem that needs to be fixed.
She said that anyone can make a difference, no matter how small.
"I tell my students all the time, 'Don't tell me you are just one person and you are just in college and you can't make a difference,' " she said. "Because you absolutely can."
Wilkinson said that while he attended college there were always ways to be an activist on campus.
"As an undergraduate in the early '90s, we were helping to bring awareness as students, but more importantly students of color on predominately white campuses," Wilkinson said. "You would be informing them about cultural issues, celebration of Kwanzaa, celebration and recognition of Black History Month."
Although activism used to be more local, social media has played a big role in uniting causes across the country, he said.
"It's been refreshing to see [student activism] in the Black Lives Matter movement," he said. "To see how social media with the youth has played a big role in informing students all over about what's going on."
Information that will help all sorts of organizations come together and unite on a larger level, he said.
"What students can do today … can be shared with people in Atlanta, in New York, Dallas or in Florida where other cases or instances are going on there as well and they can share, communicate and organize on a national level," Wilkinson said.