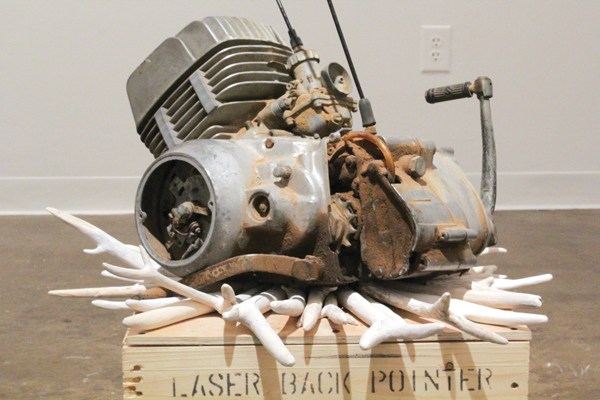 By David Silva
Artist Eli Blasko blurs the line between modern desires and historic mythology in the "Mythopoeia and the Temporary Contemporary" art exhibition, showing in F219C through Feb. 19.
Blasko, a Pennsylvania native, has worked in Pittsburg, St. Petersburg, FL and most recently Lubbock, TX before presenting his exhibition at Eastfield College. He works within various mediums such as sculpture, printmaking, drawing, performance, and video.
"Mythopoeia and the Temporary Contemporary" takes topics such as beauty, technology and consumerism and pairs them with artifacts of historic cultures and various components of nature. He borrows from the idea of mythology and grandeur to adorn the modern 'gods' of our fast-paced world.
In the "Totem of Disillusion" piece, Blasko places a motor engine on a pedestal of bones. Blasko embraces the piece's stark contradictions but also attempts to draw an equivalent between the motor and the sacred figures that have sat atop pedestals in the past. This is accompanied by a polished style that unifies the work, a characteristic present in the entire gallery.
Although his comparisons of past and present values are clear, he prefers to leave certain aspects of his work ambiguous.
"I wondered what contemporary mythology was," Blasko said. "I think that mythology now comes from film and technology … I don't want to say that it's negative or positive [that] technology is the contemporary mythology."
Blasko had the opportunity to explain his artistic process during an "Artist Talk" Jan. 21 and received feedback from students in the evening reception.
"There were a lot more people conscious than I expected," Blasko said. "You lecture at a school and you never know what you're going to get, but [people] were really attentive. They asked questions after, and they genuinely seemed like they wanted to pay attention."
The gallery's other pieces vary in size and scope, ranging from a wolf vomiting a gold necklace into a shopping bag in "Familiar Spirit (Land)" to a carved out IPhone 4 adorned with maroon and white fabric similar to tribal custom in "Ex-Voto (iPhone 4)".
Art education major Jordan Brashier enjoyed the chance to speak to Blasko during the reception.
"When it's something like this, it's small," Brashier said. "It's personal [and] you get to talk to the artist."
For marine biology major Tori Stewart, the piece that caught her attention was "Shrine: Dissolution of the Idol." The piece resembles a broken, Renaissance-era sculpture. Surrounding it are numerous cracked gray faces that slowly increase in damage as they move farther away from the sculpture, with the very last "gray face" shattered to unrecognizable pieces.
Blasko said it embodies a desire for beauty and physical perfection, as many sculptures of the time corrected the imperfections of the people they based their sculptures on.
"I felt like you're trying to get up to where the white face [of the broken statue] was," Stewart said. "Every time they failed, a piece of them would fall off back on that step."
The art gallery places an "Artist Statement" near the entrance of the exhibition. In this, Blasko details how his work begins with "modest intentions," and from the concept to the finished product, it is an ever-evolving journey with "several pieces branching out" from the original idea.
He goes on to give students a glimpse into "Temporary Contemporary," stating how he explores modern culture through traditional ceremony, and how topics such as "power structure, commerce, and death" interact with the 20th and 21st century.