Inspiring from 'Vegas' to Harvard to Eastfield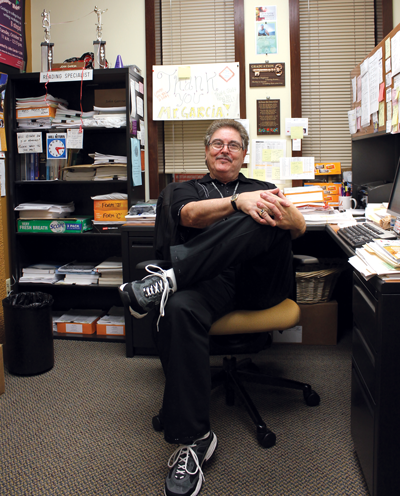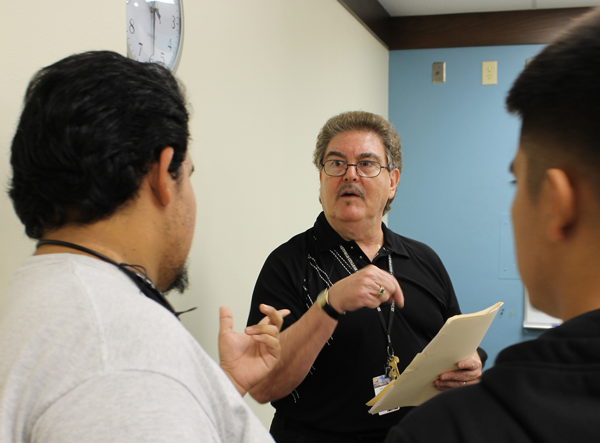 By Andrea Carrizales
As a native of Las Vegas — New Mexico, not Nevada — Professor John Garcia grew up poor, dining on beans year-round. After graduating from Harvard, he swore to "never eat frijoles again," but over time, he has come back to his roots.
Garcia's journey began after finishing high school. Told by a counselor that he would never amount to anything, he joined the military during the Vietnam War era, serving as a medic offshore.
"I was in the Navy," Garcia said. "When I wasn't working in the emergency room, I worked on orthopedics, and those are the ones who come back with amputations."
Garcia returned to his hometown with no definite plans but to grow old there. It all changed in less than a year after his return, when his 17-year-old little brother was murdered.
Garcia said that this was a devastating event for his family. It was at this time that he decided to leave his hometown.
"That's when I decided I want to turn my life into an adventure," he said. "I'm not going to stay in one place."
Education
Garcia, who at the time of his brother's murder was attending college at New Mexico Highlands University, decided to finish his degree there. He graduated with two bachelor's degrees and pursued a master's degree in education immediately after.
"All I thought about was going to Highlands because it was five blocks away from where we lived," he said about his life prior to his brother's death. "I was going to be just like everybody there."
He said that he was in "no hurry to graduate" since the military was paying for his education through the G.I. Bill.
However, one class by Dr. George Keating made him change his mind.
"When I took his class, intro to education, he was just so different that I've modeled all my teaching after him," Garcia said. "I learned more in his classes, and that's where I decided I wanted to be a teacher."
Garcia transmits his cheery personality into his class. He laughs and jokes with his students, something he first experienced in Keating's classroom.
Before starting work on his master's degree at Highlands, Garcia had applied to Harvard University. Although he had no plans to attend, he was encouraged by Keating to fill out the ap- plication.
"I never thought of going to Harvard," Gar- cia said. "It wasn't a dream or a goal — I didn't even want to finish my degree."
Keating covered the application fee, but after finding out he had been accepted, Garcia turned Harvard down.
Harvard
Garcia waited for one year and then applied to the Harvard graduate program once more. After being accepted again, he decided to go.
"Probably, I took [the chance] because this was after my little brother had been murdered," he said. "Everything had changed. There was not much to stick around for. So I thought, 'Why not?' "
He said that it was his commitment and passion for his work that got him accepted into the university.
"You don't have to be a straight-A student," he said. "Harvard is not all Einsteins."
As a way to "survive in Harvard," Garcia took whatever job he could. He worked in the Museum of Ichthyology changing water for strange fish, set up tables for conferences and worked the desk at the Helen Keller museum, among others.
He balanced his job and schoolwork by taking different part-time jobs that fit his schedule.
"I had five part-time jobs one semester, six another," he said. "The only thing I could afford with the student loans was the cheapest contract, which allowed me a room in the dorms, and I could eat in the cafeteria Monday evening through Thursday morning."
Even with his busy schedule outside academics, Garcia served as president of the Latino club and the Mayo-Mecha club. He hosted Gloria Estefan and Santana for the Cinco de Mayo celebration, met boxer Sugar Ray Leonard and gave kickboxing classes.
When his time at Harvard seemed to be in a good track, tragedy struck again when his uncle died one night, followed by his grandmother the next morning.
"If I go back home, I can't come back to Harvard," Garcia remembers thinking, due to his lack of money to fly back.
After learning about his grandmother's death, Garcia felt obligated to go back to his family.
"This time, instead of thinking about going back, I had to go back," he said.
Garcia was packing, "ready to leave for good," when Professor Jeanne Chall invited him for a walk, which led to the bank where she offered Garcia a $5,000 loan. Although he refused, they agreed that Chall would pay his return flight to Cambridge and Garcia would pay her later.
Garcia returned to Harvard and graduated with his master's degree in education.
A lifetime of adventure
Garcia has taught at a variety of colleges, starting in New Mexico Highlands University, the college he attended.
Garcia's professorship extends well past the classroom and into academic workshops. He worked in College of the Canyons in Santa Clarita, California, where he began hosting educational workshops for students.
"They're all learning strategy workshops," he said. "I'll show them how to create a test the way professors do."
Garcia continues teaching developmental reading and giving workshops to students as part of the Student Success Series at Eastfield.
Time Management/Study Schedules, HQA5R Active Reading System and Writing: Using Math to Introduce the Basic Essay were the three workshops taught by Garcia this se- mester.
Librarian Kwashawn Barnett, coordinator of the series, said that Garcia has supported the program since the beginning.
"Students love him, faculty and staff love him," she said.
Student success is of great importance to him, Barnett said.
"Once [the students] start not succeeding is when they start questioning themselves," Garcia said.
Many of the students and staff know Garcia as the colleague who gives chocolates, English professor Elizabeth Huston said.
"I think he wants to create community and connection," she said. "He seems to have a good rapport with his students."
Jake Vincent, a business administration major, said that Garcia is a good mentor and adviser.
"He is willing to help you with open arms if you, the student, are willing to accept what he is offering you and willing to take time to learn," Vincent said.
Garcia's passion to help others has led him to give back to the community. He donates to various organizations like St. Jude Children's Hospital, homeless shelters and the church. He also advises the service organization Club Y.O.U.
"It's always about my students," Garcia said. "They come here for candy, not because I'm the candy man, but a lot of these students don't have extra money. I'm just doing what other professors did for me. I guess I learned well."