Politics meets income gap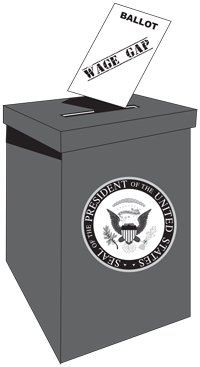 Presidential hopefuls examine minimum wage, class disparity
By James Hartley
Editor's note: This is one of a series of stories exploring issues in the 2016 presidential election.
Minimum wage has been an issue in elections for years now, but it looks like it may play a major role in the 2016 presidential election as workers across the nation demand a higher minimum wage through strikes and walkouts.
This is largely in response to the increasing class wage gap in the United States. According to a study by the Pew Research Center, the gap had been at its largest since 1983 in 2013.
The wage gap is believed to hurt the economy because the growing earnings difference between the upper, middle and lower classes leaves less currency in circulation for those working lower- paying jobs.
Most candidates are debating the proposed solution to raise the federal minimum wage from $7.25 an hour to a "livable" wage, usually defined as $12 to $15 an hour.
"Right now, $7.25 an hour isn't enough to live on," aerospace engineering major Judith Rodriguez said. "I get paid $10 an hour, and that's still not enough. Working at minimum wage, you wouldn't even be able to rent yourself an apartment."
Rodriguez says that employees should make at least $12 an hour to live off their income.
Democratic presidential candidate and former governor of Maryland Martin O'Malley boasts that he has already put a minimum wage raise into effect in Maryland during his time as governor.
"This was not merely theory in Maryland, we actually did it," O'Malley said. "$10.10 was all I could get the state to do by the time I left [earlier this year], but two of our counties actually went to $12.80."
Former Secretary of State Hillary Clinton said she believes in a $12 minimum wage.
"If we went to $15, there are no international comparisons, that is why I support a $12 national federal minimum wage."
Republican candidate Marco Rubio spoke out against raising the minimum wage.
"If you raise the minimum wage, you're going to make people more expensive than a machine," Rubio said. "And that means all this automation that's replacing jobs and people right now is only going to be accelerated."
Rubio said that the best way to raise wages is to train more people who have technical skills.
Republican presidential candidate Carly Fiorina said she doesn't believe the federal government should decide the minimum wage.
"I believe that minimum wage should be a state decision, not a federal decision," Fiorina said. "Why? Because it makes no sense to say that the minimum wage in New York City is the same as the minimum wage in Mason City, Iowa."
Economics professor Bob Felder believes the impact would be negative. He said that a raise in the federal minimum wage would likely cause an increase in both unemployment and prices of products and services.
Felder also said that when the minimum wage goes up, businesses have can cut back on their workforce or raise the prices of their products or service, and it is likely that they will do both.
"With my students, I give them the pie concept," Felder said. "Everybody has a piece of the pie. If this person here wants a bigger piece, that means the person next to him is going to get a smaller piece. Now, the best way to do it is to make the pie bigger. … You try to make the economy ex- pand where everybody benefits from it."
He added that a higher minimum wage would also affect those making above minimum wage.
"Here's [a] person that was already making minimum wage, so this person who has a lower position is now making the same money that I'm making, so what do I want?" Felder said. "I want a raise. The second level got a raise, they closed in on the third group, and [the third group] said, 'Hey, what about us?' So they got a raise."
Felder said this ripple effect is an important, but often overlooked, effect of raising the minimum wage.
Biochemistry major Vanessa Weseman said that employers should pay a livable wage, which she believes is "a little over $15 an hour."
"I really think that most jobs should sup- port their employees by giving them a livable wage instead of a minimum wage," Weseman said. "You really shouldn't have to work so many jobs to make a livable wage."
History major Taylor Rollins believes an adjustment to the minimum wage is past due.
"When minimum wage was first brought into relevance, it was great," Rollins said. "The problem is it hasn't really been adjusted for inflation. … It's going to be a rough few years because it's going to be a very sudden adjustment, but it's something that needs to happen because it's something we never fixed."
Felder said raising the minimum wage further can cause escalated economic inflation.
"If you put more dollars into circulation without increasing productivity, there's no reason to assume that a higher wage is going to produce more," Felder said.
Felder explained that economic inflation results in the value of the dollar decreasing, meaning that products and services will cost more.
"The economy from the late 1940s, after the second World War, it just expanded and sucked us all up with it," Felder said.
"We didn't do anything to deserve it. [The current generation entering college] have turned the corner, and it's slowed down now. You have to try to make the economy expand where everybody benefits from it. Do things to encourage businesses. Lower taxes on businesses, deregulate busi- nesses."
Felder said that lower taxes and deregulation of businesses will increase profitability for companies and encourage expansion of their operations, thus opening up new job opportunities with varying pay scales.