Chancellor outlines connection plan at Eastfield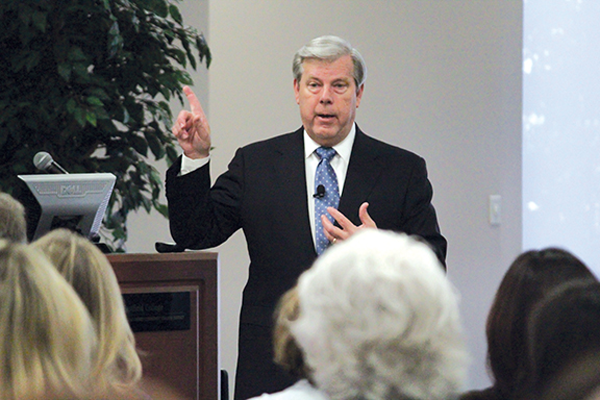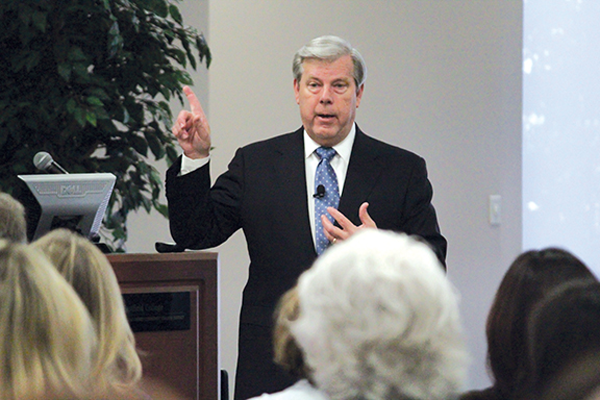 By Andrea Carrizales
The Dallas County Community College District wants to create a "network" that will connect colleges and businesses for the benefit of the students, District Chancellor Joe May said at Eastfield on Nov. 3.
The concept of a Regional Integrated Higher Education Network was introduced by May at the district's 50th anniversary at the beginning of the academic year and is a fundamental part of the widely advertised DCCCD Way.
May said that this "way" is based on four principles: prepare the community to succeed, help businesses to prosper, inspire individuals to achieve and improve the quality of life for all those involved in the district.
With its development, the district is hoping to create relationships between organizations where talent, resources and facilities of the DCCCD will come together to meet the needs of individuals and employers.
"Some people are coming to us and they create their own networks," May said, adding that about 40 percent of students in the DCCCD make their personalized higher education networks by attending different colleges.
However, May said that a rudimentary network is already in place, it can become more effective in addressing the ever-changing needs of the community by taking a proactive approach.
Eastfield College is an example of how all these elements are already in place, May said.
High school students can become involved by taking dual-credit courses or attending Early College High School.
College students are able to transfer once they complete their associate degrees or their core classes. The Honors Program has an existing partnership with the University of North Texas and Texas State University that allows members to transfer directly into the honors programs at those universities.
For students who are seeking to enter the workforce immediately after college, Eastfield offers two factory-sponsored automotive programs from partnerships with Toyota and Honda. The programs are designed to allow students to enter the workforce upon completion — although many students get hired before that and leave college without their certificates.
Eastfield's partnership with Global Corporate College seeks to provide training for employees in order to improve performance in the workforce.
Another example of the college meeting community needs through infrastructure is the agreement that allowed Amazon to use the Pleasant Grove Campus for hiring during September and October.
Additionally, the Pleasant Grove campus recently hosted the Univision newscast after the shooting at Umpqua Community College in Oregon, and last Saturday was the third year that the regional Robotics Competition was hosted in the Eastfield gym.
The creation of a network will enhance these partnerships and provide more opportunities for students to be involved in the community, May said.
There are some challenges preventing the incorporation of a successful network.
Audience members mentioned students leaving college before completion, colleges not offering certain programs of study and technology failing to meet districts plans.
"We think that getting a job is important," May said in regards to completion."But this network is about lifelong engagement."
By creating an interconnected network of colleges and universities, May said that DCCCD colleges are looking toward becoming "access points" for students, in which a student may start his or her studies at one college and then transfer for specialized education.
"It seems to me that's an idea a long-time incoming," Matt Hinckley, president of the faculty association, said.
"Too often it is very intimidating, especially for a brand new student, just to work up the nerve to come on the campus to speak with someone." Hinckley said. "And then to be told 'We don't have that program here, but you could try somewhere else,' that can be very deflating to a student. A lot of prospective students might give up at that point."
In order to connect students to different colleges and universities, Eastfield College President Jean Conway said that additional training on academic advising would be necessary, as well as an agreement where Eastfield won't lose funding by referring a student to a sister college.
Retaining the talent of professors and staff at colleges is another concern. At the end of the presentation, May addressed the new raises for full-time faculty and staff as a way to stay competitive in the higher education system in North Texas.
"We've had a profound effect on the quality of life for just about everyone in this county," May said, adding that the DCCCD has served more than 3 million people since its conception in 1965.
With the creation of an inclusive higher education network, the DCCCD is looking to reach into the great variety of people in the Dallas county and North Texas.
"We want to be defined by whom we include," May said, which in the new network plans, is the whole community.