Voters consider faith in political decisions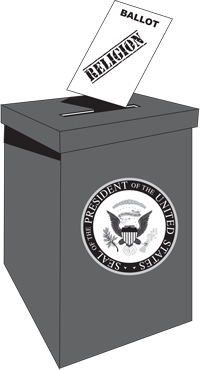 By James Hartley
Editor's note: This is one of a series of stories exploring issues in the 2016 presidential election.
Religion in politics has been among the most hotly debated topics of the 2016 presidential election.
Six Republican candidates discussed the role of religion in legislative policy at last month's Faith and Freedom Coalition forum at Prestonwood Baptist Church in Plano.
Dr. Jack Graham, pastor of Prestonwood, said that the issues discussed were picked because they were "issues we're concerned about as believers."
According to a 2014 poll conducted by the Pew Research Center, 72 percent of Americans believe religion is losing its influence in day-to-day life.
Forty-nine percent of Americans, 6 percent more than in 2010, believe religion should have more influence in politics, according to the poll.
Presidential candidates have been outspoken about religion in politics. Republicans tend to say that religious liberty is being threatened, while Democrats tend to argue that religion should not play a role in government.
"I believe 2016 is going to be a religious liberty election," Sen. Ted Cruz said at the Faith and Freedom Forum.
Graham and Ralph Reed, chairman of the Faith and Freedom Coalition, both said they believe evangelical Christians could be the deciding factor of the 2016 election. Cruz added that millions of evangelical Christians don't vote and that their participation in the elections is vital to the Republican party.
This could mean that the religion in politics issue may become even more pivotal.
Neurosurgeon Ben Carson said his faith and willingness to fight for it have allowed him to stay high in the polls.
"I think one of the reasons the doors are opening [for my campaign] is because it's time to bring God back to our country," Carson said at the forum. "The president says we are not a Judeo-Christian nation, but he doesn't get to decide. We get to decide."
Criminal justice major Derek Cash said he believes that religion should play some role in politics.
"Not everyone has the right set of mind when it comes to religion and our government," Cash said. "I believe it should play a role in politics only to certain extent."
Science major Devon Rice said she believes religion in politics should play a more influential role.
"God tells us how we are supposed to live, and we should live by that, and that should define our government," Rice said. "I do believe a lot that it should play a role, but I think we would put ourselves in a place where we would offend a lot of people if we did put our religion into policymaking. "
Social science major Victoria Perez disagrees.
"Since America has no set religion, we're so diverse," Perez said. "If we have one set religion running for our nation, there would be a lot of prejudices against other religions."
Science major Emari Smith said that religion doesn't belong in the federal levels of government, but that local and state government should be able to make policies based on religious beliefs.
"Think of it this way: if a state is more religious than others, if a state follows mostly one religion, then who is the federal government to say that we want to make laws to disregard your religion?" Smith said. "Whereas in another state, the majority may be a completely different religion."
Smith added that she believes religious influence in government is affecting religious and racial tensions in the United States, as outspoken elected officials may have an impact on the way people treat race and religious relations.
"I feel like government should just leave it alone," Smith said.