From Dirty Sixth to Holy Grounds

Editor's note: Et Cetera staff members assembled this multimedia project Oct. 29 during a state journalism contest in Austin.
Story by Parker Ward, James Hartley and Andrea Carrizales
Photos by Alejandra Rosas and Brianna Harmon
Video by Raul Ulloa and Keturah Jones
Illustration by Matthew Rohan
Colorful Sharpie markers line the sidewalk where artist Jason-Ray Foster sits on a piece of cardboard with his art laid out before him. An ordained minister, Foster gives one piece of artwork to anyone who donates $10 to help him off the streets.
Foster is often seen on Sixth Street, sometimes well past midnight. Commonly known as "The Dirty Six," the street is known for its crime, bars and homeless population.

"I'm hoping my art is a ticket," Foster said. "You have that dream of that one person who will walk by and give you that job or give you that commission."


Foster said the only things that keep him going are his art and his faith, which he believes are connected. He said his artistic abilities are gifts from God, there to help him through life.
"Homelessness is very difficult," Foster said. "Without a strong, spiritual foundation, it can get to be a little overwhelming at times and very disheartening, so fighting depression, fighting hopelessness among these other things is a big problem."
As a child, Foster found his love for art through drawing cars. His parents encouraged him when they saw potential.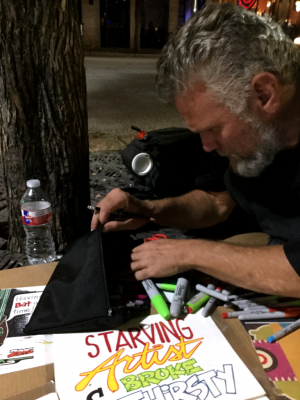 After turning 17, however, Foster was on and off the street. He was convicted of a felony at a young age — an event he refused to talk about — which he said still makes it hard for him to get a job. He said his challenging childhood is one of the reasons he believes he is living on the streets today.
"I feel like I never really got that start that I needed," Foster said.
Despite this , Foster has used his artistic talent to make a lasting impression on some of the regular Sixth Street patrons, including Austin native
Sam Bo Jones, whom he met while incarcerated for "stupid things like having pot on us," Jones said.


"I've seen him draw exact replicas of people's faces in just 20 minutes," Jones said. "He's got every ability to do everything he wants. He's not a starving artist. He's just an artist that needs help. He just needs to find the right person to take care of him or help give him that little bump. He's never really had help his whole life."
John Ortiz, manager of Buffalo Billiards, the restaurant that Foster sits outside of, said Foster never causes any trouble.
"He keeps to himself," Ortiz said. "He's not out there pushing too hard. He's not trying to be an inconvenience, he's just trying to help himself."
In a year, Foster has gone from only displaying his drawings on his piece of cardboard to displaying his artworks at Holy Grounds coffee shop through the studio Art from the Streets, as well.
"It's a chance for me to get away from the hecticness of the streets and do something that I love doing," Foster said.


Foster said that despite his struggles, he is grateful for the things he has now, but he isn't willing to settle.
"I don't want a happy existence living on the street," Foster said. "I don't want to be one of those guys who is out there in their sixties. I've already told my friends, 'If that's me, shoot me, please.'"