Fashion blogger and Eastfield student Tiffany Aragon went on the mission to create a chic fall outfit for under $40.
Forget every negative concept you have about thrift shopping because it is a trend that everybody is following.
Buying full-price clothes can be expensive, especially as a college student. I decided to create a complete outfit (excluding the shoes) for under $40.
I visited one of the local thrift stores, Thrift World of Dallas, and scored a Ralph Lauren plaid shirt for only $2.98.
My leather black skirt was originally from Forever 21 and only cost me $4.48 at the thrift store.
I accessorized my outfit with a cross body purse for $4.98 and a black fedora for $6.98. My total cost for this super chic outfit was $18.92.
Dallas has amazing and unique thrift stores that provide different shopping experiences. Several of the stores donate a percentage of your purchase to local organizations.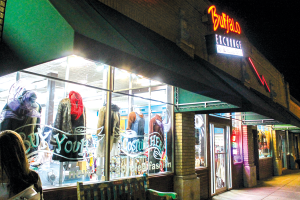 ➤
Buffalo Exchange
3424 Greenville Ave., Dallas 75206
Buffalo Exchange elevates your shopping experience by uniting new and recycled fashion while donating to local organizations. The shopper chooses the organization.
The store also helps fight pollution by giving you the option to donate five cents to a charity of your choice instead of purchasing a plastic bag. What a great way to go thrift shopping!
If you are a fashionista, this is the store for you. Their website gives you awesome ideas on how to put outfits together, and they have YouTube videos to help you create thrift store outfits.
This store focuses on fashion and new trends. Some of the styles you can find are vintage, hippie, feminine and minimalist.
They offer students a 10 percent discount, so present your student ID at checkout.
➤
Thrift World of Dallas
3046 Forest Lane No. 100, Dallas 75234
If you are into home décor, this is the thrift
store for you. Thrift World of Dallas has a great selection of furniture and household wares for a great price. You can find frames, mirrors, love seats, kitchen supplies and more. This is an awesome store for refashioning.
Thrift World of Dallas also has a variety of coats for less than $20. If you are looking for designer clothes, shoes or handbags, they have a special section behind the register for items in great condition at a good price.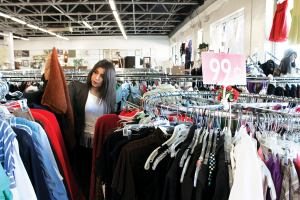 ➤
Rescue Thrift Store
2344 Oates Drive, Dallas 75228
The Rescue Thrift Store is owned by the Texas Regional Animal Rescue, which means 100 percent of your total bill goes to animal rescue. Men get 50 percent off their total every Monday and women every Wednesday, excluding items from the 99 cent section.
If you are interested in electronics, housewares and remodeling supplies, this is the thrift store to go to.
Everything is clearly labeled and well organized, making shopping easy. If you don't wa
to spend a lot of money this year on a Halloween costume, thrift shopping would be a good idea. As an added bonus, the Rescue Thrift Store also has fitting rooms.