'Sensuous' photos link digital realm with real world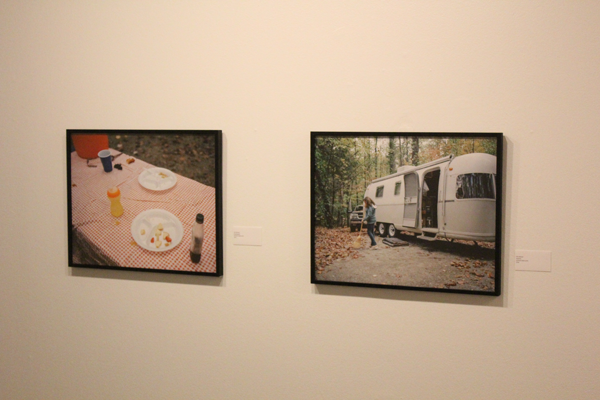 By Hunter Cave
The "Sensuous World" art show opened Thursday and features a large collection of art photography from professionally trained artists to attract students.
Iris Bechtol, who manages Eastfield's galleries, said she wanted to bring together a photographic exhibition exploring "the relationship between the digital world and the real world."
When Bechtol was searching for artists to contribute to the gallery, she looked for former art professors with images that touch on the "sensuousness" that appeals to people in the real world, hence the gallery's title.
"To allude to an experience that is normally three dimensional … to a two dimensional plane, it is very difficult," she said.
Bechtol selected 10 artists to submit one or two photos each that keep within the theme of the parallel between digitality and reality. Included in the exhibition is Kalee Appleton, who uses digital processes to explore the relationships that lie between the past and present. Appleton will be giving an artist talk lecture at 2:15 p.m. Oct. 22 in F-218.
Another artist featured was Rachael Banks, with her two photos "Michael in the Broccoli Shade" and "Dad Sits for Me." "Michael" shows a young man in casual clothing lying on a wooden deck, staring up at the sky as the shadows of foliage cover him. "Dad" shows an older man sitting in a foldout chair beside a body of water glancing at the camera.
Banks photographed both pieces for a personal gallery called "Between Home and Here." She frequently visits her home state of Kentucky to take pictures of her friends and family.
"They represent my identity," Banks said, "in the sense that they're in a place where I'm from, but I'm not there anymore."
One exception to Bechtol's challenge of translating an experience into the second dimension is "Fragment," an installation created by Josh Dryk. "Fragment" is a wooden shelf mounted on the wall with a large vice clutching to a framed glass panel. The panel has a small
hole in the middle, with cracks branching out to the frame. Beside the vice is a small photograph of the same cracked glass pattern against pitch black.
"There's an object sort of in my head," Dyrk said, "and I start to figure out what it's about later."
Dryk said he believes that the most significant advancement in contemporary art is the union between art forms, which in his piece merges photography with sculpture.
"For as long as I can remember, I've done every type of art I can get my hands on," he said.
Though Dryk's focus is photography, he didn't want to give up other forms of art such as drawing, painting and sculpture.
Bechtol said that she hopes students come to see the exhibition, especially those who strive to become artists.
"What differentiates these images from images you see pop up all over Facebook and social media is that they are practiced," she said.
Nevertheless, Bechtol also understands that finding appeal in photographs compared to other art forms is a challenge for some.
"Not every student is going to come into the gallery with a breadth of knowledge and analyze everything," she said. "But … they will be able to come in and get something out of the exhibition. … People often forget that art is meant to be enjoyed."